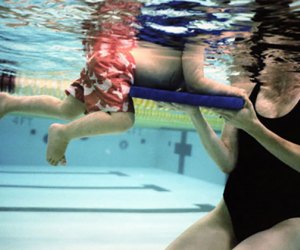 Brooklyn Swimming Classes for Kids and Babies
Whether it's the middle of winter or the hottest day of summer, it's always swimming lesson season at the pools around NYC, including the family-packed borough of Brooklyn.
Brooklyn has several indoor pool options for water babies, toddlers and kids. Swimming classes at these Brooklyn locations can introduce your youngest to the water with a parent-child class or teach more advanced swimming techniques to kids who already know the ropes. Many offer private instruction, too, if the group class or schedule doesn't work for your family. So pack the towels (and swim diapers) and let's hit the pool!
Click through to the organizations' websites for pricing and more details. Find more NYC classes in our Classes Guide and Directory Listings.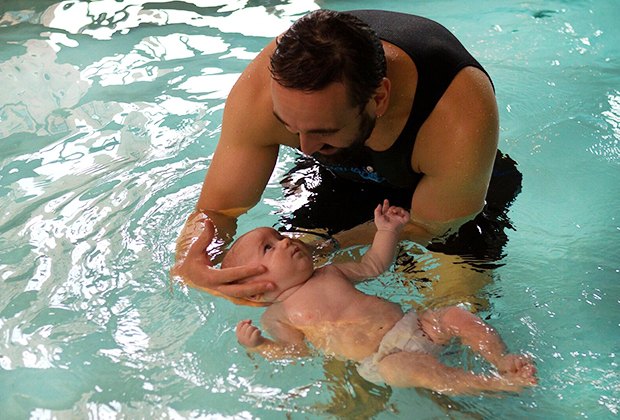 The small class size and quiet ambience at a private swimming pool make AquaBeba a hit with many Brooklyn families. Photo courtesy of AquaBeba.
AquaBeba —Williamsburg
Ages 4 months to 11 years
At AquaBeba, expect individualized attention, small classes and an elevator to take you straight to the heated pool (88 degrees!) housed in the bottom of the fancy Olive Park condo building. This convenience is reflected in slightly pricier rates. Instructors make the class fun for the youngest kids by incorporating toys, praise, and a group dynamic that will have your kid dunking under in no time. Babies as young as 4 months are welcomed into swim lessons, along with a parent. Private and semi-private classes are available, as are small-group lessons—and even prenatal swim.
Camp Olympia — Park Slope and Flatbush
Ages 6 months and older
Affordable rates make these two heated pools a popular spot for families and kids. Lessons for kids 6 months and up are taught in eight-week sessions. Class sizes can swell, especially for weekend lessons, so the space and class is more boisterous and may feel crowded and loud when a class of 20 is singing "Wheels on the Bus," but you can be sure all those kids will be laughing and splashing about. A full-session commitment is necessary, but parents are welcome to register mid-session. There is plenty of space for non-swimming families to watch class and locker rooms to use for changing and showering. The Erasmus Hall location hosts a $5 family swim hour on Sundays, 3-4 pm (no registration required), so you can check it out before signing up.
RELATED: Williamsburg Restaurants: Where to Eat with Kids in Brooklyn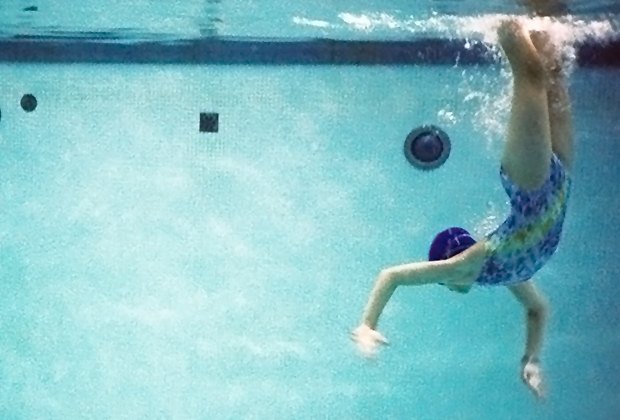 Imagine Swimming's instructors are so beloved, there's often a wait list to join! Photo courtesy of Imagine.
Imagine Swimming — Multiple locations
Ages 6 months to 12 years
Imagine's small class sizes, warm pools and rave reviews can make it hard to find a slot, especially a weekend one, but the staff is helpful and friendly and work to fit you into its rolling admissions process at its several Brooklyn and Manhattan venues. Swim classes meet once a week for 40-minute sessions that can continue indefinitely, and children are grouped by ability level, not age. Classes maintain a low child-to-instructor ratio of about three to six kids per teacher, depending on the age and type of class. Pool rules and hours vary by location, so be sure to check in with staff about which wait list to join.
NYC Free Swim — Varies, throughout Brooklyn
Ages 18 months and older
The New York City Parks Department offers FREE swimming programs at pools across the city for children younger than 18. Registration is done via lottery, which opens at various times throughout the year. Keep an eye on the registration page to see when a location in Brooklyn offers a lottery. While these programs are free for kids, accompanying adults may need to become a paid member of the hosting recreation center.
RELATED: 6 Brooklyn Prenatal Massage Spots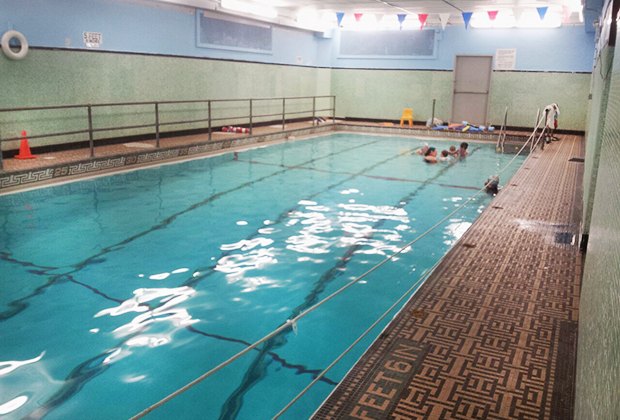 Toddlers learn to swim with Swim Koi at the East Midwood Jewish Center pool in Brooklyn.
East Midwood Jewish Center — Midwood
Ages 6 months and older
The East Midwood Jewish Center is a hub of activity, but the spacious heated pool is a calm spot away from the bustle. The Jewish Center hosts a number of child swimming programs and its Swim Koi and Swim 1 2 3 classes welcome babies as young as 7 months into the water. Classes, which are open to the public, are available at various times, and class sizes tend to be small, making this an ideal environment for kids to enjoy the water through practice and fun songs.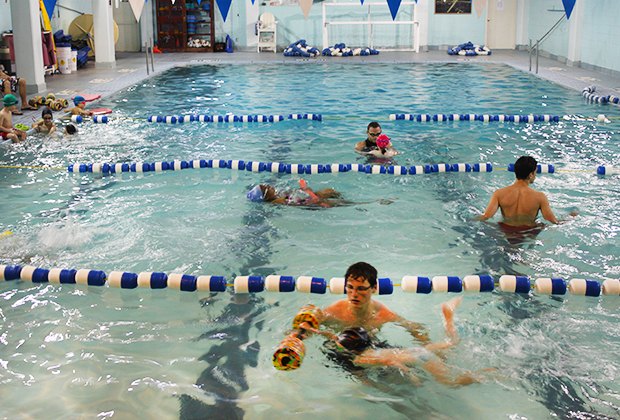 Taking a dip at the large pool in the Brooklyn Kings Bay Y. Photo courtesy of the venue.
Your Local Y — Various
A number of Brooklyn's YMCAs offer parent-and-child and youth swimming lessons, including the Dodge YMCA on Atlantic Avenue, the Prospect Park Y, Greenpoint and the Kings Bay Y. Members get to register for the popular classes first, but the public can sign up for any remaining slots a few days later. At the Kings Bay Y in Sheepshead Bay, for example, classes range from 4 months to 14 years, and weekend group swimming lessons offer about 14 classes of 45 minutes each and include interactive activities, music and a generally fun environment to learn and enjoy the water. Costlier private classes can be booked if you prefer one-on-one instruction. Don't forget your swim cap!
Brooklyn Sports Club — East New York
Ages 2 to 14 years
Swim classes at Brooklyn Sports Club are held in small groups of about three kids per instructor—a nice setup if you're looking for individualized attention without the higher cost of private lessons. Sessions consist of 10 classes of 45 minutes held on some weekdays and Saturdays at fixed times. Ages 2 and older are welcome.
Top image: Swim instructors start with the basics for kids like kicking and even how to enter and get out of a pool. Photo courtesy Imagine Swimming.