SPONSORED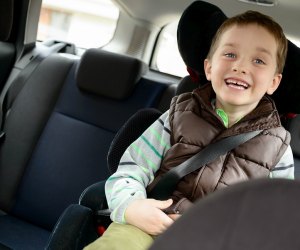 5 Game Changing Car Service Hacks for NYC Parents
The truth is that as a native New Yorker, I never actually learned how to drive. While I finally managed to get my license in my mid-twenties, it's just become a form of ID that I pull out on the rare occasion that someone is kind enough to card me!
While living a car-free lifestyle can certainly be freeing, now that I'm a mom, my inability to drive is a total headache at times. When my daughter was first born, I wouldn't commit to any activity before evaluating whether I could actually manage it myself using the good old MTA system or finding out if my husband's parking space was worth giving up to play chauffeur to the two of us. But just as leaving my Brooklyn neighborhood was starting to seem like a special occasion in and of itself, I uncovered the incomparable convenience of my local car service and it literally became my lifeline.
At this point, I'm pretty much a livery cab pro — having seen most of the city from the backseat — so I've rounded up some of my favorite car service hacks with a little help from our sponsor, Legends Limousine. Whether you're license-less or car-less, or you snagged a spot that's good until next week, here are five ways a car service can be a total game-changer for your family:
Carpool the kids to school or activities
Is early morning soccer practice slowly stealing your sanity? I hear you! Hit up your local parents' listserv or call up a couple of neighborhood moms and dads, and coordinate a carpool — with a professional driver behind the wheel, of course, so you can stay off the subway and in your PJs. This isn't putting your kid in a car with an internet rando. All of Legends' chauffeurs are thoroughly trained, background checked, uniformed, and employed directly by the company. Plus, many of them are parents themselves so you can feel confident your precious cargo is in good hands. Meanwhile, handy text and email alerts tell you when passengers have been picked up and dropped off, and the GPS-powered iOS and Android app lets you track your vehicles, review trips, and pay for rides. You'll know the kids arrived safely from the comfort of your couch, and you can't really beat that, huh?
Find a ride home that actually fits your whole IKEA haul
See ya, IKEA shuttle! If you're tired of lugging six boxes worth of bunk bed on that busy little bus — especially after one too many cinnamon rolls — or if you've got a city-friendly subcompact car like we do that just can't handle your kitchen renovation, it's time to call in the big guys. Legends offers SUVs or minivans and your stuff is covered by a two million dollar insurance policy. Now you can save your energy for figuring out how to put together that nightmare of a new coffee table. Eek.
Bus your guests to a birthday party in the 'burbs
​Is your kiddo dreaming about a water park party? Or maybe mini-golf and go-karts? You may have thought you couldn't brave the birthday options outside of the five boroughs (where you're likely to save some serious dollars, by the way), but all you really need is a chartered bus. Choose from a fleet of minivans and mini-buses for mid-sized groups, or coaches for larger ones, plus you can even add amenities like WiFi to make the ride part of the fun!
Get your little one to the airport without bringing your own car seat
Nothing puts a damper on a family vacation quite like paying for long term parking or lugging along a car seat you don't actually need on the other side... Ugh! Do you know how quickly I'm willing to pay ten extra bucks for a car service that has the seat I need? Legends has easy-to-use rear-facing infant seats, toddler seats, and booster seats in the trunks of their cars so that drivers can pull them out and install them in a snap. All car seats are replaced every nine months, and carefully cleaned and maintained with the same eco-friendly products you're probably using at home, so you know they're safe.
Catch a game without worrying about parking
What's the best way to miss the whole first quarter of the game? Drive to the stadium, of course (or trust the subway on the weekend, especially in the outer boroughs...). We all know parking is a total nightmare no matter what stadium you're heading to and garages are a fortune. Instead of crossing your fingers, call a car service — and spend those saved dollars on the delicious overpriced concessions (I'm looking at you, giant soft pretzel!). Legends' informed drivers know the most efficient routes — even on game day — and they believe in providing affordable, high-quality transportation to New York City families. Win-win!
All Legends Limousine drivers are trained and drive vehicles in tip top shape — no more than three years old — so you know your ride will be safe and pleasant. So, are you ready to start hacking your way around this city? Visit legendslimousine.com for more information.