Holiday Giving: Mommy Poppins Families Give Back to Local Communities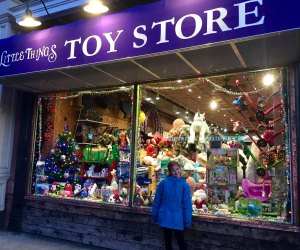 Every year we share articles about how families can volunteer and donate during the holiday season. But, we are also parents raising our children and working to improve our communities ourselves. Even as our website has grown (Hello, DC and Chicago!), we are proud to say that the values and mission of Mommy Poppins have not changed. We are committed to helping children and families, both online and in real life.
This year, we invited team members from each of our local areas to pick a holiday drive or organization that helps children in need. We funded a shopping spree or, if the holiday season was just too crazy, made a direct donation. In order to do as much good as possible, not just for children, but for local businesses too, we targeted some of our favorite local toy stores to make our purchases. Our children were great helpers in picking out gifts and delivering them.
As the founder of Mommy Poppins, I am grateful to our amazing team for rallying during the hectic holiday season and doing so much good. In all, we donated over $8500! Thanks also to all the local businesses, large and small, who support Mommy Poppins with advertising dollars throughout the year. It makes providing this resource to families for free possible, as well as these donations and our other initiatives. We are humbled and grateful for the support of our readers and local business community.
Read on to find out where our local families shopped and donated.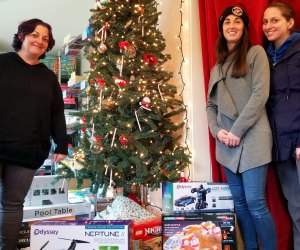 The folks at Boston's Scituate Community Christmas were happy to see all our donations under their tree.
Boston
It was so much fun to support both a local charity I admire and a community book/toy store my family loves, Buttonwood Books and Toys. Kathy, the owner of Buttonwood, was even familiar with Scituate Community Christmas and knew just what they were in need of for toy donations. The volunteers at SCC were thrilled and even asked for photos of the toys around a tree at the drop-off. — Lucie, Mommy Poppins Boston
Chicago
We bought gifts for Lutheran Child and Family Services in Northern Illinois. It's an organization that supports about 600 foster children in Cook and DuPage Counties. The toys and gifts went to a "store" where case workers could select presents for the foster children they work with. They were especially interested in finding presents for kids ages 10-18, who are often forgotten when people collect donations, so we spent a lot of time in the sports aisle and the arts and crafts section. We are happy to help some of these children have a happy holiday! Dylan was impressed that we managed to fit that much in the cart! — Maureen, Mommy Poppins Chicago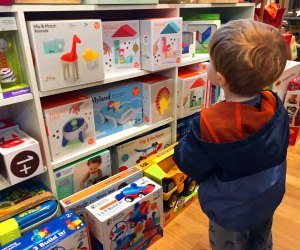 Our toy picker took his duties very seriously at Age of Reason in Westport, CT.
Connecticut
We got a gigantic pile of presents for older kids at a local store, Age of Reason, which has been in business since 1983. Their prices were more than reasonable, and they pointed us in the direction of what was most popular for kids in the requested demographic for kids through Person 2 Person, an organization that provides emergency assistance for families in Fairfield County. Also stopped into The Silly Sprout in Litchfield for toys to donate to Susan B Anthony Project, an org that helps battered women and their children. So many kids are going to be thrilled next week! — Mary Beth, Drew and Ally, Mommy Poppins Connecticut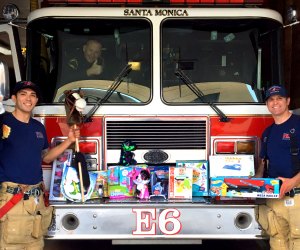 Getting to visit our local heroes is a sweet fringe benefit of donating to Spark of Love in Los Angeles.
Los Angeles
Our kids had a wonderful experience choosing all sorts of treasure at some of our favorite local toy stores. Roberta and her teen filled bags with classic wooden toys from The Acorn Store—where owner mom Heather was delighted to help—and some fun bigger kid toys from our old favorite Toy Crazy in Brentwood Country Mart. Toby picked up loads of books at one of our favorite storytime spots, Children's Book World, and some funky treats for older kids at Santa Monica's Puzzle Zoo—plus some Squishmallows, made by a local company. We delivered the haul to two fire stations for the annual Spark of Love holiday toy drive. We enjoyed sharing good karma with some of our favorite local toy stores and children in need this holiday season. — Roberta and Toby, Mommy Poppins Los Angeles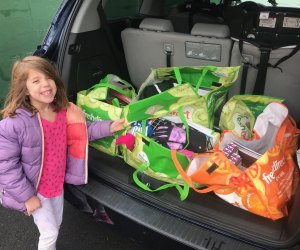 Proud to share her holiday haul for Newark, NJ's South Ward Children's Alliance.
New Jersey
We shopped for 11 kids' wish lists provided by South Ward Children's Alliance, which hosted the drive for local Newark families. My 6-year-old helped sort all the games and cool cars we picked up at Toy Division, a mom-owned store in Maplewood, NJ, as well as tons of unique art supplies at the mom-owned A Paper Hat craft store across the street. The annual South Orange-Maplewood School District's Parenting Center needed just a few more things for the 500 local families' holiday wish lists: books, hats and mittens, socks, and teen clothing. At our final stop we picked up books for dozens of elementary-school age kids sourced from Words bookstore in Maplewood. Wishing everyone in our Mommy Poppins NJ community a Happy Holiday season! — Rose, Mommy Poppins New Jersey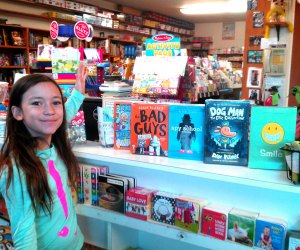 Excited to share some of her favorite books from Children's Book World in Los Angeles.
New York City
My kids and I shopped at Little Things toy shop in Park Slope and picked out toys to donate to Toys for Tots. So glad we were able to have been a part of this. My 3 year old even stuck to the deal that he couldn't get anything for himself and didn't complain about it — a Christmas miracle! — Rosalind, Mommy Poppins NYC
We also donated to the Children's Hospital of Philadelphia's Child Life Program, the Boys and Girls Clubs of Greater Houston, and we provided holiday meals for 40 families in Washington DC through Bread for the City.