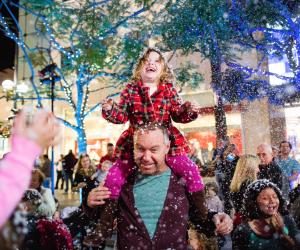 Thanksgiving Weekend Things To Do in LA with Kids: Turkey Trot to Christmas Parade
In recent years, Thanksgiving was all about cute mash-ups (remember Thanksgivvikuh?), Black Friday shopping, and outrage over Thursday-is-Not-Friday-But-the-Middle-of-a-Holiday sales. This year, Hanukkah holds off until late December, setting the stage for a traditional Chrismakkuh, and many major retailers are promising to stay closed on Thursday. (You go, Lakeshore Learning, Home Depot, and Barnes & Noble! As for the rest of you, time out with no pumpkin pie.)

We've found a few family-friendly venues open on Thanksgiving, where you can enjoy a little morning cardio, a visit with animal friends, and maybe a good meal. (Make sure you check the hours for the day; some places are closing early.) You can make your Friday about shopping, or you can gather the family for a flick, whether new or timeless or the (three) to rule them all. Once again, Saturday is the new Friday, and it's all about the local.
We here are thankful for much, and hope you feel the same way. We're grateful for the truly unique shows, spectacles, and experiences that come our way this time of year. We're thankful for our beautiful climate, which lets us sled on the sand as easily as on the snow. We're grateful for our brave first responders, who put themselves in harm's way to keep us and our homes safe. We're grateful for the health and well-being of our loved ones, and we're grateful for you, our readers. Happy Thanksgiving, guys!
Keep reading for some of our best finds for fun this Black Friday, Small Business Saturday, and, thankfully, Thanksgiving weekend...