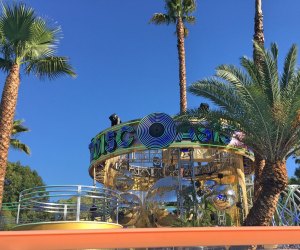 The DiscOasis at South Coast Botanic Garden Is One Groovy Outing
Los Angeles is jam-packed with amazing things to do this August, but there is one event that is truly unique and outstanding—and a great end-of-summer family activity before school starts up. Last weekend I took my daughter and her friend to the coolest new pop-up event in LA: The DiscOasis. Think Bee Gees, gold lame & sequins, disco, roller skates, and tube socks. Little kids, big kids, and grown-ups alike will all have a blast at this pop-up roller skating rink in the middle of the South Coast Botanic Garden. But lace up those skates and speed right over, because this funky event disappears after Labor Day.

Flowers and disco balls meld as DiscOasis decor. Photo courtesy of The DiscOasis
Party in the Garden
Roller skating is making a comeback, and there are rinks dotted throughout the city, but none of them are quite like this. The DiscOasis is a theatrical roller-disco experience that puts together art, light, music, dance, live performance, roller skating, and good times within the natural paradise of the South Coast Botanic Garden.
The DiscOasis was fun from the minute we. We only dragged ourselves home because we'd eaten everything, taken tons of pictures, and skated our hearts out. After two hours at the rink, my cheeks hurt from smiling. (Three hours later, my ankles reminded me it has been a really long time since I skated...)
A great time was had by all.
While my teenage girls had a blast, little kids will also love The DiscOasis—it's a party in motion. The music, the ambiance, the fantastic pro skaters, and the glittering backdrop are enchanting. Costumes are highly encouraged, so use this as an excuse to hit the costume box for the kids (and the back of your closet for you!). If you have any questions or ever aren't sure of where to go or what to do, the staff is helpful and enthusiastic.
Lace up those skates or sit back and watch the action on the rink and on the stage.
So, What Is The DiscOasis?
A short walk into the gardens brings you to The DiscOasis entry and you follow the music down the decorated path past the dancers and the floats to the wide-open outdoor venue including the rink, dance floor, seating, and eating area. There's a VIP section, too. It's like walking into a disco fantasyland.
The rink surface is a colorful grid, surrounded by neon lights and palm trees, and the music (curated by Grammy Award-winning composer, producer, arranger, guitarist, Rock and Roll Hall of Fame & Songwriters Hall of Fame inductee, Nile Rodgers) energizes everyone. That includes the event's interactive performers – they line the entry in costumes, perched and dancing on extravagant floats. Others spin around the rink and perform choreographed routines every 40 minutes. Take part on skates or just observe; there's plenty of fun to be had by all. There are assistive rollers in two heights to help anybody feeling unsteady – these are available on a first come, first served basis. I did see some people wipe out, so be careful if you haven't been skating in a while!
If you haven't been roller skating in a while, the assistive rollers come in handy.
Depending on when you go, skating session lengths vary. Event planners recommend families with smaller children come during earlier, daylight hours. We arrived at 5:30pm and left around 8:30pm – it was fun to watch the site change as the sun went down, but we were happy to be there on the early side with other families and mature folks who actually lived during the disco era.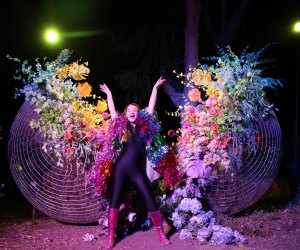 As night falls, there's a change in the scenery. Photo courtesy of The DiscOasis
Know Before You Go
Children must be 3 years and above to roller skate or rollerblade.
At entry, guests get a wristband for skates, and those of legal age can get a second wristband for the adult beverage station.
Skates are provided with admission and you can choose from traditional or in-line. A limited number of helmets are available, too, but definitely bring any other safety equipment you might want – such as knee pads, elbow pads, and wrist guards. Bring your own skates, too, if you have them. The staff at skate rental was helpful and patient while we sorted out the right shapes and sizes for our feet. (Roller skates start at junior size 10 through adult size 13. Rollerblades start at junior size 13 through adult size 12. Full sizes only, no half sizes.)
Getting to the event is stroller friendly, but strollers are not allowed on the rink surface.
Food and drink are available for purchase and food choices vary depending on the day. Outside food is not permitted, but you can (and should) bring water. There's also a merch stand, a small arcade, and touchless photo opportunities.
There are bathrooms on site.
Bring socks (or buy some there). There are no lockers, just a few open cubbies, so pack accordingly. This is a good time for a fanny pack or small backpack. We left our shoes under the benches on the platform next to the skate rental.
Parking is simple, costs $10, and is guided by event staff. Enter through the side gate and present your tickets and waivers – anybody skating must sign a waiver.
Pick a size, any size. Photo courtesy of The DiscOasis
The DiscOasis is open for a limited summer engagement from 5-10pm, Tuesdays to Sundays through Labor Day. Guests must arrive before 8:30pm to enter. Ticket prices range from $49 to $59, depending on the day. South Coast Botanic Garden offers family and individual memberships that include discounts to experiences like DiscOasis and GLOW (or Garden Lights & Ocean Waters). Tickets can be purchased online – some will be available at the door, but there's no guarantee that any will be left, so it's a good idea to purchase in advance before heading out.
Now, go shake your groove thing!
Photos by the author unless otherwise noted