Family Memberships That Are Still Worth Having in 2021 for Your LA Kids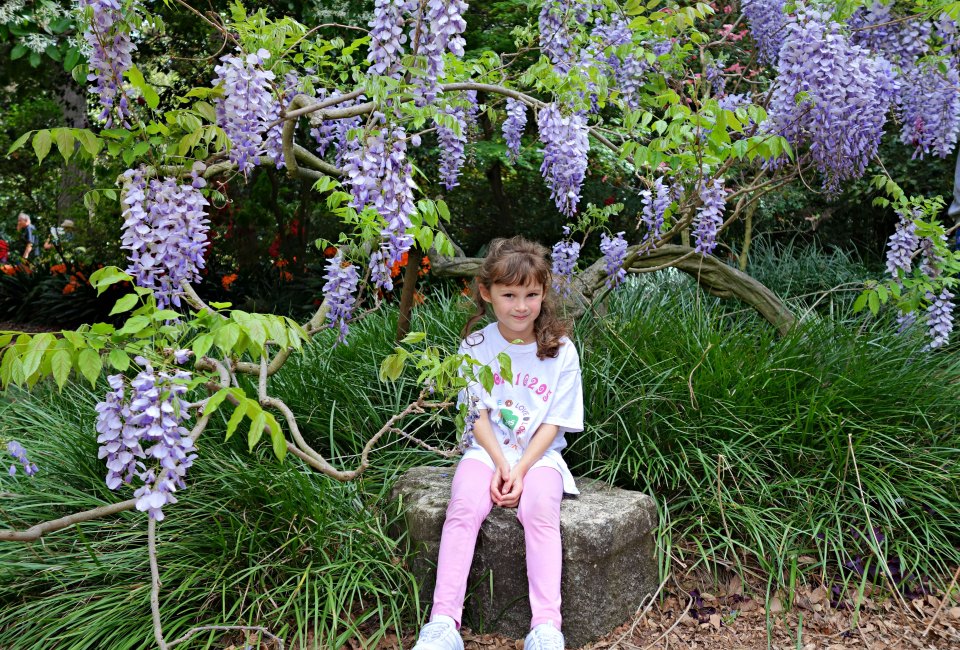 1/14/21
- By
Brian Steele
When kids love a place, they want to return again and again… and again. Annual memberships let families visit a place as often as kids want, without spending a bundle. But in 2021, when the year is starting with so many favorite museums and play places closed, are memberships worth it? Absolutely!
There are gardens that are currently open daily, zoos that plan to open soon, and spots with members-only offerings today and always— and all of these places need our continued support to open up again, post-pandemic. Here are a few of the most affordable, game-changing, and enjoyable places in LA, where we still recommend getting family memberships.
Note that prices and information are accurate as of January 2021.
While we are trying to promote safer activities that occur outdoors or with social distancing guidelines in place, please keep your family and others safe by always wearing a mask and maintaining appropriate distance.

Take a trip to Japan, via San Marino, at the Huntington. Photo by Meghan Rose
Gardens That Are Open in LA Today
Gardens are some of the only places in town that are currently open. These are great spots for kids to run, play, and explore, and you'll more than get your money's worth this year, with repeat visits.
With more than 160 acres of botanical beauty to explore, this garden paradise can be visited for days on end. With a membership, you get admission privileges to more than 250 reciprocal gardens, plus members only early access to the garden every morning, when it is the least crowded. Other things that make this one worth the price are discounts at several local garden stores and early, discounted tickets to special exhibits and concerts (when permitted). Members right now are the only people who do not need to make reservations in advance to visit, so families can drop in anytime to get out of the house!
Family Membership: 1 year for $99
The library and museum buildings are all closed, but kids never loved those spaces anyway! What they adore here is the lush greenery, the Japanese and Chinese Gardens, and most of all the Children's Garden that little ones never want to leave. Sadly, at the moment, the Children's Garden is closed, because it is a high touch area. But it will open again soon, and in the meantime, more than 200 spectacular acres give families plenty of space to run and explore.
Family Membership: 1-year pass for $159
While small in size, this PV spot is a jewel. Bursting with color, and plenty of wildlife, families can wander through the Children's Garden, Compost Demonstration Site (more interesting than it sounds, I promise), the Rose Garden, Garden for the Senses, Vegetable Garden, and more. The koi pond and lake call to kids like a siren. Reservations are required, it never gets too crowded, and the membership price can't be beat.
Basic Membership (Two adults and all kids under 18): 1 year for $65
In a word: peacocks. Yes, this 127-acre spot has historic buildings (the adorable Queen Anne cottage, where the opening credits to Fantasy Island were filmed, as well the Santa Fe Railway Station), Baldwin Lake, gorgeous lawns to run through and flowers to admire, but if you ask kids what they love here, it's the peacocks who strut their stuff throughout the grounds. The ducks and geese are pretty memorable, too. If you lack a backyard, let this become your backyard away from home. When things open up again, the Arboretum has loads of family programming, including concerts in the summer. Members are not required to reserve tickets in advance, with the rest of the hoi polloi, which allows for spontaneous "gotta go somewhere right now" visits.
Family Membership: 1 year for $85
Want to do something new? This garden in Claremont is a drive for many Angelenos, so it's more of a hidden, undiscovered treasure. The Butterfly Garden is one of the loveliest we've ever visited, and it's a wonderful learning spot dedicated to showcasing and preserving native California plants, like the Joshua tree. Art and sculpture exhibits are frequently placed throughout the garden, giving a taste of fondly remembered art museums. Reservations are not required for members.
Family Membership: 1 year for $85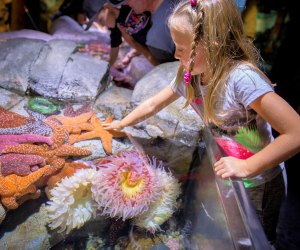 Reaching out to touch a star at the Aquarium of the Pacific. Photo by Andrew Reitsma/Aquarium of the Pacific
Zoos and Aquariums with Memberships
Since zoos are mostly outside, these zoos and aquariums were some of the last places to have to close, and we hope will be the first to reopen, soon.
The Santa Monica Pier Aquarium has its Aquadoption program, which is a year of membership and the "adopting" of an animal. The in-person membership year won't kick in until the aquarium opens again, but in the meantime you can cash in your virtual animal feeding perk as a cool thing to do one day; the in-person benefits are waiting for you from the day the aquarium reopens, and you're helping a treasured kids' venue stay afloat.
Adult Membership and Private Animal Feeding Experience (Kids 12 & under are always free): $50
Discover what's going on "under the sea" at the Ocean Institute in Dana Point. While the facilities are closed, the institute has moved many of the exhibits outdoors, and is open weekends for outdoor excursions and learning experiences, like Tidepool Hikes, Kayak Tours, Fish Dissection, Underwater Robot Challenges, and more. Members get free admission, 2 free tickets to Whale or Bioluminescence cruises, 4 free tickets to the Tall Ships Festival, and early registration plus a 10% discount to the learning experiences mentioned above. The free tickets alone are valued at $150, so this membership pays for itself and fills the calendar with fun, outdoor outings.
Sea Star Family Membership: $150
From lions to tigers and bears (and even hippos), oh my, what kids don't want to get an up-close look at their favorite animals? Much like the lumbering elephants at the center of the Los Angeles Zoo, you'll never forget the memories you make here. Members get unlimited access, a members-only express entrance, discounts on camps and parties, free admission to many other zoos around the state and beyond, members only tours, 4 free Safari Shuttle tickets, half-priced tickets to Zoo Lights, and admission to Big Bunny's Spring Fling and Boo at the Zoo. So while the zoo is currently closed, your support is needed more than ever to support the zoo's conservation efforts and animals, and you'll have all this to look forward to as soon as it opens. In the meantime, membership or no, everyone can enjoy loads of animal videos, virtual field trips and more on the website, for free.
Family Membership: 1 year for $150
It's better, down where it's wetter, take it from me. If you want to take your kids on an underwater adventure, a membership to the Aquarium of the Pacific is the way to go. With 19 major habitats and over 11,000 ocean animals, this museum will show your family it's always better under the sea. Perks include a VIP entrance, discounted parking, and discounted guest passes. While the Aquarium is currently closed, for much of 2020 the outdoor areas, including the Lorikeet Forest, the June Keyes Penguin Habitat, and the Shark Lagoon were able to remain open. Here's to hoping these outdoor spaces (and the whole aquarium) open up again soon!
Family Membership: 1 year for $159
This little gem of a zoo is right up the 101. It's more manageable in size than the other SoCal zoos, and there are loads of reasons to visit this year. In addition to the new Australian Walkabout that's opening in Summer of 2021, the zoo has had a baby boom of sorts lately, and many of the newest inhabitants haven't had a chance to meet the public yet. Visit as soon as the zoo reopens (which may be before the LA Zoo, since Covid cases have been lower in Santa Barbara County) to meet Pauline, the new baby lion cub that was just born in November, as well as Twiga, the baby giraffe and Hope, the baby flamingo. Then the family will need to return for the new Australian Walkabout, and come back again for the Spooky Zoo in the fall. By then, a membership has paid for itself.
Family Membership: 1 year for $135

Noah's Ark moves outdoors, but only members will be allowed—and masks are required. Photo courtesy of Skirball Cultural Center
Special Offerings for Members Only
Most years the Skirball is worth joining just for unlimited access to the amazing indoor playground Noah's Ark. But there's more to enjoy here, too, including rotating art exhibits (a Star Trek one is scheduled to open in 2021), a family art studio, and an archeology dig. Enjoy discounts on family programs, too. And, while the pandemic is keeping many favorite museums closed, the Skirball has found a way to bring back the beloved Noah's Ark—by moving it outside. While it has temporarily closed, the museum anticipates bringing back this members-only outdoor experience soon; with a membership you can reserve your spot as soon as it does.
Family Membership: 1 year for up to four children/grandchildren for $115
RELATED: 10 Best Children's Museum around LA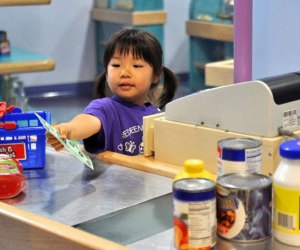 Essential workers, hard at work. Photo courtesy of Pretend City Children's Museum
Memberships to Purchase Now and Use in Person Later
When we needed to get out of the house and entertain the kids, these museums were there for us. Now, if pocketbooks permit, we'd like to be there for them. Purchasing a membership now helps these places stay afloat, and ensures that the museums can reopen at full strength when allowed.
A child-sized, interconnected city, Pretend City is designed to teach kids "the world in a nutshell." Through problem-solving games and lots of fun, your little ones can learn how the real world works in a safe environment. Memberships have no blackout dates, so kids can have non-stop access to a place where they'll never be bored, and membership will give kids access to members only hours, events, and even access to a therapist. (Which may come in handy after this year.) It also supports the Play@Home live events which are streaming (for free, for everyone) twice a week.
Family Membership: 1 year for a family of 4 is $255
The Zimmer moving to Santa Monica and changing names was a big deal—and kids need to be in the thick of it. Whether your crew want to fly a plane or build the world of tomorrow with their own hands, the ever-evolving exhibits at the Cayton Children's Museum were once favorites in town and now delight families near the beach. Members get discounts on camps and classes as well as discounted reciprocal membership at children's museums around the country.
A membership now helps support free outdoor programming for kids in every community, and also supports the Cayton at Home free programming for everyone that is available right now on the Cayton Children's Museum YouTube channel.
Family Membership: 1 year starts at $105 for one adult and one child (additional family members can be added for $40 each)
Stepping inside this monumental museum, the largest natural and historical museum in the western US, will make your family feel like it's slipped back in time. The perks of membership are numerous, from unlimited access to a variety of sister museums to special events and free tickets for First Fridays. The unlimited free admission is also good at the La Brea Tar Pits Museum. And members get free timed tickets to the museum's annual Butterfly Pavilion and Spider Pavilion. Yes, the museum is currently closed, but with loads of highlights and exhibitions available online, kids can see animals and continue learning at home. Families also get discounts to the virtual camps (and the real camps, hopefully, this coming summer).
Family Membership: $1 year for $119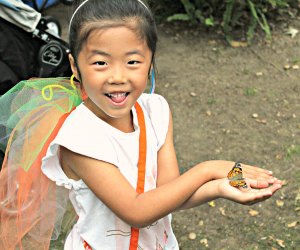 The Butterfly Release Days at Kidspace are magical. Photo courtesy of Kidspace Children's Museum
From imagination workshops to interactive forests of fun, this LA favorite is sure to make teaching your kids a blast. While the museum is currently closed, Lisa Clements, the new Kidspace CEO says, "When we reopen in 2021, Kidspace will be more inclusive, more creative, and more accessible than ever before, with expanded educational programs onsite and online in the arts, STEAM, and local wildlife conservation." Membership purchases now help ensure that this evolving, beloved spot stays open for generations to come. It also puts families first in line to register (and get discounts) for camps, classes, the butterfly breakfast, snow play days, and the big reopening event in 2021. While the space is still closed, check out the Learn at Home section of the website for ideas and projects that keep kids occupied at home.
Family Membership: 1 year for a family of 4 is $199 (Duo Memberships for one adult and one child are just $90.)
With more than 100 interactive exhibits, from a history of human inventions to a real-life space shuttle, California Science Center always has something new to explore, for kids big and small. With your membership, you'll get discounts on special exhibit tickets and priority entry during busy times, plus free admission to more than 300 science centers nationwide. Also included are free IMAX tickets, free parking passes, and several rides on the highwire bicycle. All that kicks into effect once the museum reopens, and in the meantime, membership funds help support science learning for everyone, as the museum is providing Stuck at Home Science activities and videos online.
Family Membership: 1 year for $85
This article was first published January 16, 2018.
Sign up for the Mommy Poppins Newsletter today!