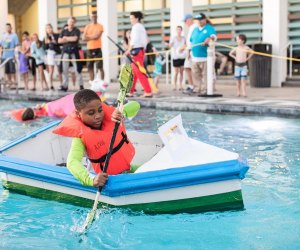 Best Things To Do in Los Angeles in August 2021 with Kids
August is that crazy time of year when the height of heat and summer fun collides with back-to-school—so parents need to turn the dial up on the end-of-summer fun. Luckily, the events and outings in Los Angeles this month do not disappoint, and there are loads of amazing activities to do before the school bell rings—many of them free. Kids can visit the newly reopened Cayton Museum or score free comic books. Kids can hit the streets at CicLAvia (it's back!) or take to the water at the Cardboard Yacht Regatta. With Shakespeare at Griffith Park, Bob Baker's marionettes in the theater, and family-friendly shows at the Hollywood Bowl there's almost too much entertainment in August!
And that's just a taste to whet your appetite; we're adding activities to our calendar of events every day. Plus, just because school starts, summer isn't over. Our Summer Fun Guide is packed with activities that LA kids can enjoy as long as the sun is shining (which is always!).
Keep reading for the best can't miss events for LA families this August ...