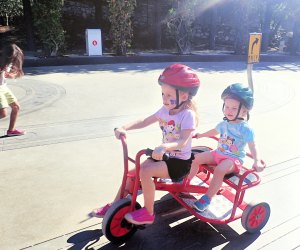 Got Early Risers? What To Do in LA While Everyone Else Is Sleeping In
If your life is like mine, it can sometimes feel like you're living on a farm... for many reasons—one of them being that your children wake up when the chickens rise. My kids are often revved up and ready to go at 6am or even earlier. So what should you do with all of that early morning energy? From indoor playgrounds to trampoline parks, we've got eight great ideas.

Take the Kids Bouncing
What better way to ensure your early risers will sleep well tonight (and maybe even nap in the car) than taking them to a trampoline park? Kids ages 6 and under can bounce their hearts out every morning at DojoBoom in Thousand Oaks beginning at 9am. Circus Trix in Mission Viejo also opens its doors at 9am every Saturday and Sunday for all ages, and during the week for the under-6 crowd. Big Air Trampoline Park, with locations in Buena Park and Laguna Hills, opens early several times a week for 'toddler time' (which generally means ages 7 and under). And at Rockin' Jump in Valencia, San Dimas, and Santa Ana, those 6 and under can begin jumping on Saturday mornings as early as 8am. Whew!
(Times accurate as of our publish date—be sure to double check before heading out!)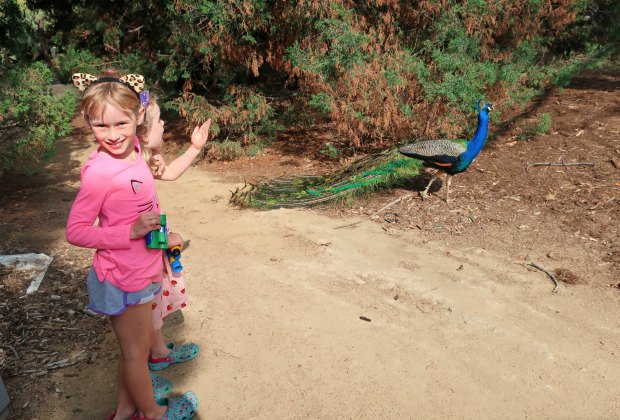 Peacocks are the stars at the LA Arboretum. Photo by Jackie Jones
Take in Some Wildlife
Mornings can be the best time to see animals at their most active states, especially during the summer months when afternoon heat can cause them (and kids) to get lethargic. If you haven't yet seen the famous peacocks at the LA Arboretum in Arcadia, morning is a great time to go; you can visit Monday through Sunday starting at 9am (members get in at 8am). Descanso Gardens in La Canada Flintridge is home to a diverse group of animals and plants; it, too, opens at 9am every day of the week. If your kid is into sea animals, a trip to the Aquarium of the Pacific in Long Beach should surely delight; it opens its doors every day (and even many holidays) at 9am. Got a fan of farm animals? At Underwood Family Farms in Moorpark, kids can ride ponies, pick fresh fruits and veggie, and even take a tractor ride starting at 9am every day of the week.
Play Indoors
While 10am seems to be the magic hour for most LA area indoor playgrounds, there are a handful that cater to early risers. Kids can climb, bounce, and dive in the ball pit Tuesday through Friday at Woodland Hills' Scootie Gootz beginning at 9am. For the younger crowd (say 3 and under), Playlab in Pasadena offers a sleek and modern play space, complete with complimentary coffee and tea. It opens at 9am Monday through Friday and some weekends, too. Bonus: once a month Playlab hosts 'Dadurday,' when dads can enjoy free breakfast with admission.
Annenberg Beach House has a stroller-friendly boardwalk to the waves. Photo by Darren Jones
Hit the Beach
Nothing seems to tucker my kids out quite like the ocean, and Los Angeles boasts a plethora of beautiful beaches to choose from. Most are open by 8am and some even offer playgrounds, restaurants, and wildlife viewing. A personal favorite, the Annenberg Community Beach House in Santa Monica, even has its own splash pad which turns on daily at 9am. Another benefit of going to the beach early — easy parking. Usually, by 11am on a hot summer day, the parking lots at Annenberg are already full.
Stock Up on Groceries
...And I don't mean at the grocery store. While a mere mention of going to Ralph's can elicit moans and groans from my kids, a trip to the farmers market is never met with resistance. Perhaps that's because many offer fresh fruit samples along with the fresh air. And some, like the Studio City Sunday farmers market, even have kid zones with bounce houses and other rides. Plus, farmers markets are open on the weekends at 8am or often even earlier.
It Pays to be a Member
If you have been considering buying a membership to Kidspace in Pasadena, here is a new incentive: The children's museum just started opening an hour early for members every Sunday at 9am. For Orange County parents, Pretend City Children's Museum opens its doors to members Monday through Saturday at 9am. And several times throughout the year, the LA Zoo holds member mornings on weekends. These start at 8:30am.
The Mall is Your Friend
Even though the shops won't be open until 10am or even later, the mall is—usually by 8am. Little tykes will likely be entertained looking at colorful store windows and running the corridors. Many local malls even have play areas for kids and coin-operated kiddie rides. Plus, malls are often home to coffee shops so tired parents can fuel up.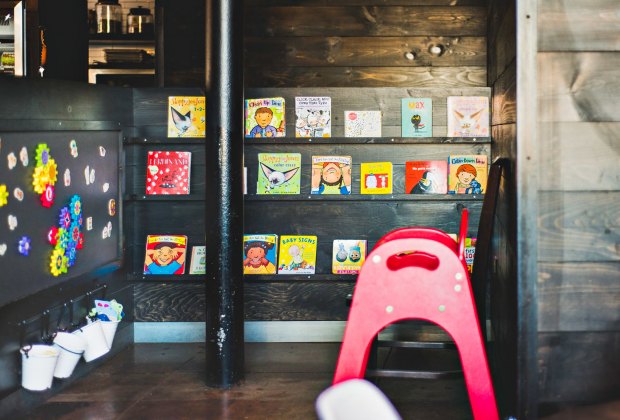 Family area at Swork. Photo courtesy of Swork
And Speaking of Coffee....
Swork in Eagle Rock understands your plight, parents! The coffee bar was designed with families in mind. Not only does it have great coffee and pastries, but Swork has an area reserved for little kids with miniature chairs and a table, a magnet board, and a nice collection of toddler-friendly books. And, by the way, Swork opens at 6am during the week, and 7am on the weekends.
Now, after such an active day, here's to getting eight hours of sleep tonight! A mother can dream, right?