10 Nassau County Preschools to Consider
With so many options on Long Island, choosing a preschool for your toddler can be daunting. To help get you started, we've put together a list of 10 schools in Nassau County that are definitely worth checking out.
And while doing your homework includes gathering all the information you can and perusing websites, taking your child to visit a school is probably the best way to determine its fit. Most schools have tours and open houses, so don't hesitate to take advantage of these offerings.
For more help with your school search, take a look at our complete guide to Long Island preschools. And check out our listing of Montessori preschools if you decide to explore that option for your child.
Child's World Nursery School — Port Washington
An age-appropriate curriculum with an emphasis on engaging activities helps develop a solid foundation for basic concepts. The curriculum of its universal pre-k program for 4-year olds, taught by New York State-certified teachers, is designed to meet criteria for Common Core standards. Enrichment and extended day programs are available.
Discoveries Preschool — Massapequa
This school's mission is to help children express themselves creatively, learn through play, and become independent thinkers. Children enjoy daily and weekly activities, including music and movement, gym, library, computers, circle and activity time, journaling, and more. Three, four, or five-day preschool sessions are offered.
RELATED: Questions to ask during a preschool tour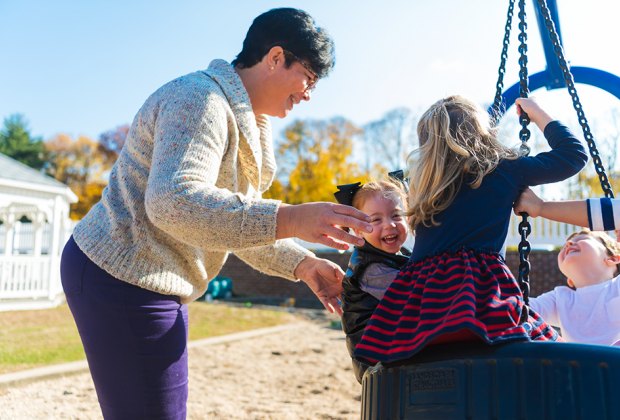 A child-friendly design and plenty of outdoor space are hallmarks of The Green Vale School .

The Green Vale School — Old Brookville
Although this school goes up to middle school, preschoolers (and younger children) have a place all their own at the Schwerin Early Childhood Center. The facility boasts heated floors, child-sized cubbies, bathrooms in each classroom, and more. All teachers and assistants have backgrounds in early-childhood education and focus on a curriculum that builds and strengthens academic skills.
Kidville — Garden City
Kidville University is billed as a "social preschool alternative" program that fosters learning through play and age-appropriate activities. Gym, music and yoga, science and language, art, reading, and snack time can all be part of a preschooler's typical day here. Programs vary by location.
RELATED: Finding the right preschool fit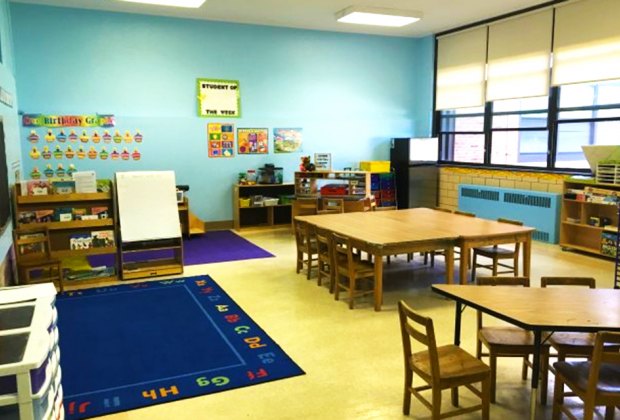 Spacious classrooms and a well-rounded curriculum make North Shore Early Childhood Center a worthy consideration.
North Shore Early Childhood Center, Inc. — Roslyn Heights
Located on the grounds of St. Mary's School, this nonprofit school is governed by a board of directors who are all volunteers. The curriculum focuses on daily guidance, individualized learning experiences, and more. Age-appropriate electives include art, science, dance, music, math, music, Spanish, and Mandarin. The school operates all year round.
Peanuts Nursery School — Farmingdale
Primarily a nursery school, this facility does have a program designed specifically for 4-year-olds. Daily activities include free play, computer time, storytime, art, music, outdoor and indoor play, drama, science, and more. Morning and afternoon sessions are available three or five days a week.
Seaford Community Preschool — Seaford
Around for 50 years, the Seaford Community Preschool is a ministry of the United Methodist Church of Seaford. Dedicated to preparing children socially, emotionally, and academically for kindergarten, the program focuses on early language and literacy development, writing, math and science, and art. Outdoor and indoor play are also important parts of a child's day.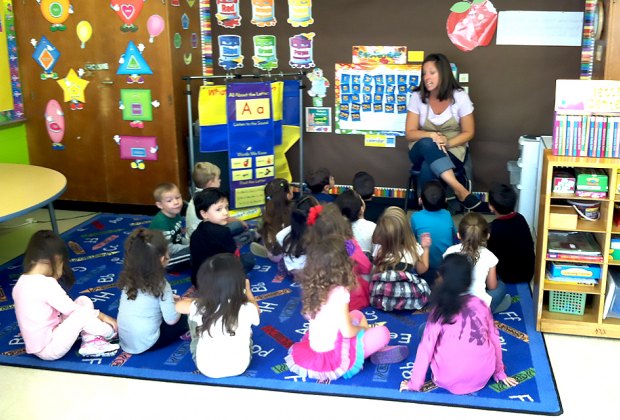 At Tender Garden Early Childhood Center, "little seeds blossom."
Tender Garden Early Childhood — Levittown
This school takes a play-based approach to helping children develop academically and socially. In addition to and emphasis on cultivating social, emotional, cognitive, communication, and motor skills, New York State-certified teachers also focus on reading, writing, listening, speaking, and basic math skills. There are morning and afternoon sessions, as well as an extended-day program.
Tobay Day School — Syosset
Family participation is encouraged at this nonprofit, cooperative school, where parents volunteer in the classroom, on the board, and on fundraising committees. The focus is to let children learn through play. The curriculum includes language and communication skills, math, reading, music, art, nature, computers, science, cooking, and more.
Village Preschool — Bayville
This school was founded more than 40 years ago by a group of local parents and is based on the idea that "play is child's work." Developmentally appropriate activities are emphasized and children necessary social and emotional skills. Four basic goals of the school's program are development of self-esteem, respect for self and others, an understanding of responsibilities, and a love of learning.
Top photo: Preschoolers have a dedicated learning space at The Green Vale School.
All photos courtesy of the schools