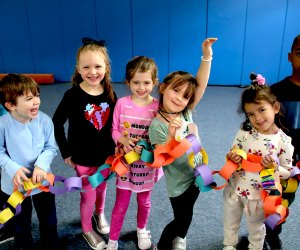 10 Full-Day Preschools on Long Island
Finding a full-day preschool on Long Island can be stressful. Whether you need a preschool program that accommodates your work schedule or simply prefer a longer day to give your child a leg up on the skills he or she needs for kindergarten and beyond, finding the right preschool program for your family is important.
These 10 Long Island preschools give you the option of sending your child full-time and/or taking advantage of extended-hours programs. Check out our Guide to Long Island Summer Camps for Preschoolers and our full Preschool Guide and Directory of Schools for more ideas on keeping your preschooler active and engaged.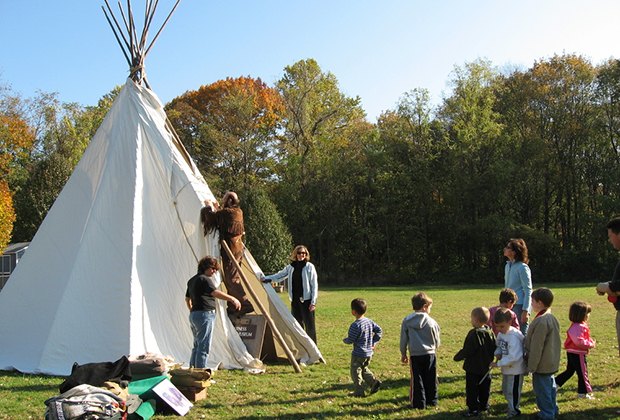 Port Washington's Child's World Nursery School offers an innovative curriculum for young learners.
Nassau
Buckley Country Day School — Roslyn
This coed independent school hosts morning sessions for young children, but also gives parents of nursery and preschool-age children the option of enrolling their child in its afternoon extended-day program from noon to 3 pm. After lunch, children engage in arts and crafts, storytime, dramatic play, outdoor play, nature walks, naps, and more. A teacher and an assistant supervise the group.
Child's World Nursery School — Port Washington
With both a preschool program for 3-year-olds that follows an age-appropriate curriculum and a universal pre-K program for 4-year-olds (mommy-and-me and toddler programs are also available), this licensed, accredited, nonsectarian school offers something for every young learner. The five-day pre-K program runs from 9 am to 2 pm, but early hours (8 am dropoff) are available, as well as extended-day enrichment programs that include art and science classes, sports, and even Mandarin Adventure.
Countryside Montessori School — Great Neck
Countryside Montessori has full-day (3pm dismissal) options for parents of children as young as 18-months. The school has two primary classrooms and two toddler classrooms and follows the Montessori philosophy, in which children of different age groups and skill levels work together to master math, language, science, practical life, and more.
Miss Sue's Preschool & Day Camp — Plainview
Offering both nursery and preschool programs, this private preschool and day camp is staffed by teachers certified in early childhood education, CPR, and first aid. Daily activities include crafts, hands-on activities, circle time, storytime, cooking, concept-based table games, and more. There are morning (9 am-12 pm) and afternoon (1 pm-4 pm) sessions, but parents have the option of sending their child to a full-day session. Extended-day hours are usually until 5 pm, but the school will customize its hours to accommodate your needs.
The Green Vale School — Old Brookville
The Green Vale School is recognized as one of Long Island's top early childhood institutions. Pre-nursery, nursery, and preschool students are divided into classrooms with no more than 14 students and are given individualized games and activities to promote learning. As they progress, children are introduced to the Writer's Workshop model and Singapore Math curriculum. Preschool hours are 8:25 am-3 pm, but an extended-day program is offered until 6 pm.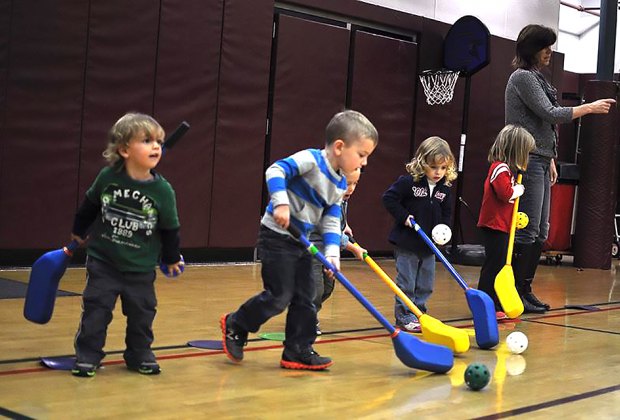 At the Great South Bay YMCA parents can choose from a full or half-day program.

Suffolk
Crestwood Country Day School — Melville
Crestwood's hours are from 9:05am to 3:45pm with the option of enrolling preschoolers in morning sessions, an extended junior day program that runs until 2pm, or the full-day program that ends at 3:45pm. This private school gives preschoolers the opportunity to learn technology, science, music, physical education, and even Mandarin or Spanish.
Great South Bay YMCA - Bay Shore
While the Great South Bay YMCA is one site for Bay Shore School District's UPK program, they also offer preschool for non-UPK kids. The full-day program runs from 8:30 am to 4 pm, with extended-care morning hours starting at 6:45, and after-school hours until 6 pm. The program focuses on preparing students for kindergarten and developing social, emotional and intellectual skills. They also offer a half-day program with morning and afternoon options, as well as a 2,3, and 5 day week. All kids get to participate in the YMCA swim program.
Ivy League School and Day Camp — Smithtown
This private school, which has been operating for more than 50 years, offers several preschool options, with its longest day running from 9 am to 4 pm. Early dropoff starts at 7 am and extended-day programs run until 6:30 pm. Pre-K teachers use a range of visual, audio, and tactile strategies to teach an age appropriate curriculum and Ivy League offers programs for gifted and talented young learners, as well.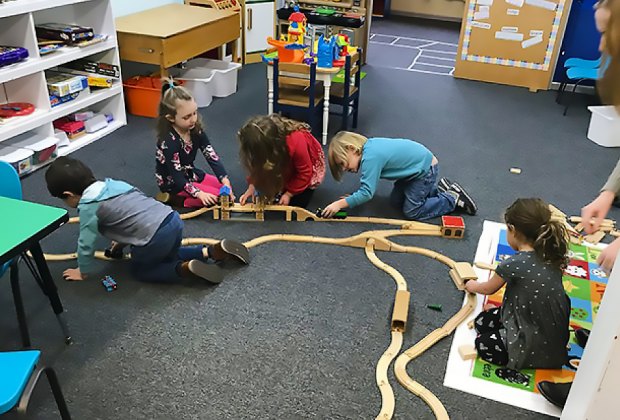 The Rainbow Preschool in Bridgehampton offers a full day of instruction and late-afternoon pickup.
The East End
Early Start Play Care — Hampton Bays
Early Start is both a daycare and preschool that offers a 7 am dropoff option and a full-day program ending at 4:30 pm. Storytime, circle time, puzzles, and more are taught by certified general and special-education teachers. Extended afternoon hours are available.
The Rainbow Preschool — Bridgehampton
This licensed nursery and preschool offers a full-day program from 8:45 am to 2:45 pm, with the option of enrolling children in an after-care program with a 5:15 pm pickup. The pre-K session focuses on creative arts and skills children need to become kindergarten-ready. Class sizes are limited to 13 students per day and kids who attend the nursery program are given first priority for student enrollment.
Photo courtesy of the schools