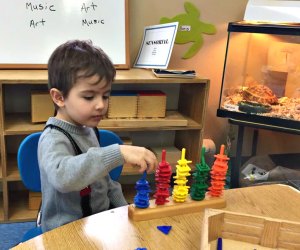 10 Montessori Preschools for Long Island Kids
The days are long, but the years are short. Before you know it, it's time for your little one to spread his or her wings and head off to preschool.
There are many preschool options on Long Island and choices can be overwhelming. But if you've decided a Montessori preschool is a good fit for your child, we've put together a list of 10 options to get you started on a search.
For the uninitiated, Montessori is an educational philosophy developed more than a century ago that encourages kids to be independent and learn at their own pace. Typically students are grouped by ability rather than age, classrooms are outfitted with specific learning materials, and specially trained teachers act as observers and facilitators.
Take advantage of the tours and open houses these schools offer and bring along your child so he or she can get a feel for the school as well. For more learning opportunities for Long Island kids, check out our classes and enrichment guide.
Nassau
Countryside Montessori School — Great Neck
Ages 18 months-6 years
Countryside Montessori School has two toddler classes and two primary classes. The toddler class is for children 18 months to 3 years old while primary includes nursery, pre-K, kindergarten, and first-grade students. Families are encouraged to keep their child in the primary program for three consecutive years to take advantage of the full curriculum. All curricula follow the Montessori philosophy. The school has an outdoor playground and access to natural surroundings that children are free to explore safely.
Happy Montessori School of Port Washington — Port Washington
Ages 2 years, 8 months-6 years
Founded in 1970, the Happy Montessori School is a community fixture. This New York State-accredited school looks to the Montessori principle that for children to learn they need freedom; a freedom that is best achieved through structure and predictability. Here, children have the opportunity to practice yoga, learn Spanish, and appreciate art and music. The school also offers a summer day camp held at Sands Point Preserve. Interested families are encouraged to call for a tour of the historic campus. Transportation is available for those in Port Washington and parts of Manhasset.
Long Island Montessori School – Westbury
Ages 3-6
Children at Long Island Montessori School learn in a multiage classroom functionally arranged for children to work and move about freely. All items are neatly placed on shelves that children can see and touch, and books are always available. The school offers an extended program in the morning and afternoon for those families who need it.
Montessori Children's School — Massapequa
Ages 2 years, 9 months-5 years
Children are encouraged to learn here through exploration. Programs for children begin as early as toddler and run all the way to kindergarten, taught by lead teachers with Montessori certification. The school offers an extended-hours program for families who need before- and after-care. There is also a summer camp for children.
Our Lady of Grace Montessori School — Manhasset
Ages 3-10 years
Our Lady of Grace Montessori School's "The Wings" program is a multiage community of learners between the ages of 3 and 6. Half-day sessions are offered for either the morning or the afternoon for 3-year olds and full-days are available for 4-year olds. The school follows Montessori principles with a Catholic orientation in all areas of learning, including practical life, sensorial, math, and language. Classrooms are carefully prepared with concrete and hands-on materials designed for discovery and understanding. The curriculum adheres to New York State standards.
Suffolk
Loving Hands Montessori Preschool — Islip
Ages 18 months-6 years
Loving Hands Montessori Preschool accepts enrollments all year long for its preschool day care, toddler, and preschool programs. The school has options for families who are looking for full-day or half-day care as well as an accelerated curriculum for pre-kindergarten children. Healthy meals and snacks are provided in addition to the school's own unique, child-focused curriculum based on Montessori principles. Summer programs are also offered.
Montessori Children — Port Jefferson Station
Ages 3-6
This Montessori preschool offers 2 1/2-hour sessions in the morning Mondays to Fridays with afternoon sessions on Tuesdays, Wednesdays, and Thursdays. Children learn sensorial, math, language, and culture skills, and more. Classrooms are set up so students can freely move about with purpose. Children begin by learning shapes and move onto letters, numbers, and then to simple word reading and math problems. Children also learn to think before they act and to consider the needs of others.
North Shore Montessori School — Stony Brook
Ages 18 months-5 years
The "Stepping Stones" program at North Shore Montessori School is for toddlers 18 to 36 months. Enrollment is for two, three, or five days weekly. The Flexible Children's House is designed for children 3 to 5 years old. Flexible days and times allow children to adjust and learn at their own pace. The Children's House prepares children ages 3 to 5 for the transition to grade school. North Shore's classroom environment allows for both structure and the flexibility needed for children to grow and develop physically, emotionally, and cognitively. Included in the kindergarten and full-day preschool curriculum are music, art, foreign language, and creative movement. The school also offers enrichment programs such as yoga, Soccer Shots, Bite Size Bakers, chess, and theater.
RELATED: 10 Full-Day Preschool Options on Long Island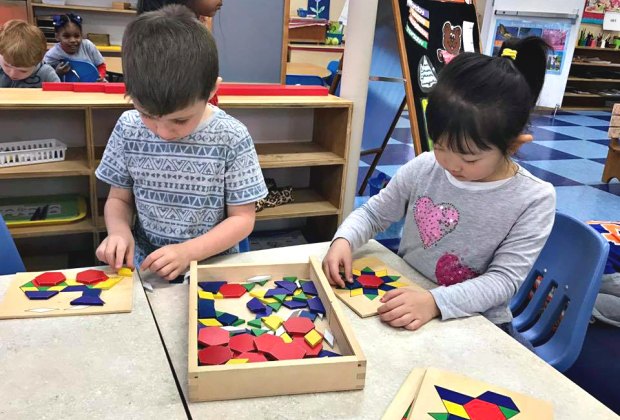 Stimulate your child's learning at West Hills Montessori.
West Hills Montessori — Huntington
Ages 18 months-6 years
Sitting on an 18-acre campus, this school offers an abundance of indoor and outdoor space for students. There are six playgrounds, a rock climbing wall, multiple sports fields, a rope course, heated pools, and an outdoor science and nature center with a living pond. Programs are available for toddlers all the way to sixth grade. Teachers at West Hills Montessori are certified Montessori teachers with some holding a master's degree.
RELATED: 5 Ways to Ease the Transition to Preschool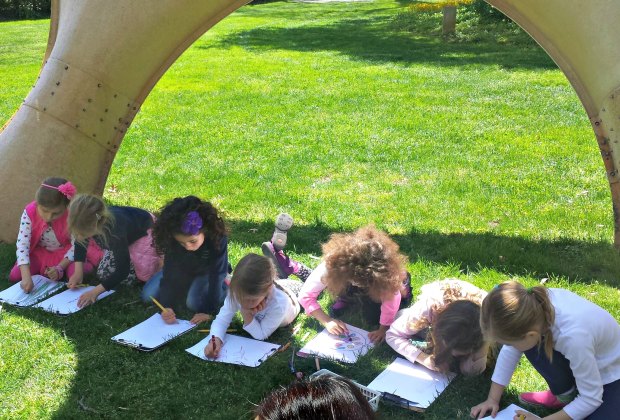 Students learn in mixed-age environments at Southampton Montessori School.
East End
Southampton Montessori School — Southampton
Ages 3-9 years
The curriculum here is based on a three-year cycle of mixed-age groupings so students can take full advantage of the program and learn from and teach each other. Half- and full-day preschool sessions are offered five days a week, and elementary sessions are five days a week from 9am to 2pm. Before-care and after-care are available for families who need it. Students have access to the school's main building, which houses the classrooms, a greenhouse, and a gymnasium. Students can also enjoy the garden, courtyard, and playground area.
Top photo: Engage in hands-on learning at West Hills Montessori. Photos courtesy of the schools