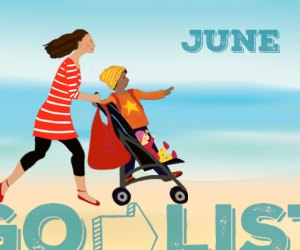 June GoList: Best Things To Do with Kids on Long Island
Do you ever fantasize about living in a perpetual state of June?
Think about it: In what other month on Long Island are the flowers blooming so brightly; is the sky a more colorful blue; are the temperatures quite so, temperate?
June on Long Island is a month of transition—from spring to summer, from the end of the school year to the beginning of vacation time. But it also a month of remarkable possibilities, 30 days to celebrate all we love about life on our overcrowded, traffic-strewn stretch of real estate.
At the start of the month, a mere four weeks remain in the school year. That's still plenty of time to cherish dad, enjoy a seasonal festival, tap into your inner STEM self, or even join in the celebration of our most celebrated literary celebrity. Whatever your preference, there's plenty to keep you and your kids engaged until the school year concludes.
So why belabor. Let's get right to our roundup of the best family-friendly entertainment in this most entertaining of months. Remember, our Long Island events calendar offers other exciting options as they develop throughout the month. You also might want to peek at our guides to Long Island theme parks and water parks and family beaches as the weather (hopefully) gets warmer.
Our summer fun guide offers even more possibilities. As always, sign up for our FREE newsletters to get posts like this delivered to your inbox.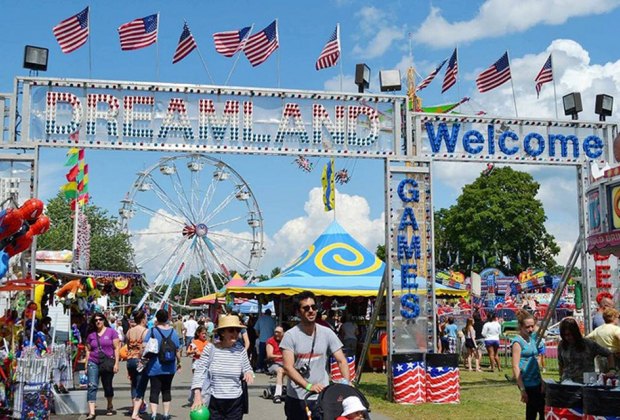 From kiddie rides to thrill rides, find your favorite attraction at the Herricks Community Center Carnival. Photo courtesy of Dreamland
Herricks Community Center Carnival — Herricks
Thursday, May 30-Sunday, June 2
The start of June means the beginning of carnival season on Long Island. This annual event, held near New Hyde Park, features rides for all ages, carnival games, and, of course, fair food. Carnival admission is FREE and single-day,unlimited-ride wristbands are $30.
Walt Whitman Birthday Bicentennial — Huntington Station
Friday, May 31-Sunday, June 2
Older kids especially will appreciate this three-day celebration of Long Island's poet laureate. Visitors will enjoy scholarly lectures, birthday parties for kids and adults, and readings of Whitman's most celebrated works. High school and college students deliver presentations of their own poetry, and docents in mid-19th century dress circulate with visitors.
Nassau County Strawberry Festival — Bellmore
Thursday, May 30-Sunday, June 2
June is strawberry picking season on Long Island, and this Nassau County festival features strawberry shortcake, chocolate-covered strawberries, and strawberry daiquiris. Also enjoy a pie-eating contest and a host of carnival rides. Strawberry festivals are also scheduled in East Setauket and Riverhead on the weekend of June 8-9 and another in Massapequa on the weekend of June 15-16.
May We All Grow Up to Be Children — Port Washington
All month long
Celebrating childhood wonder and the values of friendship and spirituality, this summerlong exhibit at Sands Point Preserve features illustrations and stories from British writer George H. Lewis and his book The Boy and the Boy King.
Fridays on the Promenade — Garden City
Friday evenings beginning June 7
Beginning with Garden City's annual celebration of the Belmont Stakes on June 7, the village's downtown shuts down to traffic for a night of music, arts, crafts, giveaways, face painting balloon making, and more. Kid-friendly outdoor dining options are plentiful along Seventh Street.
RELATED: The Best Fairs and Festivals for Families on Long Island in June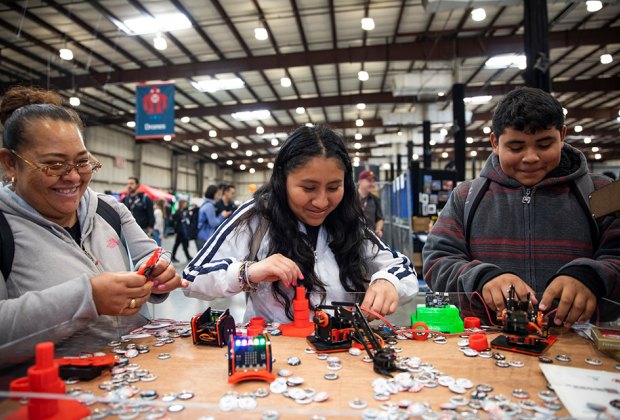 Kids can channel their creative selves at the Eastern Long Island Mini Maker Faire. Photo courtesy of the event
Eastern Long Island Mini Maker Faire – Port Jefferson
Saturday, June 8
Attention wannabe scientists: The Long Island Explorium's event is one of the region's top gatherings of creators, innovators, and young entrepreneurs. Arrive early: Last year more than 100 makers showcased their projects and experiments before more than 2,000 spectators. Afterward, take a stroll through Port Jeff's charming downtown, play at Rocketship Park, or see a children's show at Theatre Three.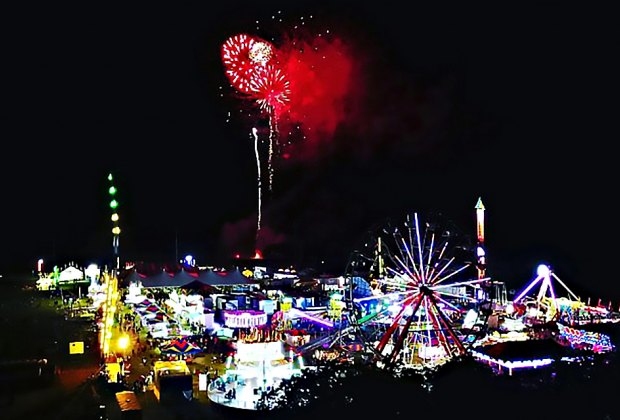 Mattituck Strawberry Festival fun continues into the evening. Photo courtesy of the festival
Lions Club Strawberry Festival — Mattituck
Thursday, June 13-Sunday, June 16
The granddaddy of all strawberry pageants, where families from all across Long Island descend on the North Fork community for four days of shortcake, fireworks, carnival rides, and more. The event climaxes on Father's Day; dads are admitted FREE when joined by a paying child. Proceeds benefit the Lions Club's North Fork charities.
Long Island Fun Fest — Brentwood
Thursday, June 13-Sunday, June 23
This 10-day celebration on the grounds of Suffolk County Community College features carnival rides, magicians, illusionists, fireworks displays, even a petting zoo. Enjoy nightly entertainment, fair food, and more. Family "four-pack" tickets are available at a discount.
Father's Day Activities — Islandwide
Saturday, June 15-Sunday, June 16
Celebrate the day with dad (or granddad) with a host of activities across the Island. Enjoy FREE admission to Harbes Family Farm in Mattituck. Enjoy the sports zone with baseball, basketball, and football toss games and, of course, the popular pig races. Dads and granddads also enjoy FREE admission to the Long Island Museum in Stony Brook, and Bellmore United Methodist Church hosts a Dad's Day Summer Fair with funs and games aplenty.
Mounted Cowboy Shooting Show — Old Bethpage Village Restoration
Saturday, June 15 and Saturday, June 29
Families will thrill to these re-enactments of Wild West shows from the 19th century by the Island Long Riders. Riders race their horses at high speeds through a series of courses while shooting balloons. Old Bethpage is Long Island's largest living history museum, where costumed interpreters bring to life stories from the 19th century.
RELATED: Pick-Your-Own Strawberry Farms and Festivals on LI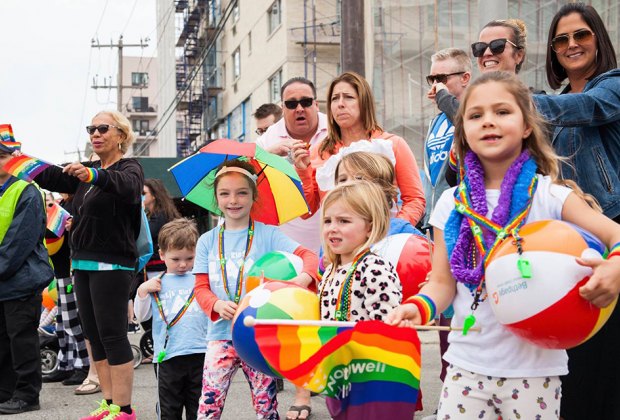 Celebrate the diversity of Long Island culture over three days in Long Beach. Photo courtesy of the event
Pride on the Beach — Long Beach
Friday, June 21-Sunday, June 23
Celebrate the diversity of Long Island on the boardwalk at Long Beach. Enjoy live music all weekend, a carnival, a family fun run on Saturday, a pet march, and a parade on Sunday at noon. Also, enjoy Long Beach's famous boardwalk and prized beachfront. Pride on the Beach, in its 28th year, is Long Island's largest celebration of LGBT culture. FREE
Eternal Con: Long Island Comic Con — Uniondale
Saturday, June 22-Sunday, June 23
The largest pop culture event on Long Island returns to NYCB Live Nassau Coliseum. Enjoy comic book talk, an art show, celebrity autographs, and more. Kids can enjoy a cosplay contest, Jedi Academy, the 50th anniversary of the Sesame Street, and a host of WWE special guests.