12 Places Where LI Kids Can Learn and Have Fun in the Hamptons & North Fork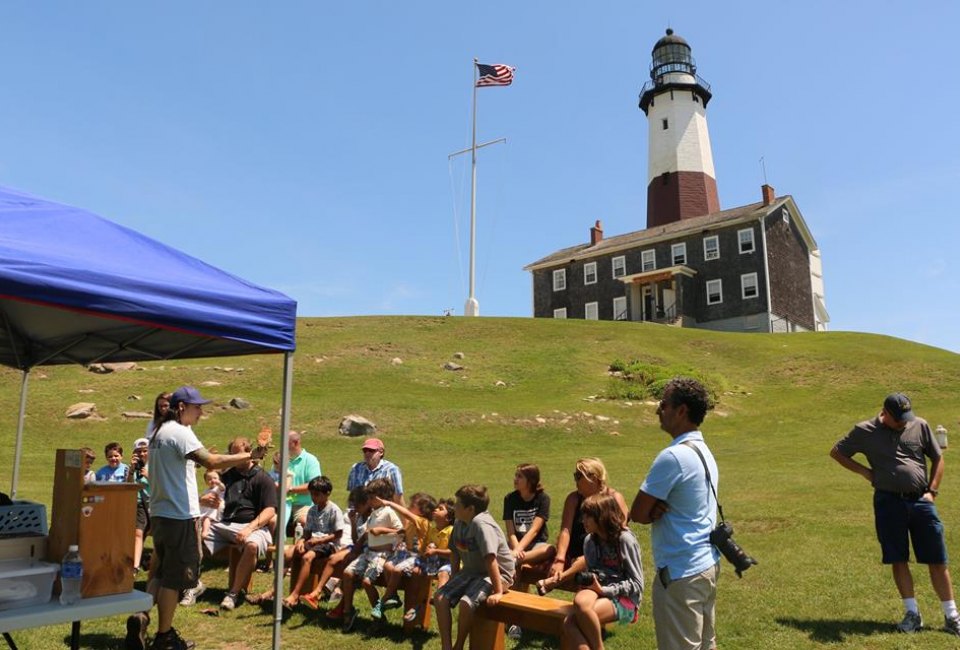 8/31/15
- By
James Smith
Few places bring history to life better than the East End of Long Island. And that's not really surprising. Eastern Long Island is, after all, home of the first permanent English settlement in the state. Not to mention two of the nation's oldest lighthouses, both commissioned by George Washington himself.
Parents eager to indulge their children's intellectual curiosity will find no shortage of destinations out east. We've rounded up a dozen of our favorites that can be visited at limited cost and whose insights are bound to inspire your budding historian.
So check these out, and while you're at it, enjoy our Long Island Classes Guide for more education fun for the kids. Find more Hamptons and North Fork activities in our local guide to the area for families.
North Fork
Cutchogue Green Historic Buildings - Cutchogue
27320 Route 25
This series of historic buildings includes a schoolhouse dating to 1840, the 1740 Wickham Farmhouse, and the Old House, a registered national landmark that dates to 1649. The Old House is considered the state's oldest English-type frame house. Just down the road at New Suffolk Beach is the home of the USS Holland, the Navy's first commissioned submarine.
Hallockville Museum Farm - Riverhead
6038 Sound Avenue
This sizeable property, for decades a working farm, is now an agricultural museum and outdoor classroom. Its buildings also serve as an East End Ellis Island, chronicling the lives of the region's immigrants, especially those from Eastern Europe. Kids are encouraged to interact with the museum's friendly cows, sheep, and chickens.
Horton Point Lighthouse - Southold
3575 Lighthouse Road
Reportedly, George Washington, then a militia colonel, visited Southold in 1756 and decided upon Horton Point as a lighthouse site. Years later, as President of the United States, he authorized its construction. A little-known secret: Horton Point is still an active lighthouse. Included in its museum are artifacts from Long Island's whaling and military history, including remnants of vessels that perished in the Sound. Kids searching for "natural" history can descend the 120 steps to the beach and enjoy a nature walk.
Railroad Museum of Long Island
Griffing Avenue, Riverhead
Fourth Street, Greenport
Ideal for the Thomas the Tank Engine fan in your life, these twin museums are a monument to Long Island's push east. They feature several authentic and restored railroad cars, including several from the Long Island Rail Road. Its model railroading exhibit just might introduce your child to a new hobby. Check the website for hours.
Sylvester Manor Educational Farm - Shelter Island
80 North Ferry Road
This multi-acre property has been farmed for generations, first by Native Americans and then Europeans, beginning in the 1650s. Its transformation from a former slave plantation to an Enlightenment-era farm and then an industrialist's estate, mirrors America's evolving tastes and traditions.
South Fork
The Big Duck - Flanders
1012 Flanders Road
Sure it's kitschy, but the Big Duck also happens to be one of the finest examples of roadside art in the nation. Plus, it also provides a window back to the East End's agrarian past. Erected in 1931 by a local farmer eager to increase duck sales, it now serves as a tourist information center and gift shop. It was added to the National Register of Historic Places in 1997.
Pollock-Krasner House and Study Center - East Hampton
830 Springs-Fireplace Road
Would-be artists and art historians will not want to miss this tribute to Pollock, the leader of the Abstract Expressionist movement, and his wife and fellow artist Lee Krasner. The property, a national landmark, includes their home and studio, as well as a museum dedicated to the study of American art. The center hosts tours for kids in English and Spanish and a series of children's programs throughout the year.
Sag Harbor Whaling Museum - Sag Harbor
200 Main Street
So essential was Sag Harbor's whaling industry to a developing America that it is mentioned robustly in Herman Melville's Moby-Dick. At this museum, kids are introduced to a gone-but-not-forgotten Long Island lifestyle with artifacts, whale remnants, and more. The museum also hosts collections of East End artwork reflecting that period of adventure.
Shinnecock Nation Museum and Cultural Center - Southampton
100 Montauk Highway
The permanent exhibition celebrates the history of the East End's indigenous people. Centuries-old artifacts give kids insight into traditional Shinnecock life and a new guided tour includes access to the Atlantis Marine Annex Center, where sharks, moray eels and other marine life can be seen.
Southampton Historical Museums - Southampton
17 Meeting House Lane
These 14 buildings spread across three properties transport kids back to colonial and 19th Century Southampton. The largest of the properties – the Rogers Mansion – is comprised of a dozen buildings, including a one-room schoolhouse, 18th Century barn and 19th Century paint store. The Pelletreau Shop is said to be the oldest continuing-use trade shop in the country. Yes, it is still open for business.
Montauk
Camp Hero State Park
1898 Montauk Highway
Decommissioned and transformed into a state park, Camp Hero was originally the Montauk Air Force Station during World War II and the Cold War. History buffs, young and old, will love its story: This key coastal defense facility was disguised as, guess what, a fishing village. Today, visitors can appreciate its gun batteries, radar room, motor pool, and more while also enjoying the beach, hiking trails, horseback riding and, in the winter, cross country skiing.
Montauk Lighthouse
2000 Montauk Highway
You know you're historically significant when you're commissioned by President George Washington. So it was with the Montauk Lighthouse, which has guided mariners into Long Island Sound since 1796. Like Horton Point, it still is an active lighthouse despite being named a national historic landmark in 2012. Among the items on display are letters from President Washington and then-Secretary of State Thomas Jefferson authorizing creation of the lighthouse. Then, there is the view … all the way to Rhode Island on a clear day.
Photo: Montauk Lighthouse
Sign up for the Mommy Poppins Newsletter today!
i