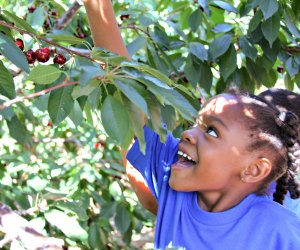 Pick Your Own Strawberries and Cherries: Family Farms for Berry Picking near Los Angeles
Berries always taste better when you pick them yourself, and there are several farms within an hour of Los Angeles where families can play farmer for a few hours and come home with a basket overflowing with berries. SoCal pick-your-own farms have long seasons for picking strawberries, cherries, and other stone fruit (though the 2020 season is a bit unpredictable, so we recommend calling ahead to be sure the farm is open today).
Just a few caveats before hitting the fields: 1. Be sure to check the farm's hours and availability; 2. Farms may charge small admission fees, and 3. Bring cash to pay for your harvest, because many places don't accept checks or credit. Finally, don't forget to slather on the sunscreen and don a wide-brimmed hat!
Pick-your-own Strawberries
As a rule, the first berry ripe for the picking in spring is the strawberry (though with luck the fun goes well into summer), and its arrival is usually heralded with massive festivals. While those are canceled in 2020, the berries are still ripe for the picking!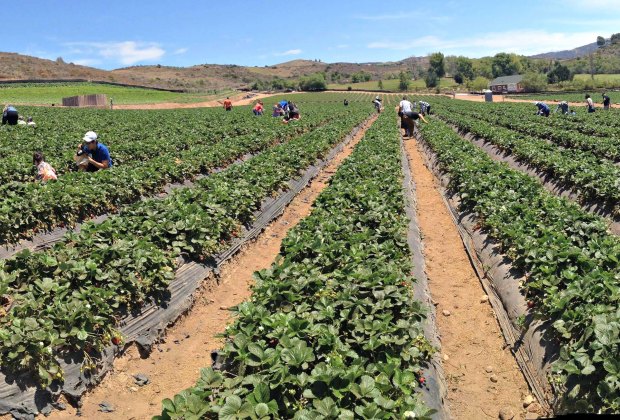 Picking your own means earning every juicy bite. Photo courtesy of Tanaka Farms
Tanaka Farms
5380 3/4 University Drive
Irvine, CA 92612
949.653.2100
Strawberry picking is on for the 2020 season, but reservations are required, to assist the farm in observing social distancing. No walk-ups are allowed. All attendees must wear mask and gloves, and no eating is allowed in the field. Guests are asked to pick what they touch and put it in their baskets, and to keep 6 feet away from other pickers. The farm stand is open for drive-through, if visitors are interested in bringing home some other farm fresh produce as well. The stand has everything the farm grows, which includes peanuts, grapes, corn, tons of different veggies, fruit, and nuts.
RELATED: Campgrounds with Extra Entertainment To Keep Kids Happy​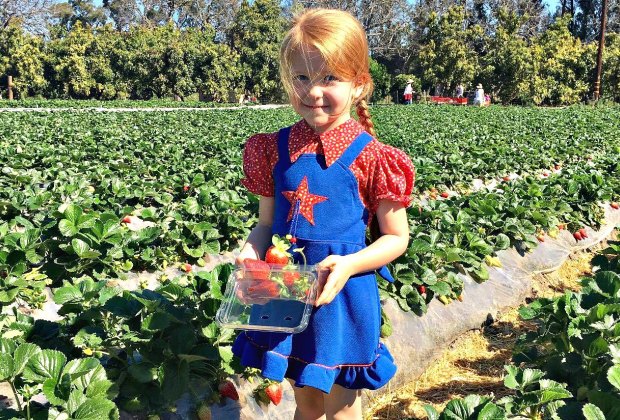 Berry cute overload! Photo courtesy of Underwood Family Farms

Underwood Family Farms
3370 Sunset Valley Road
Moorpark, CA 93021
805.529.3690
A fully functioning farm, Underwood is a place where children can get a real sense of a daily life on a farm—and come home bursting with fresh, sustainably grown berries. The pick-your-own Mecca was one of the first outdoor venues to reopen and give LA families a break from lockdown; we've got full details of how to visit the farm in 2020; definitely plan on wearing a mask.
Strawberries are always one of Underwood's most popular crops, and they tend to continue deep into the summer, by which time they often overlap with raspberry, blackberry, and blueberry picking as well.

Pick-your-own Cherries and Stone Fruit
The cherry crop is a bit late in 2020—most places are opening early to mid-June—but local farms are working hard to meet the challenges of socially distanced fruit picking. Cherries do best in the high desert, and there are several pick-your-own orchards in the Leona Valley, near Palmdale, off the 14. It's a pretty ride into high desert horse country. Which farms open year to year often depends on rainfall and how big a crop it yields. The Leona Valley Cherry Growers Association has the complete list of farms for the season; check each farm's website for opening day and operating hours updates.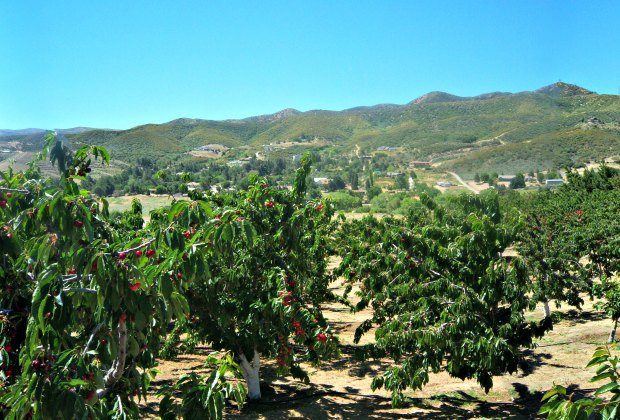 ​Cherries in the Leona Valley, photo by Konrad Summers/CC BY 2.0
Villa del Sol
6989 Elizabeth Lake Road
Leona Valley, CA 93551
661.270.1356
At 25 acres, this might be the largest you-pick cherry orchard in Southern California. It has about 3,000 trees with cherry varieties that include Bing, Rainier, Brooks and Tulare. The season begins May 29 this year. Different for the 2020 season: masks are required at all times, and arrows direct pickers through in one direction. Families are encouraged to bring their own buckets and to pay with credit card. In fact, this farm is the rare one that does accept debit and credit cards. **Update: As of June 17, 2020 Villa del Sol has closed for the season.
Cherry Hill Farm
39300 Bouquet Canyon Road
Leona Valley CA 93551
cherryhillfamilyfarm@yahoo.com​
Cherry Hill opened for the 2020 season on May 25, with some changes for pandemic picking. Buckets from home are not allowed, and neither is picnicking or snacking while picking. Each family is given one plastic bag to fill; another will be provided if the first one is filled. Only adults can do the picking this year, to help maintain the most sanitary possible conditions. Masks and social distancing are required at all times. Cash only; no dogs and no smoking allowed. But rest assured, the cherries are delicious!
Windy Ridge Ranch
9811 Leona Ave.
Leona Valley, CA 93551
661.270.9106
This is a family-owned orchard with Bing and Rainier cherries growing on dwarf trees. The farm trims the trees to seven feet, so all the cherries are within easy reach from the ground—a big plus for kids. A tractor-pulling tram, another attraction for little ones, takes you from the base of a hill to the orchard. There's a shaded picnic area from which you can enjoy the farm's top-notch views of the valley. The farm hopes to open for cherry picking in mid-June this season.
Rolling Thunder Cherry Ranch
10254 Leona Ave.
Leona Valley, CA 93551
661.270.9688
Rolling Thunder guarantees pesticide-free fruit and offers three varieties of cherries to pick. The farm takes cash only and is hoping to open in mid-June this year.
All the aforementioned cherry orchards also carry local honey and other farm-fresh products. And if you're looking for autumn apples, be sure to check our recommendations for pick-your-own apple orchards, too.
Originally published June 15, 2012