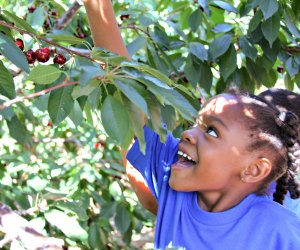 Strawberries and Cherries and Stone Fruit, Oh My! Pick Your Own Berries in LA & OC
If you want to "get back to the land" within an hour of Los Angeles, there are myriad opportunities to go play farmer for a few hours and come home with a basket overflowing with berries. Whether you prefer strawberries, cherries, or stone fruit, picking your own berries is a fun (and tasty!) family activity.
Just three caveats: 1. Be sure to check the farm's hours and availability before heading out, as current conditions dictate the seasons; 2. Farms may charge small admission fees, and 3. Bring cash to pay for your harvest, because many places don't accept checks or credit. Then slather on the sunscreen, don a wide-brimmed hat, don't wear dirt-attracting white, and bon appetit!
Strawberries
As a rule, the first berry ripe for the picking in spring is the strawberry (though with luck the fun goes well into summer), and its arrival is heralded with massive festivals, including The California Strawberry Festival and the Garden Grove Strawberry Festival. The route down into Orange County where some of the best farms are located is a beautiful drive—and at the end of the road? Strawberries! But, as you'll see, Orange is not the only county.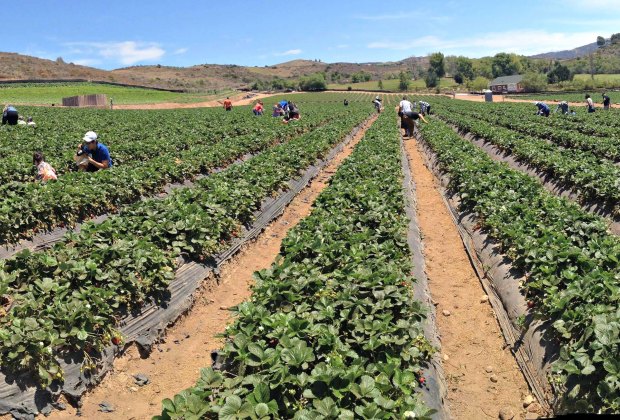 Get ready to earn every juicy bite. Photo courtesy of Tanaka Farms
Tanaka Farms
5380 3/4 University Drive
Irvine, CA 92612
949.653.2100
Strawberry tours are $18 per person (kids 2 and under are free) and go out every half hour from 9:30am to 2:30pm Saturdays and Sundays. No reservations are required, but contact the farm through its website to book a weekday tour. After waiting in a covered area that has lots of hay to play in, visitors get on the wagon with about 20 other people and get driven all around the farm while a farmer explains organic practices, drip irrigation system, and why certain crops are grown together. Throughout the tour, visitors stop by water-filled buckets with all the various veggies that have been pulled from the field, having been put into the buckets moments before each wagon arrives, and stuff is handed out to taste--carrots, celery, cilantro, sweet onions--whatever is growing. Then, at the end, the driver stops the wagon at the strawberry field, and everyone can get out to pick a basketful. The farm stand has everything the farm grows, which includes peanuts, grapes, corn, tons of different veggies, and fruit and nuts.
The Ecology Center
32701 Alipaz St.
San Juan Capistrano, CA 92675
949.661.9381
Formerly South Coast Farms, this nonprofit works on a donation model. To bypass formal farm tours and all organic produce, try picking strawberries at this farm. The u-pick option is available daily from 9am to 4pm, and bring your recyclable bags! Peak season is March through June.Fr=
McGrath Family Farm
1020 W. Ventura Blvd.
Camarillo, CA 93010
805.983.0333
If you want to drive up toward Ventura (another lovely drive as long as there's no traffic), this farm is certified organic, and the pick your own selection is great. Picking hours are 10am-6pm.
RELATED: Campgrounds with Extra Entertainment To Keep Kids Happy​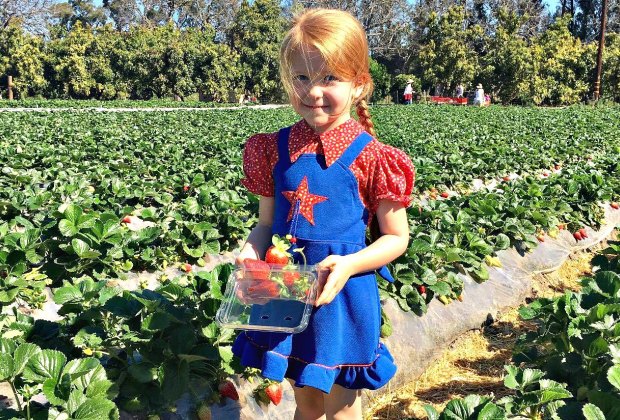 Berry cute overload! Photo courtesy of Underwood Family Farms

Underwood Family Farms
3370 Sunset Valley Road
Moorpark, CA 93021
805.529.3690
Every year, the entire kindergarten class at our school flocks to Underwood Family Farms for the kids' favorite field trip. Not only do they pick their own fruit, they also get a full tour of a working farm -- plus a hay ride! Because this is a field trip and birthday party mecca, it's easy to forget that it also is a place to visit without a big group. Be warned, though, that during peak birthday party and school group hours, Underwood can get crowded. A fully functioning farm, Underwood is a place where children can see animals at work and get a real sense of a daily life on a farm. And, of course, come home bursting with fresh, sustainably grown berries. It's open 9am to 6pm daily during PDT and 9am to 5pm during PST.

Cherries and Stone Fruit
Word is that the cherry crop is a bit late in 2019—most places are opening early to mid-June—but the trees apparently loved all the rain they got this winter. Cherries do best in the high desert, and there are several pick-your-own orchards in the Leona Valley, near Palmdale, off the 14. It's a pretty ride into high desert horse country, too. Years of drought were hard on the region, and some farms left the business, but those that remain are looking forward to a good crop this year. The Leona Valley Cherry Growers Association has the complete list of farms for the season; check each farm's website for opening day and operating hours updates.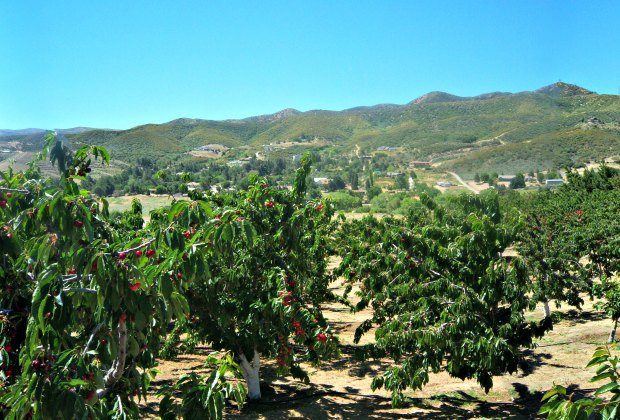 ​Cherries in the Leona Valley, photo by Konrad Summers/CC BY 2.0
Ambers Farm
9300 Leona Ave.
Leona Valley, CA 93551
661.622.7123
After being closed in 2018, the farm is set to reopen July 5, 2019. This is a pick-your-own cherry farm that offers roughly 20 varieties of the fruit from late May through June or July. It has a family-friendly environment with easy-pick dwarf trees, small wagons to haul the kids as you pick, and picnic/barbecue/play areas to relax after gathering cherries.
Villa del Sol
6989 Elizabeth Lake Road
Leona Valley, CA 93551
661.270.1356
At 25 acres, this might be the largest you-pick cherry orchard in Southern California. It has about 3,000 trees with cherry varieties that include bing, Rainier, Brooks and Tulare. The season generally begins from late May to early June and can go through early July. This farm is the rare one that does accept debit and credit cards. Join the email list on the farm's website to get updates on opening day.
Windy Ridge Ranch
9811 Leona Ave.
Leona Valley, CA 93551
661.270.9106
This is a family-owned orchard with bing and Rainier cherries growing on dwarf trees. The farm trims the trees to seven feet, so all the cherries are within easy reach from the ground -- a big plus for kids. A tractor-pulling tram, another attraction for little ones, takes you from the base of a hill to the orchard. There's a shaded picnic area from which you can enjoy the farm's top-notch views of the valley. Opening day for cherry picking season will either be June 9 or June 18, depending on when cherries ripen.
Rolling Thunder Cherry Ranch
10254 Leona Ave.
Leona Valley, CA 93551
661.270.9688
Rolling Thunder guarantees pesticide-free fruit and offers three varieties of cherries to pick. The farm takes cash only and is expecting to open in early June to a full crop.
All the aforementioned cherry orchards also carry local honey and other farm-fresh products. And if you're looking for autumn apples, be sure to check our recommendations for pick-your-own apple orchards, too. Cherry picking is tentatively scheduled for the beginning of June, so check the website for updated info.
If you're looking for a wider array of "pick your own" options, there's an app for that (or at least a website). Pickyourown.org lists open orchards and farms across the country. A whole family vacation could be built around visiting farms, picking produce, and feeling what it's like to live off the land for a while. Chances are, when you get back, you'll find a little land in the city to plant a little plot or few trees of your own.
Originally published June 15, 2012