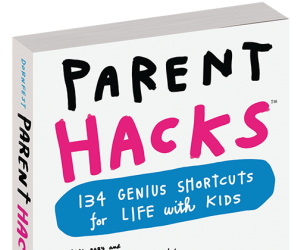 Why Painter's Tape Is Your Friend and 133 More Parent Hacks
Do automatic-flush toilets scare your preschooler? Do you always forget to put a spare onesie in the diaper bag? Do you go crazy trying to get the crumbs out of your car's cup holders? These are the types of real problems parents face every day. Who would know the solutions better than other parents? The just released book Parent Hacks: 134 Genius Shortcuts for Life with Kids written by Asha Dornfest, founder of the Parent Hacks website, and her community of parent hackers has the answer to these issues and, well, 131 more.
Parent Hacks is a decade of the cumulative knowledge of sleep-deprived parents. What I love about it is its down-to-earth take on everyday frustrations and issues. Because the advice comes from real parents, many of the solutions rely on clever tricks using everyday things you find around the house, rather than pricey products. It's frugal, real advice—and often hilarious, including the fun illustrations by Craighton Berman. There are a lot of hacks dealing with poop and other gross situations parents find themselves in, making it a great choice for those with babies, toddlers and preschoolers.
We love this book so much that Mommy Poppins is helping to throw it a party. Read on to find out more about probably the most useful new parenting book around and how you can join us for a fun celebration if you are in NYC.
Rather than spoiling all the fun, I want to share just a few pages of Parent Hacks.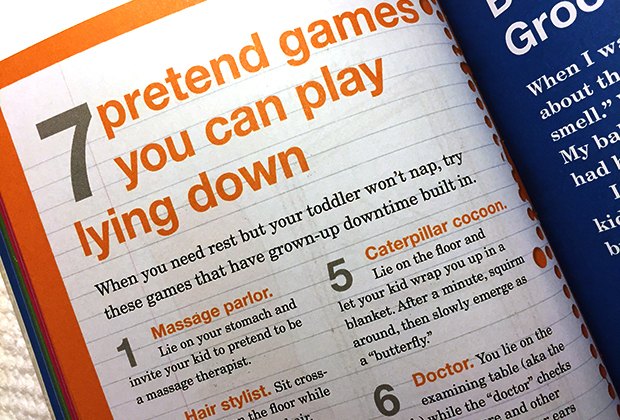 Games to play lying on the floor—when you just need a break.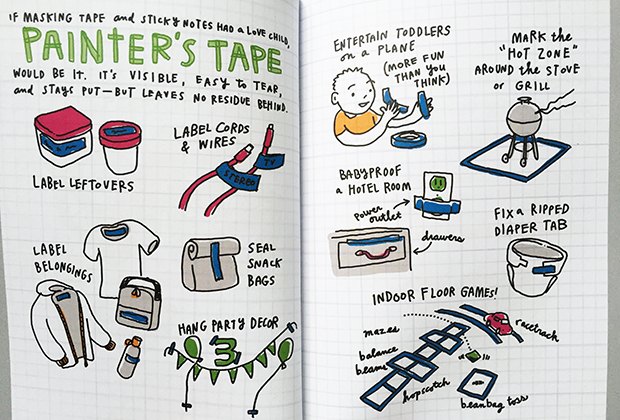 The uses for painter's tape are nearly limitless. Pack a roll in your diaper bag!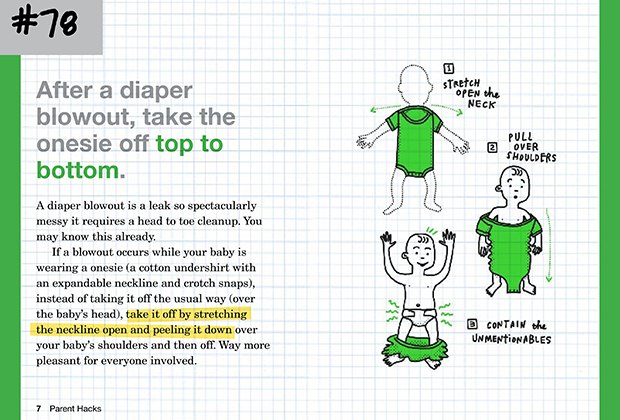 Take a onesie off top to bottom for the best chance of a poop-free baby head.
Most of the hacks are geared toward those with babies or young children and cover pregnancy, sleep, eating, bathtime, travel and more. (If anyone comes up with ideas for hacking a stubborn teen, please let me know!) In the meantime, if you want to get the Parent Hacks book for yourself, or as a gift for an expecting friend (I think it's an awesome expecting dad gift, too), you can buy it now from Amazon.
Or, if you are in New York City, pick one up at one of our upcoming launch parties, where'll you'll meet Parent Hacks author, Asha Dornfest, at one of NYC's newest and coolest kid play spots. Both events require pre-registration, and space is limited. Find out more and snag your spot now for our Manhattan event on Saturday, April 16, at The Playroom on the Upper East Side, or in Brooklyn on Monday, April 18, at Curiosity on Court in Cobble Hill.
All images from the book, Parent Hacks: 134 Genius Shortcuts for Life with Kids.