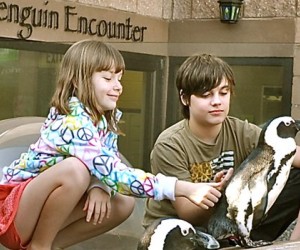 Weekend Fun for LI Kids in the Hamptons and North Fork May 30-31
Nature is in full bloom on the East End of Long Island. Families on the North or South Fork have an abundance of outdoor activity options this weekend, including nature hikes, bird-watching, aquarium fun and more. Reservations are recommended for most of these East End events, all of which are sure to open your child's eyes and mind to the wonders of our natural world.
Whether you're visiting for the weekend, renting a place for the summer or live on the East End, you'll want to check out our Hamptons & North Fork Guide. And for fun on the rest of the island, take a look at our Event Calendar.
Saturday, May 30
East End Shorebirds – Hampton Bays. Aspiring bird-watchers are invited to join the South Fork Natural History Museum as it discovers the mysteries of East End migrating shorebirds. The walking tour begins in Hampton Bays.
Nature Discovery Hike – East Hampton. Children can experience the wonders of animal camouflage in a hike that begins on the nature trail on Route 114.
Penguin Encounter – Riverhead. LI Aquarium visitors can experience an afternoon with those delightful, if unpredictable, South African penguins.
Wild Animal Art – Bridgehampton. If all the outdoors activity tugs at your teen's artistic talent, why not join artist Muriel Appelbaum as she shares her secrets to drawing live animals?
Marvelous May Family Time – Montauk. It's Family Fun Day at the village library as afternoon toys and games bring to an end its "Marvelous May" series.
Pasta Creation – Bridgehampton. Indulge your child's inner Wolfgang Puck at the Children's Museum of the East End's pasta (and sauce) creation fest.
Spy Saturday – Riverhead. Would-be super sleuths can learn about spy training and techniques.
Sunday, May 31
All the Colors of the Rainbow – Bridgehampton. Explore the mysteries of color and sight in animals with an interactive tutorial at the South Fork Natural History Museum.
Circus Waffles – Bridgehampton. Belgian waffles are on the menu; you might want to bring a smock for all that homemade whipped cream.
Sunday Kids Club – East Hampton. Drop off your kids for a mini "camp" at Hampton Kids from 9am-12pm and let them play.
Lego Club – Bridgehampton. Parents of budding engineers take note: You and your child will want to experience the possibilities Lego possesses at the Children's Museum.
Photo: LI Aquarium