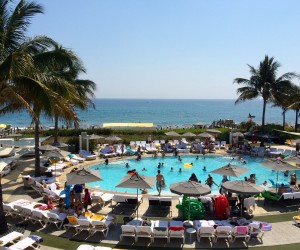 Waldorf Astoria Boca Offers Luxury of a Caribbean Resort Minutes From Ft Lauderdale
The Waldorf Astoria Boca Raton Resort & Club is the most luxurious U.S. vacation destination my family and I have ever visited. The sprawling property feels more like a Caribbean resort than the other beachfront hotels you find in Florida. With a surfing school, a kids' camp, water sports, the new FlowRider wave simulator, fantastic restaurants, plus a world-class spa, tennis program and golf course, the Waldorf Astoria Boca Raton lets everyone in your family feel entertained, pampered and restored by the time you go home.
The resort is not all-inclusive, and what you save on airfare you'll easily spend on meals and activities. But the Waldorf Astoria Boca Raton offers an incredibly luxurious and family-friendly Caribbean-style vacation located just an hour's drive from the Fort Lauderdale airport, so no need for passports.
Waldorf Astoria Boca Raton is actually two properties: the Beach Club is a modern waterfront hotel, while the Resort offers Old World elegance and many amenities. They're connected by shuttle bus or boat, and guests are free to enjoy all the attractions at both locations.
The Beach Club is great for families who want easy access to the shore and main pool deck, though there are additional pools at the Resort as well. The pool area and beach flow right into each other, so moving from one to the other is a breeze.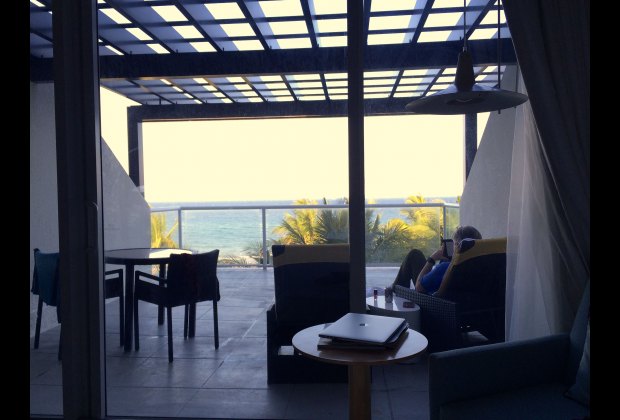 Our Beach Club room had a giant oceanfront terrace.
The Beach Club offers full, resort-style service. An attendant prepares your beach chairs and brings you an umbrella (assuming one is available). Families can rent snorkeling gear, kayaks and catamarans, or go on banana boat rides for hours of fun on the water. The Boca Surf Club offers free surfing lessons on Saturday mornings (classes cost extra at other times), and the usually gentle waves are perfect for beginners.
The pool area is huge! There are separate family and adults-only pools. Large inflatables are for sale, and there's a snack bar and a full-service restaurant right on the deck. On weekends, a Bloody Mary cart keeps grown-ups happy—I mean, hydrated. There's really no reason to ever leave.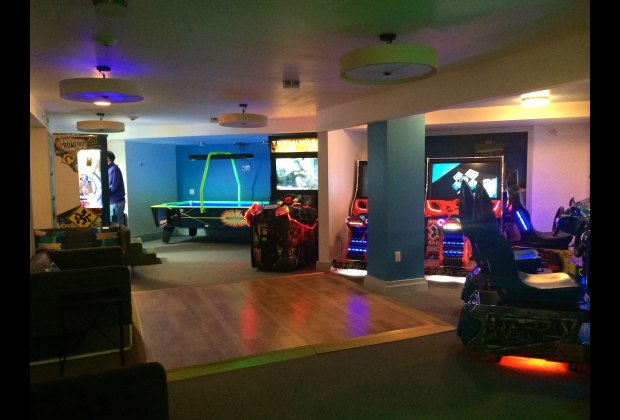 The teen lounge is packed with digital entertainment.
The Beach Club has an indoor kids' club and a teen lounge with an arcade. Drop off is free and works well for an hour or two if grown-ups need some alone time. But the more fun kids' program, Mizner's Quest Club, is back at the main Resort, and offers a daily supervised camp, recreational sports like basketball, soccer and foosball, a climbing wall and nature crafts.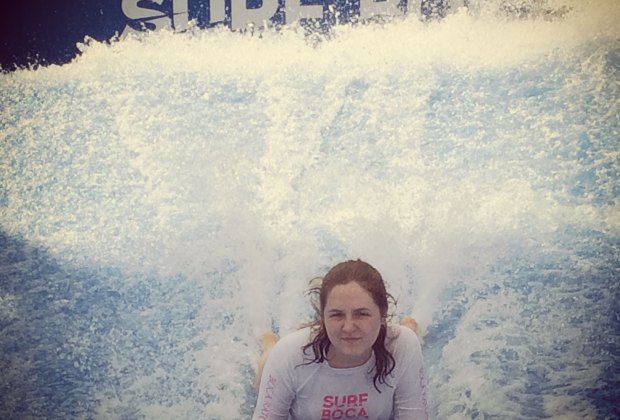 Anyone can master the FlowRider in minutes.
The biggest attraction for families may be the FlowRider. With a one-hour or half-day pass, kids can boogie board over and over again on the surf simulator. Children must be 42 inches or taller to try it, and should get the hang of it after one or two practice runs. Teens and adults can do it too at designated times. I had fun trying it myself, and can attest that it's also a great core workout. All participants need to sign a waiver.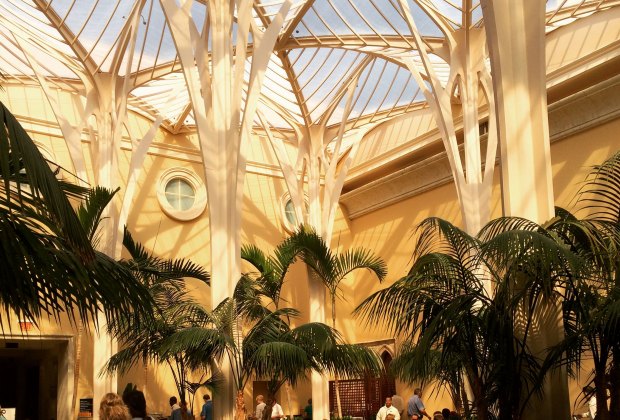 The stunning Palm Court
The big difference between the Beach Club and the Resort (besides the beach) is the architecture. The Resort is designed to look like a historic Spanish castle, and you can't help but feel like royalty walking through its gorgeous lobby, lunching in its Palm Court or relaxing in its spa.

The spa's design was inspired by the Alhambra Palace
The Boca Raton Spa is a destination unto itself and makes a great girls getaway, special anniversary gift or me time during a family vacation. Make sure to give yourself half a day to enjoy the spa so you can take advantage of the full offerings. Start in the ritual bathing area, designed to resemble the Alhambra Palace. Feast your eyes on all the beauty as you unwind in a bubble bath, soak in the Jacuzzi, or try one of several specialized showers and plunge pools. After your treatment, you can use the saunas, steam rooms and whirlpools for as long as you'd like, or relax by the pool in the secluded garden, sit by the fire in the great hall or even have a light meal from the cafe. It will surely be one of the most luxurious and enjoyable experiences you've ever had, so you should revel in every moment of it.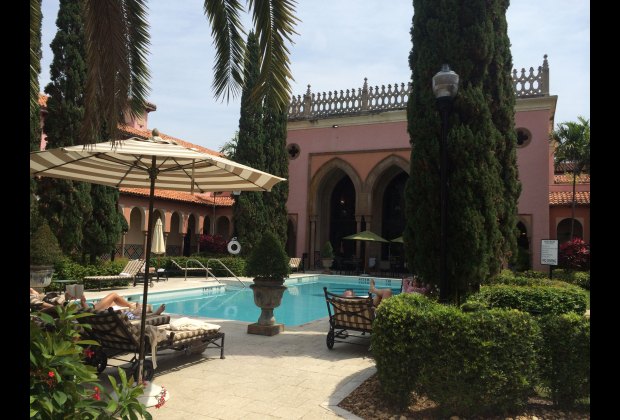 The spa's secluded garden is the ultimate getaway within a getaway
Another standout at the Waldorf Astoria Boca Resort is the dining. While all the food on-site was good, we had a particularly phenomenal meal at The Blue. The restaurant specializes in seafood and boasts an amazing, panoramic view from its setting atop the tower. The food was incredible, from the quail and waffles appetizer my son refused to share, to the piping-hot fresh doughnuts we enjoyed for dessert.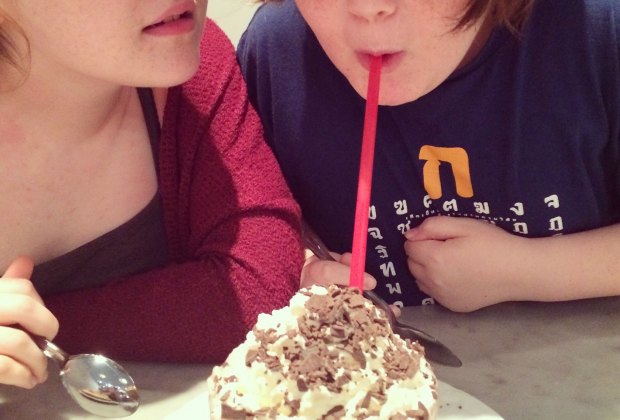 The Frrrozen Hot Chocolate from Serendipity 3 is big enough to share... maybe.
Indulging at Serendipity 3 is also a must-do. The famous NYC treat spot offers giant sundaes, Frrrozen Hot Chocolate and other ice cream treats as well as light food and snacks. In NYC, you have to brave extremely long lines, but in Boca you just sit, order and eat.
The Waldorf Astoria Boca Raton is the ultimate south Florida luxury resort and, possibly, the closest you'll come to a Caribbean resort without leaving the mainland. While it definitely falls into the major splurge category, it's an amazing destination for those getaways when you really need to feel restored or want to celebrate a special occasion. Keep an eye out for special offers, like low summer rates with a Kids Eat Free promotion, which can save you a lot.