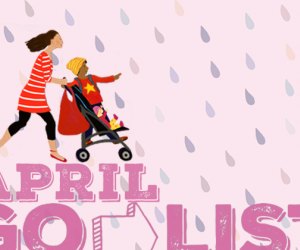 April GoList: Best Things To Do with Connecticut Kids
April is jam-packed full of fun ways to soak up springtime...and as always, our Connecticut GoList features a carefully curated roundup of the absolute best things to do with kids throughout the month. Stargazing, farm fun, Easter egg hunts, and even dino egg hunts are just some of the awesome events on tap for April. And with warmer weather on its way, it's a good time to bookmark our spring fun guide, too.
For even more ideas, be sure to check our Event Calendar, like our Facebook page, and subscribe to our free newsletter to get posts like this delivered directly to your inbox.
Peep Dioramas - Fairfield
Monday, April 1- Friday, April 5
What are the Peeps up to now? Come and see what scenes have been created with everyone's favorite marshmallow Peeps.
​
Kid-friendly space-related activities led by graduate and undergraduate astronomy students at Wesleyan University.
Open Farm Days at Common Ground
-
New Haven
Saturdays in April
Explore their beautiful urban farm, help dig and plant in the children's garden, and ask farm staff your backyard gardening and composting questions. The animal yards are open for visitors to meet their chickens, ducks, turkeys, goats, sheep, and pigs. Trail maps are available for self-guided hikes in West Rock Park, including the family-friendly Old Oak Nature Trail. FREE
New Canaan Easter Egg Hunt - New Canaan
Saturday, April 6
Enjoy a family tradition at Waveny Park. There will be 10,000 eggs hidden for children to find as well as music, entertainment, and a bounce house.
Dino Egg Hunt, Montville
Saturday, April 6
Hunt for thousands of Dino Eggs in different locations throughout The Dinosaur Place at Nature's Art Village. Plus, enjoy a special visit from the Easter Bunny after the event.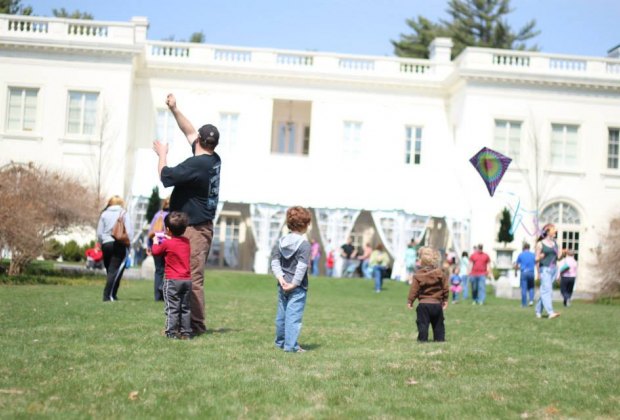 Daffodil Day kite-flying at the Wadsworth Mansion. Photo courtesy of Wadsworth Mansion
East Egg Hunt and Breakfast - Monroe
Saturday, April 6
Bring the whole family out to the Monroe United Methodist Church and enjoy a light breakfast, crafts, and an Easter egg hunt.
Breakfast with the Easter Bunny - Southington
Saturday, April 6
United Methodist Church has made arrangements for the Easter Bunny to come and visit. Light breakfast provided, crafts, and an Easter Egg Hunt afterward.
Angelina the Ballerina The Musical - Westport
Sunday, April 7
The sweet ballerina, Angelina has all sorts of adventures and now you can bring your little ballerina to see her live at the Westport Playhouse. Meet Angelina and all her friends, Alice, Gracie, Mimi and of course Ms. Mimi too.
Free Ice Cream Day at Ben & Jerrys​
Tuesday, April 9
​It's the sweetest day of the year! Start planning now — cup or cone, which flavor? There are no wrong answers on Free Cone Day.
Opening Day at Ferris Acres Creamery, Newtown
Tuesday, April 9
Nothing screams Connecticut to me quite like Ferris Creamery in bucolic Newton, set in the heart of a picturesque farm.
Wild Kratts 2.0 - Hartford
Friday, April 12
Live at the Bushnell Theater, Martin and Chris Kratt come on stage to teach children about nature, just like they do on their hit television shows.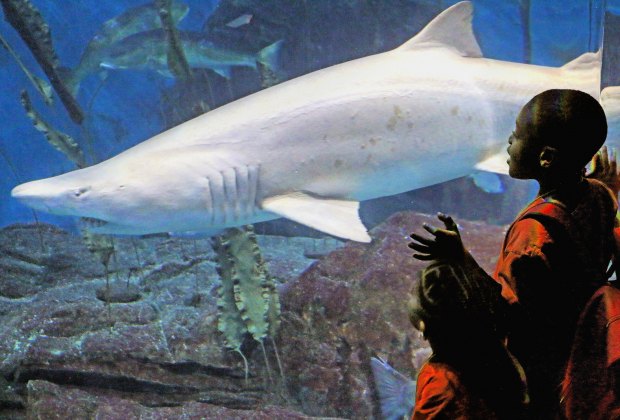 Learn all about sharks at the aquarium's Shark Safari session.
Spring Vacation Camp - Mystic
Monday, April 15 - April 19
Spring Vacation is fun at Mystic Aquarium. Sign up for one or all five days. Each day-long camp follows a different theme, complete with experiments, activities, and special time with the animals. Themes include: Secret Worlds, Junior Aquarist, and Shark Safari.
Take-A-Hike Week - Stamford
Tuesday, April 16 - Thursday, April 18
Enjoy awesome themed days that include outdoor adventures, hikes, and self-guided crafts.
Colonial Cooking For Kids at Welles Shipman Ward House - South Glastonbury
Tuesday, April 16
Children ages 8 to 14 are invited to prepare and enjoy a simple colonial style meal with their fellow peers. A variety of colonial games and activities are also part of the fun.
Pirate Days at Mystic Seaport - Mystic
Tuesday, April 16 - Wednesday, April 17
Plenty of family-fun activities await children of all ages during this annual pirate event. Decipher clues on their special treasure map to find hidden pirates and the final treasure. Warning: your seafaring skills will be put to the test! Learn how pirates of old navigated the ocean at the High Seas planetarium show and create your own pirate souvenir. Photo ops will be plentiful all day long.
Annual Volunteer Fireman's Association Carnival, Danbury
Wednesday, April 17 - Sunday, April 28
This annual carnival includes food, rides, and games.
Day Out with Thomas, Essex
Friday, April 19 - Sunday, May 5
Thomas the Tank Engine, his buddy Percy, and Sir Topham Hatt are pulling into Essex Station for the "Big Adventures Tour!"
Spring Scavenger Hunt - Canton
Friday, April 19 - April 21
Come hunt for eggs and learn about the animals that laid them and the nests they built for them. Find the hidden nests and then go on a nature hike to see where the eggs will be laid this spring.
Easter Egg Hunt at ECC - Stamford
Saturday, April 20
Join the Evangelical Community Church for a free Easter Egg Hunt. Bring your own baskets.
Museum Children Free Week - Litchfield
Sunday, April 21 - Friday April 26
Join the White Memorial Conservation Center as they welcome kids for free! See a life-sized beaver lodge and enjoy their 4,000-acre wildlife sanctuary.
Earth Day at Grace Farms, New Canaan
Saturday, April 27
Come be a part of Earth Day at Grace Farms. Enjoy children's activities, workshops for kids on restoring natural habitats, and a falconry exhibition. .
New Haven Cherry Blossom Festival - New Haven
Sunday, April 28
This celebration of spring commemorates the planting of 72 Yoshino Japanese Cherry Blossom trees in 1973 by the New Haven Historic Commission in collaboration with the New Haven Parks Department and residents of the neighborhood. The Festival has grown from a modest event with a local band entertaining a handful of neighbors under lighted trees to a major New Haven event that draws well over 7,000 visitors.
Daffodil Day, - Middletown
Sunday, April 28
Experience a free family day at the Wadsworth Mansion. There are dozens of indoor and outdoor activities, food vendors, team field day competitions, and more.
Simsbury River Run,
Simsbury
Sunday, April 28
This family-friendly run in scenic Simsbury features a USATF-certified 5K and 10K, plus a one-mile kids run and other healthy activities.