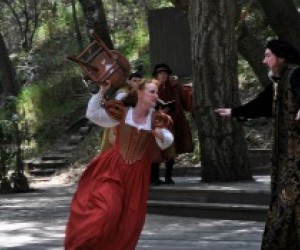 Shakespeare in Topanga: Taming of the Shrew (Review)
Will Geer's Theatricum Botanicum in Topanga is home to one of LA's classic summer evening activities (earning it the #10 slot on our bucket list of 100 Things To Do with LA Kids). The outdoor theater in the wooded mountains of Topanga was founded 40 years ago by the man most Americans remember as Grandpa Walton (can you get more American than those dungaree overalls?) and is still run by his daughter, actor/director Ellen Geer. The shows that play in repertory on a summer evening are mostly Shakespeare, and the rustic, idyllic setting can convert the pickiest picnickers to fans of the bard. This summer's production of Taming of the Shrew is an excellent example.
To set the scene, a visit to the Theatricum Botanicum starts with a drive up Topanga Canyon, through clean air and hippy dwellings. Patrons are welcome to arrive early with a picnic, and sitting on the ground is not required; wrought iron tables are scattered among the trees for families to set up and enjoy a luxurious meal al fresco (wine welcome, too). Diners are given plenty of notice when it's time to wander down the wooded path to line up for seats (first come, first served) in the shady amphitheater, and cushions are available for those who fancy extra padding. In short, a promising start to an evening's theater.
The fun begins before the play even starts, with a preshow that blends smoothly into Shakespeare's text. Taming of the Shrew is sometimes a tricky piece for a modern audience, and parents may want to look over a plot summary to prepare for questions. While there is nothing specifically inappropriate for children (the odd bawdy Shakespearean joke flies right over the heads of small children without English degrees), the overall theme of wives owing obedience to husbands may perplex offspring of a 21st century marriage. That said, this production takes the idea so mischievously over the top that everyone's behavior comes across as giddily outrageous - placing the "taming" of Kate in such an absurd context that it's hard to take offense.
The Botanicum's production is fast-paced and acrobatic, with enough music, movement, and silly sound effects to keep whole families entertained from start to finish. Will Geer's granddaughter, Willow Geer, creates a Kate reminiscent of Horrid Henry, sick to death of her two-faced sister. Aaron Hendry's Petrucchio (the character who sets out to tame the shrew) is the stand-out performance; his larger than life lunacy and excess of charm provide plenty of laughs and keep the tale from turning mean-spirited. A lively supporting cast keeps the energy up and the laughs flowing.
While the quick pace is fun, it is likely to provoke a few whispered questions along the way. Kids ages 8 or 9 and up should be able to follow, though, with some prompts from prepared parents. And if, by some miracle, the kids don't fall asleep on the winding drive home, maybe the show can launch a conversation about gender roles or sibling differences.
The other family-friendly show in this year's summer season is the fairy-laden A Midsummer Night's Dream. Younger children generally enjoy the weekly Family Fundays on Sunday (and some Saturday) mornings, too, featuring kids' shows and concerts all summer long. Keep an eye on our calendar for upcoming performances.
Taming of the Shrew appears in repertoire on various dates all summer long, with both afternoon and evening performances; check the theater's schedule to choose a performance, and dress warmly or bring blankets for evening shows. Tickets cost $25-$35 for adults and $10 for children.
Will Geer's Theatricum Botanicum
1419 N Topanga Cyn Blvd.
Topanga, CA 90290