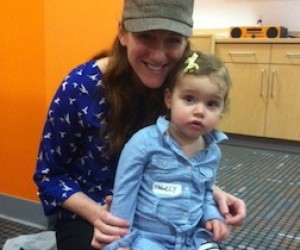 Rockin' Out at the New Kidville - Wellesley
I had the opportunity to visit Kidville of Wellesley with Paigely, my two-year-old, this week. I learned that Kidville was started by a mom in New York City who was sick of taking her child to classes with no kid-conveniences available, like a place to park a stroller. She dreamed of a one-stop shop that made the lives of families with young children easier. Hence, Kidville was born. Offering world-class development programs, birthday parties, shopping, indoor play-spaces, and a mini-salon; the NYC mom absolutely succeeded.
Walking into Kidville, you can't help but notice the attention to detail – from the bright, modern color scheme on the walls to the thoughtfully appointed check-in area that doubles as a boutique, which is full of hand selected clothes, toys, and gifts for tots. A long ramp makes the transition from outside easy with a stroller (although my daughter put this to better use by running up and down it as a pre-class warm up). The salon is situated right past the entrance. If you want your kids to sit still during a trim, put them in their own toy airplane in front of their favorite DVD. At Kidville, they really did think of everything!
We had some time before our Rockin' Railroad class, so we wandered on down to the Indoor Play Space; a well padded room with a plethora of structures to run, climb, tumble, and slide on. What's more genius than a bouncy runway with an enormous beanbag at the end to jump into? I couldn't think of anything, and secretly wished we could construct the same in our house.
The class featured a four-piece live band and took us through a journey of rhythm, word recognition, sound identification, and instrumental experimentation. The music was very impressive; I understood right away why the class was named "The Don't Miss Class of The Year" by New York Family Magazine. We "Chug-a-Choo'ed" to Grandma's house, met puppets, blew bubbles, and much to my personal delight, sang and danced to the popular '80's remake "I Think We're Alone Now." Paigely loved it and didn't want to give her railroad ticket back, which signaled the end of class.
On the way out, we purchased a baby shower gift and called the morning a success. I will definitely be coming back to check out more classes and watch my daughter giggle with delight in that amazing padded room. Speaking of, I might need to be placed in a padded room if I don't get that song out of my head soon: "...Children behaaaave. That's what they say when we're together. And watch how you plaaaaay..."
---
Kidville - Wellesley
Location: 34 Central Street Wellesley, MA 02482
Contact: 781-235-4650
Kidville offers a wide range of creative classes for babies, toddlers, and kids up to six years old—all developed by a team of early childhood development specialists. Choose from classes in music & dance, gym, art, enrichment, and more. Class semesters average around $170. They also offer camps and pre-school alternatives. Playspace available to silver members for $10. Multiple membership packages available. Visit the Kidville website for specific prices and hours.
Bonus Tips:
1. Metered parking available (City folks: they take all coins, not just quarters!) in addition to 2 lots slightly hidden behind the building.
2. Make sure to "Like" Kidville Wellesley on Facebook; they provide parents with beneficial parenting tips.
3. Save some time afterwards to shop for yourself. Wellesley has great boutiques. One of my favorite stores, Isabel Harvey, is right down the street from Kidville.