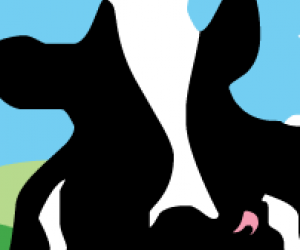 PlayDate March 23: New Brooklyn Playground, Hubble IMAX at LSC, Free Goodies, Viking Ship in Times Square, Food Revolution, More
What's happening in NYC this week for kids? There's new playground in Brooklyn, a new IMAX space show at the Liberty Science Center, a viking ship has docked in Times Square, and for parents, a revealing new TV series about the food our kids are eating. Plus it's free cone day at Ben and Jerry's and free pastries at Starbucks today only. Get the scoop!
Opening this week:
New Playground: The long-awaited Brooklyn Bridge Park has finally opened its Pier 1 section. There's a playground with swings and some climbing equipment. It's a small playground meant for younger children and not what we'd call a destination playground, but a nice amenity for the Brooklyn Bridge park which, as a whole, is a great place to play. Pier 1 also has a grassy hill and field, paths, benches, trees and a marshy beach area.
New IMAX a LSC: We went to the new Hubble IMAX at the LIberty Science Center. I had never been to their IMAX theater before, which is amazing. The film showed incredible film of space taken by Hubble, allowing you to see nebulae where stars are being born and potentially what it looked like when our solar system was created. The film also takes you on the adventure of a team of astronauts sent up to repair Hubble. Any space enthusiasts will enjoy the show and afterward you've got the whole museum to explore.
Viking Ship in TImes Square: A 40-foot Viking ship docked in Times Square yesterday and today, Tuesday, March 23, to promote the new kid film, How to Train Your Dragon. These types of promos generally are not worth a secial trip but if you're in the area, I hear passers by have enjoyed seeing the live Vikings, giveaways and some fun viking games. In addition, actress America Ferrera from Ugly Betty will be there this morning.
Food Revolution TV Series: Jamie Oliver's Food Revolution television series has started this week on ABC. The eye-opening show will definitely make you think twice about what your kids are eating as Jamie Oliver takes on America's most unhealthy town and tries to get them to see the light on how their unhealthy eating habits are killing themselves and their children. Watch the trailer or watch the first episode of Food Revolution on hulu.
Freebies Today (March 23, 2010):
Free Ice Cream: It's free cone day at Ben and Jerry's. There are two locations in Manhattan, Rockefeller Center and Astor Place. If you'e in NJ try Hoboken or Edgewater.
Free Pastries: A little easier to come by, Starbucks is giving away free pastry until 10:30 am with your coffee or tea. You need this coupon which you can print or show on your phone.