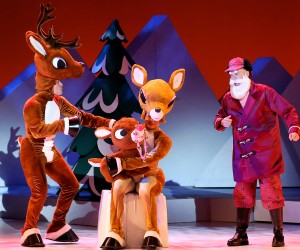 Palace Theatre: Family-Friendly Shows to Celebrate the Holidays
This post is sponsored by The Palace Theatre, but the opinions are those solely of the author.
While there are quite a few holiday movies coming out this season, nothing beats watching your children's eyes light up in wonder as they watch a story come to life right in front of them. And Connecticut kids will get the chance to enjoy one of the most beloved holiday tales live when Rudolph the Red Nosed Reindeer: The Musical takes over the stage at Stamford's historic Palace Theatre.
Featuring two performances on November 28th (at 3pm and 7pm), Rudolph re-tells the heartwarming story of the little reindeer who's bullied because he looks different. But when he saves the day for Santa, everyone recognizes him as a hero.
Rudolph the Red Nosed Reindeer: The Musical brings its message home with plenty of singing, dancing and silliness by the show's gang of goofy characters, including Hermey the Elf, Bumble the Abominable Snow Monster, Clarice, Yukon Cornelius, the Misfit Toy and Santa and Mrs. Claus. Through the decades, Rudolph's classic story has been told on screen, in song and on TV, but this musical version, based on the animated television special, gives it a new lively, musical update. Tickets range from $35-$55.
And watching the show at The Palace Theatre makes it even more magical. A one-time vaudeville house, it has had its original glamour restored with plush red seats and elaborate gold decorative work that frames the stage. When my family saw The Nutcracker at The Palace, being surrounded by the theater's beautifully detailed interior made us feel like we had time travelled to another era. And though we sat in the mezzanine section, even the shortest among us could see everything.
Getting to The Palace is easy, and on-the-street parking is possible on Atlantic Street. But if you prefer a sure thing, opt for one of the nearby garages—there's even one right across from the theater.
The Palace is also offering up a few more holiday shows this season, including:
Brian Setzer Orchestra: 12th Annual Christmas Rocks Tour, November 24th, 8pm. Three-time Grammy award winner Brian Setzer and his 18-piece orchestra have the audience on its feet with this swingin' Christmas concert extravaganza.
K Love Christmas Tour 2015, December 6th at 2pm and 7pm. This shows features re-imagined holiday music by Sidewalk Prophets, Natalie Grant, Tenth Avenue North and special guest Danny Gokey.
The NY Tenors: The Magic of Christmas, December 9th at 7:30pm. On the eve of their performance at Carnegie Hall, the Tenors, with legendary "singing policeman" Daniel Rodriguez, famed Irish tenor Andy Cooney and newcomer Christopher Macchio, present an inspirational performance of Christmas music that includes narration and skits by actor Jim Labriola.
A Christmas Carol, December 10th at 7pm. A musical version of Charles Dickens' enduring holiday classic features well-known Christmas carols in a performance by The Nebraska Theatre Caravan.
The Nutcracker, December 19th at 2pm and 6pm and December 20th at 1pm and 5pm. A production of the exquisite classic ballet that defines the holidays and features ballet stars from American Ballet Theater and New York City Ballet. Meet the stars after each performance!
Sons of Serendip (SoS), December 22nd at 8pm. As seen on America's Got Talent, SoS bring their classical training to music that combines the sounds of R&B, gospel and neo soul to re-interpret holiday classics.
To purchase tickets to any of these shows, visit The Palace Theatre's website. And for more fun activities, check out our Holiday Guide.