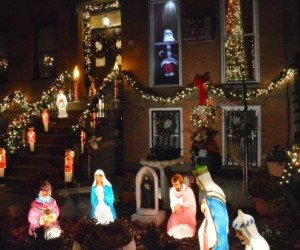 More Brooklyn Holiday Lights: Carroll Gardens Gets Decked Out
Come Christmas time, tourists and locals alike head to Dyker Heights in Brooklyn to check out amazing holiday lights and decorations.
However, for those who don't have a car, there are other pockets in Brooklyn of wonderful and creative holiday decorations, including among the pretty brownstones of Carroll Gardens, a onetime Italian-American stronghold where churches and funeral homes, along with Italian bakeries and restaurants are equally plentiful. While it might not be as famous as Dyker Heights, Carroll Gardens can be easier to access for Brooklyn families from nearby Park Slope, Fort Greene and even Manhattan.
Carroll Gardens occupies about 40 city blocks, bounded by Degraw and Warren Streets to the north; Hoyt and Smith Streets to the east; Ninth Street or the Gowanus Expressway to the south; and the Brooklyn-Queens and Gowanus Expressways to the west.
Carroll Gardens is serviced by several subway lines, including the F and G trains, which stop at the Carroll Street station. The vibrant, family-packed neighborhood comes even more alive during the holidays as those traditional front-yard "gardens" that define the neighborhood get packed with festive decor from inflatable snowmen to nativity scenes to full lights and music. Here are six walkable locations in Carroll Gardens where the holiday spirit is in full swing—lights, music and all.
First Place between Court and Clinton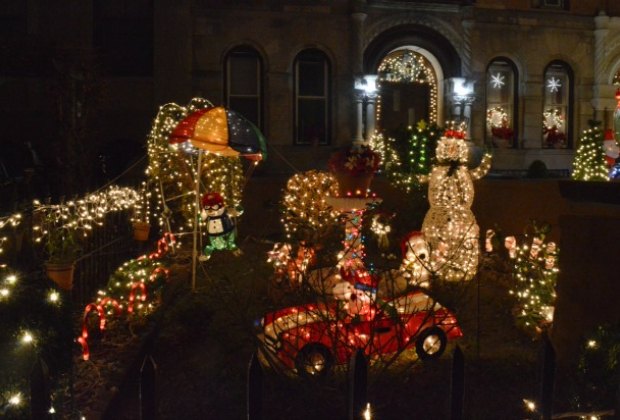 Snoopy and the gang come to celebrate Christmas at these brownstones with angels, snowmen and Santa. Check out these wonderful and creative light displays that have something for everyone.
RELATED: Must-See Christmas House Decorations Across NYC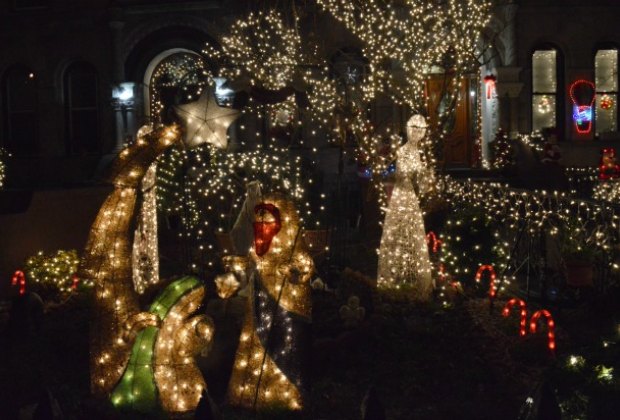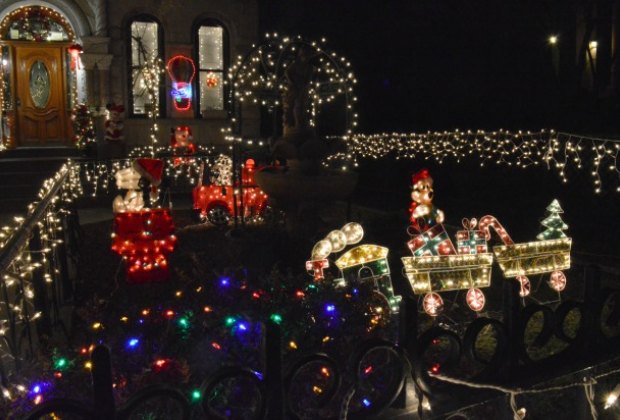 First Place between Clinton and Henry

Santa and Frosty could not be more proudly displayed at this house. Jesus and Mary are in the background, too.
RELATED: Manhattan's Most Twinkly Holiday Light Displays
Henry Street between Carroll and President Streets

Pictures don't do justice to the light display at this Henry Street apartment building. The castle and presents sparkle while soft Christmas music plays in the background.
Union Street between Smith and Hoyt Streets

This jolly display features animal characters in the foreground and a nativity scene in the back. It's hard not to smile.
Second Street between Smith and Hoyt Streets

A favorite of many, the nativity scene is rendered to perfection. There's even a baby in the manger. A life-size Santa, softly lit from above, stands in the window, looking down on the Magi.
Third Street between Smith and Hoyt Streets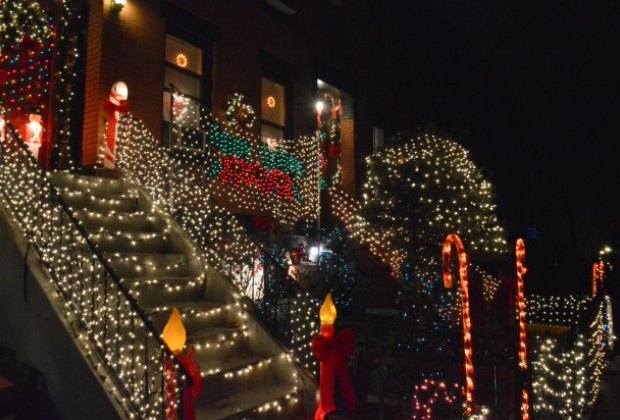 The light displays at these adjoining brownstones look like they belong in Dyker Heights. Every inch of the facade and front yard has been wrapped and decorated. Christmas music plays all day.
If you get hungry while touring the community, check out Mommy Poppins' roundup of family-friendly restaurants in Carroll Gardens and surrounding neighborhoods, or stop for a Brooklyn-made hot chocolate.
All photos by author.