Helping Others Pick Up the Pieces After Sandy: Things Boston Kids and Parents Can Do Together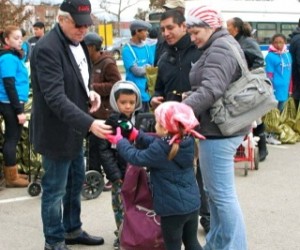 When Superstorm Sandy slammed into the East Coast and left our home virtually (and miraculously) untouched, I feel like we dodged a bullet. I look at the damage – nay, total devastation – done elsewhere, and wonder how we got so lucky. Many of the writers and their readers at our Mommy Poppins sister sites in NYC, Long Island, New Jersey and Connecticut lost power and sustained major damage to their homes and their neighborhoods. My heart aches for them and all the other families who lost so much in the storm, and I feel a strong pull to help those who weren't as fortunate as we were. If you, too, blessedly emerged from Sandy unscathed, you might feel the same way. Read on for ways you and your children can help.
Rock Out For a Cause with Karen K and The Jitterbugs
You can have fun while doing good at the Karen K and the Jitterbugs Benefit Concert this Saturday. Karen Kalafatas and her family moved to the Boston area from NYC last year, and she has strong ties to the region hardest hit by Sandy. Proceeds from the concert will be donated to the Red Cross and the Red Hook Initiative, a not-for-profit in Red Hook, Brooklyn which has become a hub for hurricane relief in one of NYC's most devastated areas. You can also bring diapers (any size), baby wipes and cleaning supplies to donate. Items will be delivered to families in the Rockaways, Long Island and Brooklyn, NY.
Take Your Kids Shopping While Wearing Your PJ's
One of the simplest ways to help is the ingenious Occupy Sandy NJ Wedding Registry on Amazon.com. The supplies most needed are listed – you just pick something to purchase and have it shipped to the Jersey City Sandy Recovery distribution center. If you have Amazon Prime, even better, as the expedited shipping will be free. I like this one because I know we are purchasing things that are actually needed, and my kids can participate in the shopping.
Bid on a Kid Lit Experience for Book Lovers
Get together with your parent/child book club or your school's parent association and bid on a Skype or in-person visit from a popular children's author like Mo Willems (Knuffle Bunny), Laurie Halse Anderson (YA novel Speak), Linda Urban (Hound Dog True) or Cynthia Lord (Rules) in an online auction called Kid Lit Cares, organized by children's book author Kate Messner. Proceeds go to the Red Cross Disaster Relief Fund. Round One of the auction ends soon, and Round Two will begin on November 12 with a new list of auction items, organized by another author of kid lit, Joanne Levy.
Raise Some Dough
Brainstorm ways to raise money and make a donation to Kids in Distressed Situations ( K.I.D.S.). They are doing amazing things to help families recover from the storm. Your kids will likely want to help, knowing that the funds they raise will be used to help other kids. Anna, who is the (original) Mommy Poppins of New York City, recommends making donations to the Mayor's Fund to Advance NYC. It is highly rated by Charity Navigator and all the money will stay local (to NYC). If you're coming up short on ways to raise money, The Home for Little Wanderers has a page with helpful fundraising ideas and tips for kids (you might want to bookmark this one for the holidays, too).
For general, useful, and frequently updated information about storm recovery, visit Occupy Sandy Relief.
Tell us about your family's efforts to help the storm victims. If you have more ideas for helping families affected by Superstorm Sandy, leave a comment below.
Photo: K.I.D.S. storm relief on Coney Island