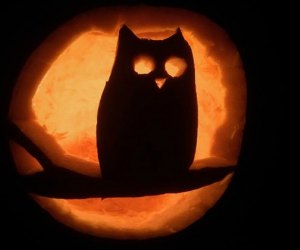 Halloween Train Ride Adventures in CT
Chug – a –Chug – a…BOO? This Halloween train concept is a new one for me, and I can't tell you how excited I am to check these out with my kids. Last year my 4 year old and I took a Metro North train from Stamford to Greenwich (a ten minute ride) and she thought it was the greatest outing ever. Wonder what she'll think about some of these Halloween train adventures?
Pumpkin Patch Train Rides, Danbury, CT
Visit the Danbury Rail Museum to hop on a vintage train for a short ride to their pumpkin patch. Trains run hourly on Saturdays, October 13th, 20th, and 27th between the hours of 10:30 and 3:30, and Sunday, October 14th, 21st and 28th between 12:30 and 3:30. Tickets are $9/person (under 2 are free), and include the train ride, access to the museum, cider, cookies, and a pumpkin.
120 White Street, Danbury, CT, 06810, 203.778.8337
OUR LATEST VIDEOS
Pumpkin Patch Trolley Ride and Haunted Isle, East Haven, CT
If you're further east, try visiting the Shore Line Trolley Museum for your pumpkin patch train ride. Running October 8, 9, 15, 16, 22, 23, 29, & 30 from 10:30-4:30, the train adventure includes a short trolley ride to the pumpkin patch, a pumpkin to paint, and refreshments. Ticket prices are $10/adult (16 and over) and $8/child (2-15). For the older and more intrepid, there is the Haunted Isle ride which runs September 30/October 1, 7, 8, ,14, 15, 21, 22, 28, & 29 from 7:00 - 10:00pm. Children under five are not permitted and tickets are $12.
17 River Street, East Haven, CT, 06512, 203.467.6927
Pumpkin Patch Trolley Ride and "Rails to the Darkside", East Windsor, CT
The CT Trolley Museum offers the pumpkin patch trolley ride for the younger crew, and the spookier "Rails to the Darkside" for older kids and adults. The fun starts October 7 and the schedule is as follows: pumpkin patch trolley rides run Fridays (10AM – 3:30PM), Saturdays (10AM – 4:30) and Sundays (11-4:30) and Monday October 10 10AM-4:30. Tickets are $10/adult, $8/child aged 2-12, and $3 for kids under age 2. Tickets include a pumpkin (for the children only) and participation in Halloween festivities such as face-painting and arts and crafts.
For older kids and adults who enjoy Halloween ghoulishness, try the Trolley Museum's 90-minute "Rails to the Darkside" adventure. The ride runs Fridays and Saturdays beginning October 7, from 7pm-9:30 pm. Tickets are $17/adult, and $14/youth for the October 7, 8, 14, & 15 rides. After October 15 tickets are $17 for all ages. This is NOT for young kids (or the faint of heart!)...the ride is chock full of blood, eyeballs, darkness, and howling noises.
58 North Road, East Windsor, CT, 860.627.6540
Halloween Pumpkin Patch Rides, Thomaston, CT
Visit the Railway Museum of New England on Saturdays and Sundays in October (starting the weekend of the 8th) to enjoy a train ride to the pumpkin patch. Trains leave at 10, 12 and 2 o'clock. Tickets are $18 /adult, and $16/children ages 3-12, kids under three ride for free.
242 East Main Street, Thomaston, CT 06787, 860.283.7245
Happy Halloween!