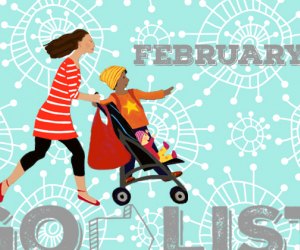 February GoList: Best Things To Do with LA Kids
February is a time to appreciate where we live perhaps more than any other—not simply because of the opportunity to celebrate the valentines, presidents, parades, and whales below, but also because we live in a place where we can ski in the snow one minute and be sand sledding at the beach barely an hour later. Our hearts go out to our friends and family shivering in other states, of course; they really should come to visit. We'll use our weekend event roundups, our 100 Things List, and this February GoList to show them a good time, while they escape that winter thing they're all suffering from.
All of the cooler-than-cool activities below are on our daily events calendar, but a little extra notice helps to make sure your kids don't miss out. Click through to the full listings so that you can automatically add them to your calendar. Happy February!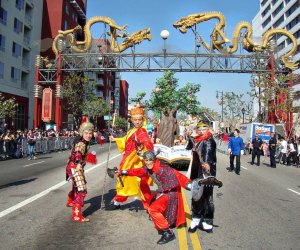 Golden Dragon Festival returns. Photo courtesy of Chinese Chamber of Commerce of Los Angeles
Chinatown
February 1, 2020
Chinatown's legendary festival to greet the lunar new year, with its dramatic Golden Dragon Parade, has been offering up a feast for the eyes for more than a century. A feast for the belly is an option, too, as long as you're in Chinatown.
Alhambra
February 1, 2020
The other really big annual Chinese New Year parade and festival promises crafts, food, a fashion show, a cultural pavilion, entertainment, and red envelopes for children. And, if you didn't know this about Alhambra, some of the best Chinese food in Southern California.
Culver City
February 8, 2020
The annual STAR African American Art Festival brings together local artists and students to honor history through art and history exhibits, poetry, dancing, singing, and drumming. The event features African dance and musical performances and highlights contemporary artwork by established and emerging artists and performers.
San Gabriel
February 8, 2020
The mission district comes alive to celebrate the Year of the Dog with a street fair, carnival games, chalk art, and live performances all day and into the night. If you've never visited the San Gabriel Mission, this could be the day!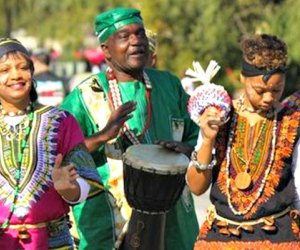 Black History Month peaks in Pasadena. Photo courtesy of City of Pasadena
Pasadena
February 15, 2020
Pasadena's annual Black History Parade - which actually starts in Altadena - honors the achievements and history of African Americans. After the parade, families are invited to a festival featuring food, merchandise booths, a kids' play area, and music.
Santa Monica
February 15-16, 2020
The Santa Monica Pier Aquarium celebrates the annual migration of the Pacific gray whale during its Whale of a Weekend. Visitors can feel the heft of a whale rib, try on a layer of (simulated) whale blubber for warmth, and learn more during storytime and film screenings. Meanwhile, a wildlife observation station is set up at the end of the Pier, staffed by Aquarium naturalists.
Downtown, Anaheim, & Ontario
Toyota Arena, Honda Center, Staples Center
February 15 - 22, 2020
The Clown Princes of Basketball dribble up some fun as their 2020 tour passes through the Southland. Will the tricksters of the court beat the Washington Generals? There's only one way to find out!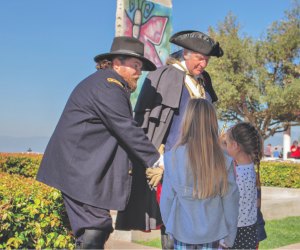 Photo courtesy of The Ronald Reagan Presidential Foundation
Yorba Linda or Simi Valley​
February 17, 2020
Los Angeles is the only metro area with two different presidential library museums, and Presidents Day seems like the perfect day to take advantage of it. Pick one and go mark the day with presidential impersonators, military bands, and cherry pie.
Temple City
February 21-23, 2020
February is the month that the camellia blossoms bloom. Earlier in the month they're formally honored at the Huntington's super dignified Camellia Show, but over the last weekend of the month the flowers get a rowdier celebration, with a parade and carnival of epic proportions in the San Gabriel Valley.​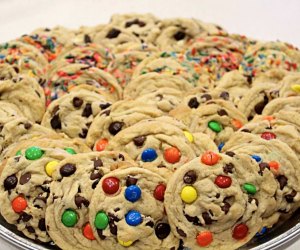 Maybe you can buy love... Photo courtesy of Cookie Con
Pomona
February 29 - March 1, 2020
We'd never imply that someone in your house has a sweet tooth, but if hypothetically someone did, the annual Cookie Con would be the place to indulge it. Two days of sampling, cooking demos, activities, and running off all that sugar take over the Fairplex Pomona this year.
Irvine
February 29 - March 1, 2020
Irvine Park Railroad celebrates its anniversary by rolling back to 1996 ticket prices for this annual event. Everything costs $2, including the 12-minute ride on the one-third scale train through the park, hot dogs, and ice cream. The fun continues with carnival games, panning for gold, and a bounce house, too.
As always, there are more activities listed on our daily events calendar, and if you don't already receive our weekend events newsletter, now's a great time to subscribe!