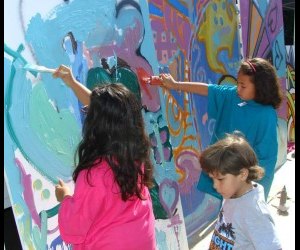 Best Things To Do with LA Kids This Weekend: Dead Sea Scrolls & St. Paddy Mar 14-15
Is it just me, or does being a parent sometimes feel like running a marathon? It's just go, go, go, first to your kid's favorite movie, then to a birthday party, introducing them to art and music and really big plants, helping them learn about robotics, and history, and science.
The hope, of course, is that there's a pot of gold at the end of this rainbow, that all our efforts will be recognized, and that in 75, 100… heck, in 2000 years, they'll still be saying "Well done. What you did with that kid was worthwhile."
Or not. Not every kid is an Einstein. But with a little instruction, they can all learn to make pancakes.
Keep reading for our most noteworthy picks for this weekend...
ALL WEEKEND
Disney Cinderella & Frozen Fever - Hollywood
There's the glass slipper, and the fairy godmother, and the charming prince….plus this Cinderella has a bonus: the premiere of a new Frozen short! (See our early bird review.)

International Children's Day - Long Beach
Children and their talents are celebrated at this annual fest at the Aquarium of the Pacific.

Lifeboat - Beverly Hills
The latest production from the Catherine Wheel Theatre Company tells the remarkable true tale of two young girls who survived the sinking of the City of Benares, clinging to an upturned lifeboat for 19 hours.

Dana Point Festival of Whales - Dana Point
Kids can run like a grunion, learn to paint like Wyland, enjoy a concert on the water, and that's just a few of the many activities this weekend at the whale festival.

Opening week of Dead Sea Scrolls: The Exhibition - Exposition Park
Uncover the Dead Sea Scrolls at the California Science Center, in the largest Dead Sea Scrolls exhibition ever mounted outside of Israel.

Easter Eggstravaganza - Orange
Easter's in full swing at the Irvine Park Railroad.

Einstein Is A Dummy - Sierra Madre
Even Einstein was a kid once. This musical imagines the brilliant physicist as a 12 year old (with 12 year old problems).

Smoke and Mirrors - West LA
Magician Albie Selznick shares how magic helped him overcome fears and deal with loss in this (almost) one man show (Hurry: it magically disappears after this weekend!)

The Great Stone Face: The Comedy of Buster Keaton - Santa Monica
Shh! What's that? That's the sound of laughter, as films of the iconic silent film great Buster Keaton screen at the Aero.

SATURDAY MARCH 14

County Ventura St. Patrick's Day Parade - Ventura
The theme for this year's parade is "Honoring Our Troops."

Santa Monica Airport Artwalk - Santa Monica
Dozens of resident artists at Santa Monica Airport welcome families to explore their studios, watch demonstrations, listen to music, and participate in workshops. Kids' activities include ceramics, painting a mural, making a recycled terrarium, and theater improv games.

Los Angeles Environmental Education Fair - Arcadia
Music, community art stations, storytelling, live animals exhibits, and workshops help kids learn about the environment.

Junior Chef Classes - Multiple Locations
Pancakes make people happy. Kids learning to make pancakes makes parents happy.

A Faery Hunt & Fairy Birthday Party - Griffith Park
What happens when you find a bunch of fairies? Why, you have a fairy birthday party, of course.

Saturday Morning Stories and More - West LA
Kids can sing, dance, and learn a little Spanish at Children's Book World with Isabel Brazon, the creator of Baila Baila Spanish Music for Kids.

Lowes Build and Grow - Multiple Locations
If your kid made that Max-D Monster Jam truck at the last session, you're going to need to make the El Toro Loco, so it has a friend to play with.

St. Patrick's Day Celebration - Calabasas
The festivities at the Agoura Hilla/Calabasas Community Center include bounce houses, climbing walls, face painting, musical and dance entertainment, and a mini camp fair.

Target Free Family Saturday: March into Spring - Downtown
Spring has sprung at the Japanese American National Museum, with eco-friendly crafts, a drum circle, and an eco-friendly fashion show.

Superheroes - Costa Mesa
Young superheroes can listen to heroic music from Superman, Star Wars, and more - music that sets the mood for fighting crime and using super powers.

Music Under the Guns - San Pedro
Golden West Pops performs a concert on the Battleship Iowa.

Kids Club - Cerritos
Learn about the unique creatures of the rainforest in the kids club at Los Cerritos Center – powered by National Geographic Kids.

Civil War Living History Day - San Marino
The New Buffalo Soldiers recreate the lives of the black soldiers of Company H, Tenth Regiment of the U.S. Cavalry, on the grounds of the Huntington.

BHCP Kids Club - Baldwin Hills
Sylvan Robotics teaches kids to build robots using LEGOs at this special kids club at Baldwin Hills Crenshaw Plaza.

Santa Monica Symphony - Downtown
The Santa Monica Symphony's free spring concert is held at Wilshire Blvd Temple in downtown LA.

Electric Dusk Drive-In - Downtown
Surely you don't plan on taking your kid to see Airplane in a drive-in screening? I do, and stop calling me Shirley!

SUNDAY MARCH 15
Sierra Madre Wistaria Festival - Sierra Madre
This plant is so big (how big is it?); it's so big it's in the Guiness Book of Records! And they built a whole festival around it!

Hermosa Beach St. Patrick's Day Parade - Hermosa Beach
Hermosa Beach's annual parade draws about 30,000 spectators. The fun includes a Kiddy Carnival, a petting zoo, international foods, vendors, and Irish music and dancing.

Los Angeles Marathon - Dodger Stadium to Santa Monica Pier
What's the rush? Everybody's running this way and that, (mostly that). You can either cheer or find alternate routes.

Cultural Workshop - Newbury Park
Potawatomi Cherokee artist Nadiya Littlewarrior presents a workshop on making and decorating gourds and gourd necklaces.

Family Art Workshop - Hollywood
Get ready for St. Patrick's with this Irish inspired Celtic Tree of Life at Barnsdall Park.

St. Patrick's Day Festival - Costa Mesa
The Orange County Market Place goes green for St. Patrick's Day!

Hammer Kids: Look Together: How to Make Music about Art - Westwood
You can turn any museum visit into a musical party if you know the right games.

Target Free Sunday at MOLAA: ¡VIVAN LAS MUJERES! Festival - Long Beach
Museum of Latin American Art celebrates Women's Month, exploring the theme of empowerment through the arts with performances, art workshops, and activities for the whole family.

Train to Piru and Bennett's Honey Farm - Fillmore
It's one honey of a train ride at the Fillmore & Western Railway.

St. Patrick's Day - Pasadena
One Colorado celebrates St. Patrick's with Irish music and Irish dance (performance and a lesson).

Zimmer Sunday Family Programs - Mid-Wilshire
The cherry blossoms are blooming (the ones kids create at the Zimmer's Open Art studio).
Young Scientists Symposium - San Pedro
Scientists of all ages can share in the love of science at the Cabrillo Marine Aquarium.

As always, there are many more activities listed on our daily events calendar, and if you didn't receive this info as a newsletter, you should sign up for our weekly events updates. Whatever you choose to do this weekend, we hope you have a terrific time!