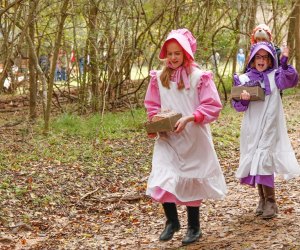 Things to Do in Houston This Veteran's Day Weekend: Children's Festival, Pioneer Day
With Veteran's Day quickly approaching, the Mommy Poppins Houston team would like to extend our heartfelt thanks to all of our veterans for serving for our country so that we can continue to live in freedom. Your service and commitment to this country is appreciated greatly. You can pay tribute to our veterans this weekend too by attending one of the awesome Veteran's Day events around our city, like the City of Houston Annual Veteran's Day Celebration and the Veterans Day Tribute at Town Green Park, both happening on Monday.
Now that Halloween has passed and Thanksgiving is on the horizon, it's time to clear out that excess candy in preparation for all of the delicious turkey day leftovers that are sure to be filling your fridge. Instead of tossing it in the trash, we've rounded up several ways you can donate your treats in an extra sweet way. Now is also the time to start solidifying your Thanksgiving plans, and if you're intersted in skipping the typical day spent in the kitchen in favor of dining out, we have a whole list of kid-friendly restaurants open on Thanksgiving. Stuffing yourself silly has never been so easy!
Calendar looking a little light this month? In need of ways to entertain visiting family and friends? We've got you covered! Just check out our Fall Fun and Harvest Guide, event calendar, November GoList for even more family events and activities.
You can also always submit your own event to our calendar to promote your upcoming event and stay on the up and up with everything happening around Houston when you subscribe to our free weekly newsletter.
That's enough chatting, though; it's time to check out this weekend's events!