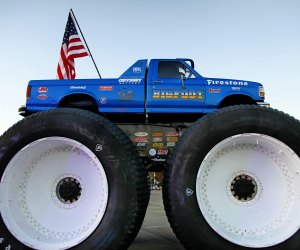 Hot Wheels Drive-Thru: Monster Trucks and More at Gillette Stadium
Start your engines! Fifty huge monster trucks and splashy hot rods are rolling into Boston for the Hot Wheels Ultimate Drive-Thru at Gillette Stadium starting March 19. Kids who love cars, trucks, and machines in general will go crazy for a glimpse of life-sized versions their favorite four-wheeled toys, including "Bigfoot," the world's tallest and heaviest monster truck. And families can enjoy it all from their own (slightly less cool, but COVID-safe) vehicles.
Check out our picks for things to do on the South Shore in winter for more things to do nearby, and as always, check our Boston events calendar for other exciting local events.
Hot Wheels Ultimate Drive-Thru Details
Legendary vehicles like "Rip Rod," here, will also be on display.
Gillette is just the third stop on this all-new Hot Wheels tour, so Boston kids will be among the first kids in the U.S. (and the first in the Northeast) to experience the show. The mile-and-a-half long driving tour takes about 45 minutes, and visitors can tune their radios for some music and sound effects to accompany the tour.
The 50 cars and monster trucks to see include Tiger Shark, Bone Shaker, and Demo Derby along with Bigfoot. And be on the lookout for more show stoppers, like the four-story Megasaurus. Trucks and cars aren't the only sights to see at Gillette. We hear there are even a few robots in the mix!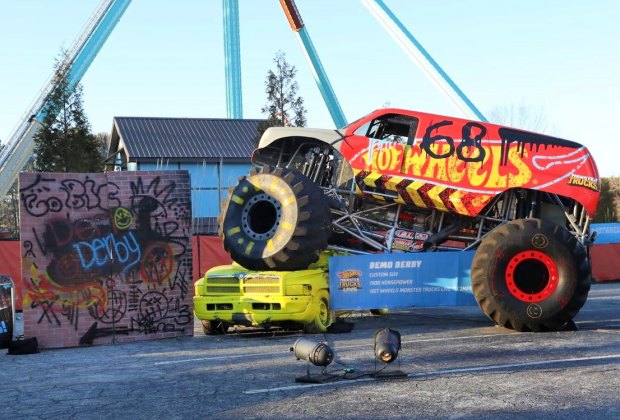 Big and tough "Demo Derby" will be a part of the show, too.
How To Get Tickets to Hot Wheels Ultimate Drive-Thru
Timed, pre-purchased tickets for the drive-thru experience are required for all visitors. Presale tickets are available now for Gillette "VIPs", like Patriots season ticket holders. Tickets for the general public tickets go on sale March 4.
Costs for the drive-thru show are $45 per car and include a goody bag: a Hot Wheels three-car toy pack to keep the fun rolling on. And if you really want to treat the kids, splurge for one of the two add-on packages that feature popular Hot Wheels monster truck toys like Bigfoot. If you don't pre-purchase the merchandise, there will also be a pull-off opportunity at the drive-thru to grab some souvenirs.
We guess some grown-up gearheads are as excited as their kiddos for this event, so be sure to mark your calendars and score some tickets before Bigfoot and friends roll out of Foxborough on April 18.
All photos courtesy of Raycom-Legacy Content Company