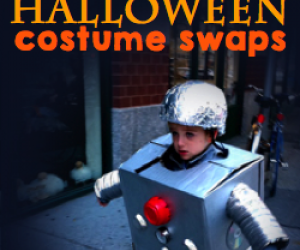 Halloween Costume Swaps for Kids: Where to Find Free, New-to-you Costumes
Unfortunately, National Costume Swap isn't happening in 2015. My eight-year-old daughter is the Imelda Marcos of costumes. Every Halloween she's invited to a terrifying number of celebrations and she insists on a different outfit for each one. I happen to love dressing up, too, so, I admit, I indulge her. Trouble is, she outgrows her costumes much more quickly than I do mine—we never get more than one Halloween season out of them.

Instead of throwing all of those barely used costumes into the donation bin (or worse, the landfill), we've found a better, eco-friendly option that saves us money and is actually pretty fun: Halloween costume swaps. At these community events, you trade your child's old costumes for new-to-you outfits. My daughter enjoys tearing through tables piled high with outlandish getups, and I love hanging on to my cash.

Costume swaps have really taken off in popularity in recent years as families become ever more frugal and environmentally aware. In fact, there's even an annual National Costume Swap Day! This year's edition officially takes place on Saturday, October 12, but local community organizations across the country hold costume swaps on various dates throughout the month. We've got the scoop on how to find costume swaps in your area and tips on how to host your own.
Sponsored by the not-for-profit organization Green America, National Costume Swap Day is a great place to start when looking for a local swap. The website lists swaps by city and state as well as by date.

Of course, lots of community organizations host costume swaps that don't end up getting listed on the National Costume Swap Day site. Another way to find local swaps? Search the word "swap" in our Event Calendar. Remember, we add listings every day so even if you don't see any now, be sure to check back in mid-October when Halloween season kicks into high gear.

Or how about starting your own swap? The National Costume Swap Day site has easy-to-follow directions for organizing and hosting your own swap—it's not hard, but it does take some planning. Space is the first thing you need, so if you have access to a community room or a backyard you're already on your way. Then it's just a matter of getting the word out. Make sure you register your costume swap on the National Costume Swap Day website, and remember to submit it to our Mommy Poppins' calendar, too. We'd love to list you.

Need more green Halloween inspiration? Check out greenhalloween.com for other great ways to keep the holiday eco-friendly.
Find more posts about Halloween events and ideas in our Halloween Guides in NYC, New Jersey, Los Angeles, Long Island, Boston and Connecticut.
OUR LATEST VIDEOS