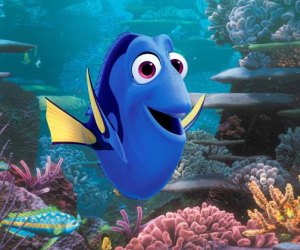 Finding Dory: How Does It Measure up to Finding Nemo?
You certainly can't accuse Disney•Pixar of rushing things. The sequel to the 2003 animated classic Finding Nemo was 13 years in the making, so evidently the studio was more interested in getting it right than in making a quick buck. That philosophy shows in every aspect of this movie, from its breathtaking underwater visuals to its cute, quirky characters to its moving story, which flips the Nemo plot and has Dory (Ellen DeGeneres) searching for her long-lost parents. Although the heroine suffers from short-term memory loss, anyone who saw Finding Nemo will find the proceedings very familiar. The result is immensely enjoyable for both children and adults, with heartfelt messages about family, self-reliance, and perseverance.
But before you start pushing your stroller to the nearest cineplex, be warned: the PG-rated Finding Dory is a bit darker than its G-rated predecessor (notwithstanding the latter's Bambi-esque death of the mom sequence). Dory and her pals are frequently lost and stuck in scary situations. Can your preschoolers handle it, and—if you have older kids—is it worth splurging on IMAX 3D? No need to go on a fishing expedition: we've got watertight answers.
Despite its title, Finding Dory is actually about the perennially forgetful Dory looking for her mom and dad, not the other way around. Like Finding Nemo, this film opens with a harrowing flashback, as Dory's parents try to teach their baby about the dangers of the ocean, and how to navigate around—especially back home. (Any parent who has prepped a child to travel alone will relate to how nerve-racking and stressful the process is...for everyone involved.) In the first movie, Dory's disability was played mostly for laughs, but here we see how genuinely perilous it is. Anyone can get lost, but Dory can get lost and forget where she is going, where she came from, and even where she belongs.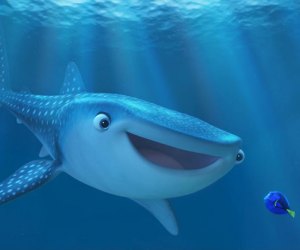 OUR LATEST VIDEOS
That's exactly what happens to her as a tot. And while she's found a makeshift family in Marlin and Nemo, once the memory of her real parents is triggered, she's determined to make it back home to them. Indebted to her for helping to reunite them in the first flick, Marlin and Nemo tag along on her cross-ocean adventure. Without giving too much away, Dory and her buds are separated (of course), resulting in concurrent plot lines as they search for each other as well as for her parents. Colorful new characters are introduced, notably chameleonic and cranky octopus Hank, nearsighted whale shark Destiny, echolocation-challenged Bailey the beluga whale, a pair of territorial sea lions, and one very goofy but heroic bird. Without saying who she's voicing, Sigourney Weaver also lends her dulcet tones to a wonderful running gag.
RELATED: More Parent Movie Reviews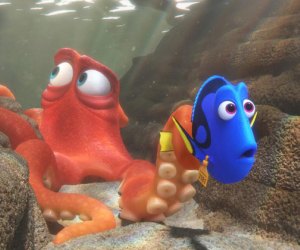 Although (spoiler alert!) everything turns out okay in the end, the journey is filled with challenges and alarming moments. All of the adorable aquatic creatures are frequently put in harm's way. Sometimes it's darkly funny, as in the touch tank sequence (oh no: little-kid hands!); in other scenes, characters are in mortal peril (watching Marlin and Nemo gasp for water is disturbing, even if it's only momentary). But the moments that made me and my ten-year-old tear up are when Dory finds herself completely alone. Look into her eyes and you can see the existential dread as she wonders, Who am I? Where do I come from? Where am I going? For adults and older kids, this is utterly relatable, so bring tissues. Happily, your preschoolers won't need 'em as it will fly over (or, perhaps, swim under?) their heads.
In fact, while Finding Dory has upsetting moments, they tend to be of the quiet, contemplative variety, which means little kids probably won't be scared by most of it. We didn't hear one cry at the advance screening we attended, though there were certainly many tots in the audience. That said, I'm not sure how much they understood the film, either. Like Finding Nemo, Finding Dory is aimed at school-age kids, so ages 5 and older is the best range.
The ending is a bit over-the-top, with a silly and not very amusing chase sequence that begs to be cut down. In spite of that, Finding Dory is a worthy successor. We saw it in IMAX 3D, and, while watching the underwater world come to three-dimensional life was riveting and worth the extra expense, the IMAX didn't add much. Like all Pixar flicks, the film is preceded by a short, and we found Piper, about a baby shorebird learning to conquer its fears and be more independent, absolutely charming and the perfect complement to the themes explored in Finding Dory. And make sure you stay through the feature's closing credits: There's a wonderful surprise scene at the very end featuring some old friends from the first film.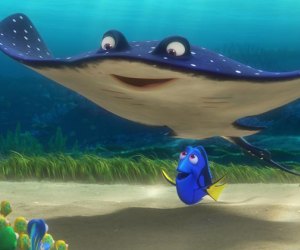 With its stunning visuals, superlative voice acting, and compelling story, Finding Dory will certainly entertain all audiences, but it will be especially meaningful to kids who struggle with special needs or being different. Dory comes to learn that not only can she overcome her issues, but she's always been worthy of love and respect. It's a moral that can't be repeated often enough.
Finding Dory is rated PG and opens nationwide on Friday, June 17.
All photos courtesy of Disney•Pixar.