What's Open on Christmas Day and Christmas Eve in Connecticut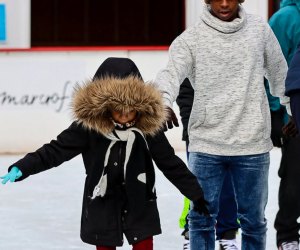 If you are wondering what's open on Christmas Day and Christmas Eve in Connecticut, there are light shows and fun things to do and see. When the "most wonderful" time of year is here, and decorations are up, menus are planned, and most gifts are wrapped, you may be thinking about some activities that will help you cherish family time. This list of 18 events happening on Christmas Eve and Christmas Day in Connecticut is sure to have something for everyone, from Christmas Eve skating and a reindeer festival to a much-loved free light show.
With media issues fixed and "It's a Wonderful Life" cued up, I'm ready for Christmas! No matter what you celebrate, Hanukkah, Kwanzaa, or a combination, have a wonderful holiday season and enjoy as much as you can with our Guide to Holiday and Christmas Events for Connecticut Families.


One of Santa's reindeers needs to fuel up before the big event! Photo courtesy of the Greenwich Reindeer Festival
18 Things To Do on Christmas Day and Christmas Eve in Connecticut
​Greenwich—Now through Friday, December 24
Santa and his reindeer are available to see your children. Your kids can have their pictures taken with Santa, and ride on a Winter Wonderland Carousel.

It's all aboard for those that can't get enough of model trains. Photo courtesy of the Connecticut River Museum, Facebook
Essex—Now through Sunday, February 20, 2022
This model train show fills the entire 3rd floor of the Connecticut River Museum. Come see a running, 26-foot layout with scenery, people, and vehicles.
Fairfield—Now Through Sunday, January 2, 2022
Come see the winter wonderland train show. The annual tradition is back to delight both children and adults.

Drive through miles of lights at Goodwin Park. Photo courtesy of Hartford Holiday Light Fantasia
Hartford—Now Through Sunday, January 2, 2022
This annual Hartford tradition is a favorite for families. The 2-mile drive-through light show has over 200 individual displays and 1 million lights!
Bridgeport—Now Through Sunday, January 2, 2022
The family-friendly Holiday Lights Spectacular features lasers, choreographed lighting, projection mapping, tunnels, and millions of lights.
Torrington—Now Through Friday, December 24
This Christmas Village features individual rooms to meet both Santa Claus and Mrs. Claus, a toy shop with elves hard at work, reindeer, seasonal lights and displays, and of course, hot chocolate.
West Hartford—Friday, December 24
Come put on skates and take to the ice the day before Christmas. Public skating begins at 1pm.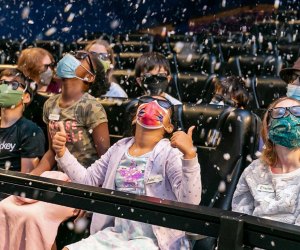 So much to see with Santa swimming in the shark tank and The Polar Express in 4D. Photo courtesy of the Maritime Aquarium
Norwalk—Now Through January 2, 2022
Enjoy a day of festive fun at the Maritime Aquarium. On Christmas Eve, you can sneak a peak at Santa swimming with the sharks and check out a screening of the Polar Express 4D.
Old Lyme—Now Through Sunday, January 2, 2022
Come experience the Magic of Christmas at the Florence Griswold Museum. The Griswold House will be decorated for Christmas in turn-of-the-century style with many different Christmas trees on display. Miss Griswold's Artist Tree features painted pallettes by 200 artists.
East Hartford—Now Through Sunday, January 2, 2022
Enjoy the all-new drive-through 'Blizzard Tunnel' as well as returning favorite displays, including '12 Days of Christmas,' 'Winter Wonderland,' and 'The Night Before Christmas.'
New Haven—Now Through Friday, December 31
The mile-long route features more than 60 displays and 100,000 lights. Many of the displays are animated and some are fitted with LED bulbs, making them more colorful and vibrant.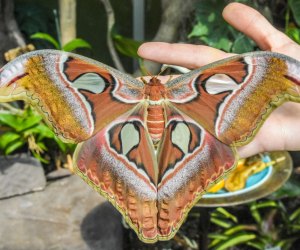 Marvel at the Atlas moth at the Butterfly Winter Wonderland. Photo courtesy of the Connecticut Science Center
Hartford—Now Through Friday, December 31
This winter, the Connecticut Science Center has created a tropical wonderland filled with butterflies and more than 200 orchids.
Shelton—Friday, December 24 - Saturday December 25
Lace up your skates on Christmas Eve or Christmas Day.
Stamford—Friday, December 24
Enjoy some family skating before Christmas and over the holiday break. Stamford Twin Rinks will be open on during the Christmas break week, but not Christmas Day.

The much loved Festival of Silver Lights in Meriden is free. Photo courtesy of Visit Connecticut
Meriden—Now Through Sunday, January 2
Come and see 350,000 twinkling lights. There will be 200 figures and buildings decorated for onlookers to enjoy.
Westport—Saturday, December 25
Yes, you can skate on Christmas Day at the PAL Rinks. From 12pm-1:30pm you can bring out your family to get some fresh air and exercise.

Get crafty at CAMP SoNo on Christmas Eve in Norwalk. Photo courtesy of CAMP SoNo
Norwalk—Friday, December 24, 2021
Make your very own decorated tree with real working lights at CAMP SoNo.

Originally published on 12-22-2011.
Photo courtesy of Ally Noel.