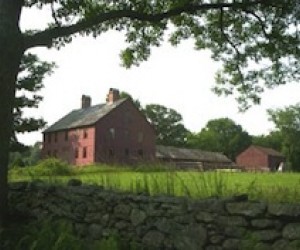 Real Haunted Houses of Connecticut
They are out there...old, colonial places, historic farmhouses, buildings that have seen a lot: the 'real' haunted houses of Connecticut. No plastic skeletons jumping out of the corner, no fake blood pouring down the wall - just eerie stories about weird noises, strange events and sightings of surreal things. Read on to find out about Connecticut's most famous haunted houses. Several are museums, inns or restaurants today, favored and visited by people as much for their exhibits, comfort and food as for their spooky reputation. Many organize special Halloween events during October to lure their ghosts out of hiding for a special trick and treat for visitors.
Nathan Hale Homestead, Coventry
A beautiful, Georgian-style house with maroon sidings, the first few rooms of the Hale Homestead were built in 1746. It used to be home to a large family with over 10 children. One of them was Nathaniel Hale, the famous patriot spy executed by the British. His family continued to live in the house for many years: siblings and in-laws, cousins and nephews and nieces. Many say that some people from the big extended family stayed on long after their deaths: the ghosts of old Deacon Richard Hale, his son John and wife Sarah and Lydia Carpenter, a family servant have all been seen hovering around. Today the house is a museum in the midst of a state forest. It is furnished with period pieces as it could have been while the old colonial family lived there. In the month of October the museum hosts special events such as candle-lit house tours complete with ghosts stories and walks in a haunted corn maze.
Nathan Hale Homestead
2299 South Street
Coventry, CT, 06238
860-742-6915
Museum closes after October 30th for the winter season.
Captain Grant's 1754, Preston
Captain Grant's is another beautiful residence from the colonial period. It has a long history filled with mysteries, personal tragedies and memories from turbulent times. Its first owner, Captain Grant was lost at sea leaving his young widow, Adelaide to bring up their children alone in the proud, new house. Soldiers lived here during the Revolutionary War, fugitives riding the Underground Railroad stopped by here during the Civil War era. No wonder it is rumored to be haunted: Adelaide's room in the main house, the attic, the grounds.

Captain Grant's is a popular bed-and-breakfast inn today: many visitors come here in search of the mansion's special ghosts. The inn's Halloween treat is its Halloween Boo event: a ghost hunt on the grounds and along Route 2A into St James Cemetery to catch a wondering spirit. The evening closes with a bonfire and ghost story retellings, continued into the late hours of this most haunted night of the year.
Captain Grant's
109-111 Route 2A
Preston, CT, 06365
860-877-7589
Daniel Benton Homestead, Tolland
This simple, red farmhouse built in 1720 is the oldest house in Tolland, was lived in by many generations of the Benton family. It is also the place where one of Connecticut's most well-known stories of forbidden true love played out. Elisha, one of the grandsons of the family's patriarch returned from the Revolutionary War inflicted by the dreaded, often fatal smallpox. The family avoided him and locked him on a tucked-away bedroom. Only his loving girlfriend, Jemina Barrows whom Elisha was forbidden to marry, was brave enough to care for him. The forbidden lovers both died of the disease and were buried - separately - on the grounds. To this day they are thought to haunt the house where ghosts and spirits of Hessian soldiers are also said to roam around.
The historic farmhouse is a museum today, furnished and arranged to portray colonial life in Connecticut's farming communities. The historic rooms - now exhibition halls - sometimes echo from steps of unseen people, non-existent fire logs crackle in its cold fireplaces, the eyes of portraits on the wall glow in the dark.
Daniel Benton Homestead
Metcalf Road
Tolland, CT, 06084
860-872-8673
Museum open Sundays 1 to 4 pm until November.
Pettiborne Tavern (Abigail's Grille and Wine Bar), Simsbury
Hot chowder and good pot pie have been cooked in this roadside inn for centuries. Travelers from colonial and revolutionary war times stopped here for a hearty meal and a night's sleep on gruelingly long rides from Boston to New York. Run-away slaves and their supporters used the tavern's tunnel and facilities. But the tavern's biggest claim to fright is Abigail's story. John Pettiborne's wife was caught cheating and her husband took cruel, bloody revenge on her for the indiscretion. As a result, Abigail is thought to be lingering in the old inn, making noise here and there, moving objects around. Whether her ghost is really there or not, her spirit truly is: the newly renovated old tavern was reborn after a 2008 flooding as an excellent restaurant bearing Abigail's name.
Abigail's Grille and Wine Bar
4 Hartford Road Simsbury, CT
860-264-1580
Originally published 9/25/2011.