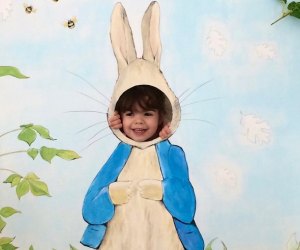 Easter Egg Hunts, Train Rides and Fun Events in Litchfield County
Get your kids hopping this Spring at these awesome Egg Hunts and Easter activities being held in and around the Litchfield County area. With train rides, Easter Bunny sightings and the ever popular egg hunts, you are sure to find some family fun this Easter. Hint: March 24 seems to be a very good Easter Egg Hunting Day. We've also rounded up Easter fun activities in Central Connecticut and Fairfield County.
Brookfield 18th Annual Flashlight Easter Egg Hunt - Brookfield
Friday March 23
This annual nighttime egg hunt is for students in grades 3 – 5! The hunt will be held on the grounds of Town Hall at 8:00 p.m. sharp, and will last approximately 20 minutes. All participants must bring their own flashlights. Bags will be provided for collecting. Call the Parks & Recreation Office to preregister.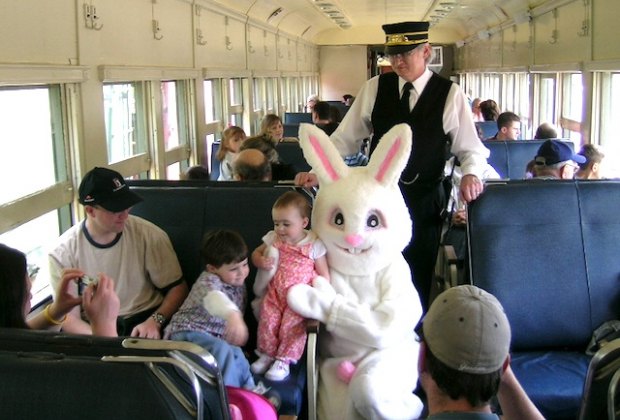 Easter Bunny Express Train - Danbury Railway Museum - Danbury
Saturday, March 24 - Sunday March 31
Ride in a vintage train through the historic rail yard to visit the Easter Bunny at the Danbury Railway Museum. On Saturdays and Sundays through April 15th, trains leave every 30 minutes from 12:30 to 3:30. Each child will receive a small gift from the Bunny. Reservations are suggested and may be made by visiting the museum's web site. The train ride will stop at the Easter Bunny's special railroad car. The museum's beautifully restored circa-1910 Railway Post Office (RPO) car will also be open. Of course, the exhibits inside the restored 1903 Danbury station will be open, along with a coloring station, temporary tattoos, Thomas® play table, and the operating model train layouts.
Kent Annual Easter Egg Hunt - Kent
Saturday, March 24
Kent Park and Recreation sponsors an annual hunt on the lawn outside Kent Town Hall. The event is open to Kent youngsters, ages 10 and under, and features two separate hunts: ages 5 and under and ages 6 to 10. The inclement weather date is March 31, 2018.
Brookfield 21st Annual Easter Egg Hunt - Brookfield
Saturday, March 24
Join the Parks and Recreation Dept. on the grounds of Town Hall. Additional feature include jelly bean counting contest, and a special appearance by the Easter Bunny. Bags will be provided for egg collecting. The first hunt begins at 12 p.m. for children under 3; 3- 4 year olds at 12:15 p.m.; 5 - 6 year olds at 12:30 p.m.; 7 - 8 year olds at 12:45 p.m. Call the Parks and Rec. office to pre-register.
Easter Egg Hunt - Litchfield
TBD
Litchfield children aged nine and under are invited to participate in the Easter Egg Hunt which will take place at Community Field in the Playscape and the Ripley and Porter Baseball Fields. The event is free to the public. Don't forget your Basket!!!!
Terryville Lions Egg Hunt - Terryville
Saturday, March 24
Children 10 and under are invited to the annual Terryville Easter Egg Hunt at 1 p.m. in the rear of Terryville High School. Be sure to bring your camera!
Woodbury Egg Hunt - Woodbury
Saturday, March 24
Take your child's photo before or after they race to fill their basket with chocolate eggs hidden in the park. This is lots of fun for children up to 10 years old. Easter Bunny will arrive at 9:30am and the egg hunt will begin at 10:00am sharp. Free event for residents and non-residents, but donations of toiletries for the Woodbury Food Bank will be collected.
Bunny Express at the Railroad Museum of New England - Thomaston
Saturday, March 24, Sunday march 25 and Saturday March 31
Celebrate the coming of spring with a scenic train ride on the Naugatuck Railroad including a visit and gift for each child from the Easter Bunny! Reservations recommended, as trains sell out early. 80 minute train rides at 10:00AM, 12:00PM and 2:00PM. Board your train at the Thomaston Station.
Originally published 3/19/12.
Photos courtesy of Ally Noel and Railroad Museum of New England.