Water Country: A Splashtastic Place for Families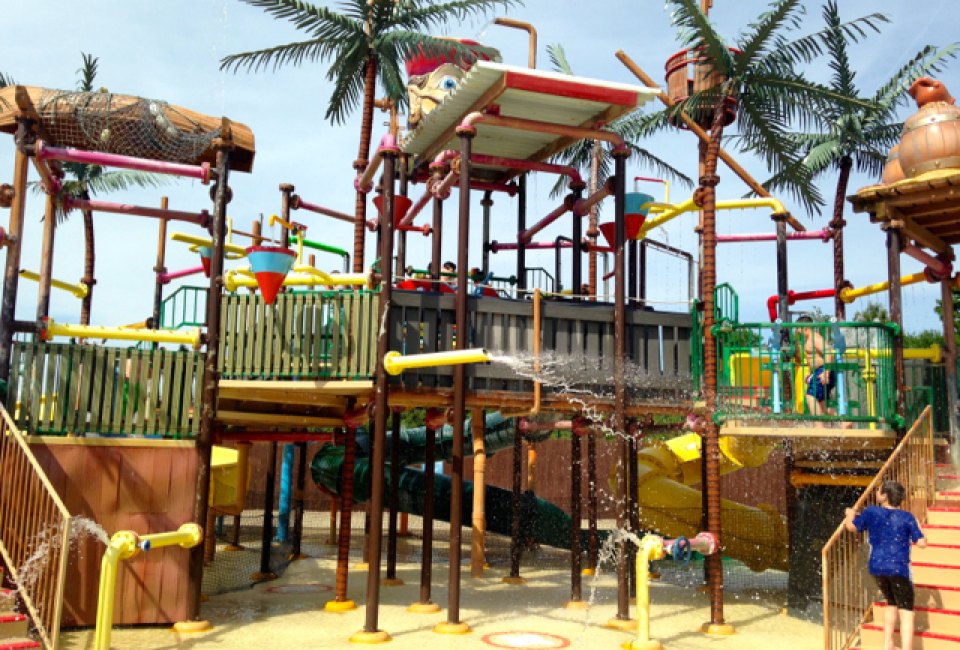 6/11/14
- By
Tara D
We went to Water Country for opening weekend of the park's 30th anniversary year and had a blast. Water Country is reminiscent of one of our other favorite theme parks, Story Land. However, instead of having to make the trek to Mount Washington Valley, we made a quick jaunt 35 miles north of Boston to Portsmouth, a small city on the lovely New Hampshire seacoast. Hello, perfect daycation! Keep reading to find out what we liked most about Water Country and some tips for making the most of your visit.
There's something for everyone. From little tykes who just like to splash in the water to genuine thrill seekers, Water Country offers fun for visitors of all ages and levels of adventurousness.
The little ones (under 48") who can't go on all of the rides still have plenty of play space to splash around in. They can explore the pirate ship at Pirate's Pool & Lagoon and get drenched under the giant tipping bucket while they're playing in the Tahiti Tree House area. The youngest visitors will delight in climbing up and sliding down the arms of Ollie the Octopus and in dodging geysers in Bubble Bay, which is next to the Wave Pool.
Older kids and adults seeking adventure have plenty of options too, with rides and slides that venture through the dark, spin you around like a penny in a giant bowl, and send you down a slide headfirst holding on to a mat for dear life. The ultimate thrill is Double Geronimo, the 58-foot-high speed slide. (That one is seriously terrifying, but in a good way, of course.)
When it's time to chillax, head for one of the pools, or catch a ride on a tube gliding along Adventure River, through waterfalls, mountains, and caves.
Family Fun. I mentioned before that Water Country reminded us of Story Land. As it turns out, the two parks are owned and operated by the same company, Palace Entertainment. What sets these parks apart from others is the family atmosphere and the opportunities to have fun together as a group.
Friendly staff, popular (and appropriate) music, and nice touches like the shady picnic groves all give Water Country a really welcoming family atmosphere. The park has a whole summer of family-friendly events planned, including a Summer DJ series to celebrate 30 years, live entertainment, and a day with Sponge Bob Squarepants.
My family's favorite ride was Thunder Falls & Wild Canyon, largely because we could all ride together. Families can also pair up on several of the rides and slides - three kids could even race each other on the Triple Giant Slides - and the pools all facilitate togetherness. We saw a whole group holding on to each other's tubes, floating along Adventure River like an amoeba, and they appeared to be having the time of their lives.
Plenty for the Money. A great day with the family, like the one we had at Water Country, is priceless. But there are real, tangible costs to consider, and the question always weighing on my mind (and my wallet) is, "Is it worth it?" I compared it to going to seeing a show:
Show: 2 hours of entertainment. Water Country: We could easily spend the whole day.
Show: We're technically spending time together as a family, but we're not really interacting. Water Country: We're riding on rafts together, picnicking in the grove, and cheering each other on.
Show: At least $60 per ticket. Water Country: $39 for regular admission, plus there are discounts for kids under 48", special twilight admission prices, and the park is offering $30 Thursdays this summer to celebrate its 30th anniversary.
All around, Water Country is a great value, and it's even better if you get a season pass.
---
Tips for Getting the Most from Your Visit
Measure your child before you go. 48" is the magic number. If your child is under 48" s/he can play in the little kids' areas and go on some of the rides with an adult, but a life vest is required for kids under 48" in many areas of the park. The staff members at Water Country are serious about the height requirements, and I think that's a good thing: It helps keep your little ones from being trampled by big kids in designated play areas, and it's a good safety measure.
Plan your day. Before you go or when you arrive, take a look at the map and identify which activities you and your kids are most interested in, and which rides and water play areas are appropriate for your child's height. You may also want to factor in where you want to be for your snack and lunch breaks.
If you forget something, head straight for the gift shop. It has everything: Swimsuits, cover-ups, water shoes, sunscreen, sunglass cords, the works. There are fun keepsakes and mementos too, of course.
Spring for a locker. The $10-15 rental may seem like a lot at first, but it is totally worth it for the whole family to be able to enjoy the rides together. (And you won't feel like a pack mule all day.)
Apply waterproof sunscreen liberally and often.
Put water shoes on your little ones to protect delicate feet from hot and rocky pavement.
Go at twilight (after 3 pm). You'll have more elbow room, you'll be out of the midday sun, and there's a significant discount on admission. Win-win-win!
This post was sponsored by Water Country.