Best NYC Kids' Theater Shows Spring 2014: 14 Family Shows at Non-Broadway Prices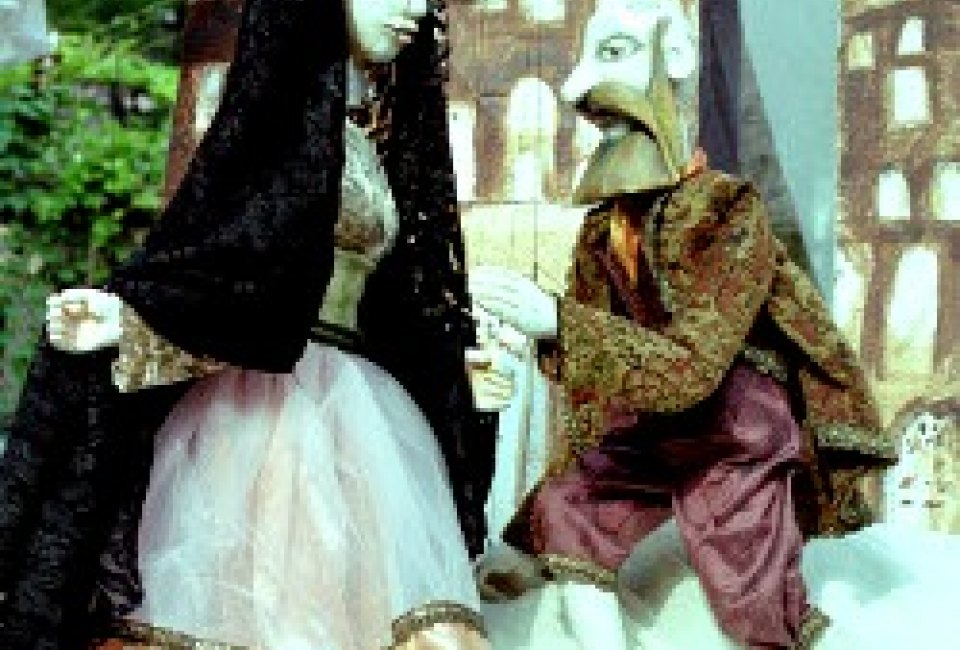 4/8/14
- By
Raven Snook
Our spring culture coverage continues with a look at the most promising family shows opening this season. While Disney's brand-new Broadway spectacle Aladdin may be getting all the press, there are lots of fantastic kids' shows bowing Off Broadway with much lower ticket prices.

There are options for all age groups, including a few shows that are perfect for first-time theatergoers. From page-to-stage adaptations of popular children's books like We're Going on a Bear Hunt, Junie B. Jones and Mr. Chickee's Funny Money, to original shows about Einstein and the Earth, to interactive theater experiences where families can get in on the action, it sounds like an exciting spring season. Plus the New York Children's Theater Festival returns for its third year on the Upper West Side.

The one thing all of these shows have in common? You can take the kids to see them without dipping into their college funds—most of our recommendations are $20 or less.
Don Juan, or Wages of Debauchery – Upper East Side
Thursday, April 10-Sunday, May 4. See our listing for the complete schedule.
Jan Hus Playhouse, 351 East 74th Street between First and Second Avenues
$18 for adults, $13 for children
Ages 6 and up
I realize a show based on the bad-boy exploits of Don Juan and featuring the word "Debauchery" in its title doesn't sound very kid-friendly. But this Czechoslovak-American Marionette Theatre show adapted by Vit Horejs (who teaches kids' puppet workshops at La MaMa), should be fun for sophisticated tweens and teens. Using the plot and some of the musical from Mozart's opera Don Giovanni, the show is all Punch-and-Judy-style slapstick, and Don Juan's womanizing is akin to Elmer Fudd chasing Bugs Bunny in drag. Plus the hand-carved puppets are stunning to behold.

Mr. Chickee's Funny Money – Chelsea
Saturday, April 12-Sunday, May 4. See our listing for the complete schedule.
Linda Gross Theater, 336 West 20th Street between Eighth and Ninth Avenues
$20 for adults, $10 for children
Ages 6 and up
Young fans of Christopher Paul Curtis' popular book about kid sleuth Steve and his pals trying to solve the mystery of a quadrillion dollar bill gets the musical treatment at the wonderful Atlantic for Kids. We're particularly excited about the songs, which are co-written by Motown great Lamont Dozier (who penned hits like "I Can't Help Myself (Sugar Pie Honey Bunch)" and "Stop! In the Name of Love" back in the day) and his son, Paris. The numbers reportedly run the gamut from disco to jazz to hip-hop and are played by a live band onstage, a true rarity in NYC kids' theater.

Earth – Lower East Side
Saturdays, April 19, 26 and May 3 at 10:30am and 12:30pm
University Settlement, 184 Eldridge Street at Rivington Street
$15 for adults, $10 for children
Ages 6 and up
I've been consistently impressed by the original kids' shows developed by the Trusty Sidekick Theater Company. The troupe's brand-new sci-fi-themed production sounds delightfully geeky, as audiences get a gander at all the drama that goes down in Sector 42 of the Office of Planetary Discovery, the interplanetary bureau that's been surreptitiously watching over our home planet for centuries. The company uses multimedia elements, innovative sound design and projections in order to conjure outer space.

New York Children's Theater Festival – Upper West Side
Marjorie S. Deane Little Theater, West Side YMCA, 5 West 63rd Street between Broadway and Central Park West
$18
Back for its third year, this month-long fest features four different family shows. Each production plays for just one weekend and usually there are fun pre- and post-show activities like face painting, crafts, performance workshops, and meet and greets with the casts, all free to ticket holders. Looking at the full lineup, the two that caught my eye are:
Rescue Rue – Friday, April 25-Sunday, April 27
Ages 3-8
A heartwarming modern-day musical fairy tale about a shelter dog who finds a forever home with a NYC family—sounds like a great lesson about pet adoption for young children.
Mythos – Friday, May 16-Sunday, May 18
Ages 5 and up
Introduce the kids to Greek myths as a young puppet goes on a series of fantastical journeys and applies what he learns to our contemporary problems.
Samantha Spade, Ace Detective: The Case of the Maltball Falcon – Chelsea
Saturday, April 26-Sunday, May 18. See our listing for the complete schedule.
TADA! Youth Theater, 15 West 28th Street between Broadway and Fifth Avenue
$20-$25 for adults, $8-$15 for children
Ages 5 and up
A kids' musical starring kids! The talented tykes of TADA! are back in a world-premiere musical that parodies the old Sam Spade private eye stories. Here a young girl stands in for Humphrey Bogart and a maltball replaces the Maltese Falcon. This sounds like a show that works on two levels: Parents should get a kick out of all the noir references while children will enjoy Samantha's comedic adventures.

Bedtime – Fort Greene
Friday, May 2-Sunday, May 4. See our listing for the complete schedule.
BAM Fisher Fishman Space, 321 Ashland Place between Lafayette Avenue and Hanson Place
$7
Ages 1 to 4
Created especially for super-young audiences (some can't even walk yet!), this 45-minute interactive show is an ideal first-time theater experience. Without uttering one word, two pals turn bedtime into playtime as pillows transform into wings, sheets change into flags, and even towels become imaginary playthings. Expect lots of audience participation and, inevitably, no sleep 'til after Brooklyn. Bonus: Kids are encouraged to come in their PJs so they'll be extra into it.

Dear Albert Einstein – Midtown West
Saturday, May 3-Sunday, May 18. See our listing for the complete schedule.
Theater 3, 311 West 43rd Street near Eighth Avenue
$25, $95 for a family four-pack; save 30% on select evening performances with code SeeEinstein
Ages 8 and up
Last year the venerable Making Books Sing had a hit with its preschooler-friendly musical Wanda's Monster. But the family theater company's new show hopes to inspire a love of STEM subjects in middle schoolers. Set in 1954, the musical focuses on a 12-year-old girl who loves math but worries about being branded a nerd by her peers. Luckily legendary theoretical physicist Albert Einstein pops up in her imagination to set her straight but not before causing all kinds of problems—the kinds you can't solve with a calculator.

HyperISH – Midtown West
Friday, May 9-Sunday, May 18. See our listing for the complete schedule.
The New Victory Theater, 209 West 42nd Street between Seventh and Eighth Avenues
$14-$38
Ages 8 and up
This wordless dance spectacle inspired by, of all things, a quote from The Catcher in the Rye ("I do not even know what I was running for—I guess I just felt like it."), twirls into town from Holland. A mix of eclectic styles, from street to club to hip-hop to ballet, HyperISH features incredibly athletic young folks trying to be individuals in a conformist world. It's one of those shows that's better seen than described, so thank goodness for YouTube.

We're Going on a Bear Hunt – Tribeca
Sunday, May 11 at 1:30pm
Tribeca Performing Arts Center, 199 Chambers Street near West Street
$25
Ages 3 and up
Perfect for preschool fans of Michael Rosen's popular picture book. The adventurous but pacifist hunters face a variety of sensory obstacles (the swishy, swashy grass, the splishy, splashy river, the oozy, squelchy mud) in order to find their bear.

The Composer is Dead – Upper West Side
Saturday, May 17 at 11am and 1pm
Avery Fisher Hall at Lincoln Center
$17-$60
Ages 6-12
A hybrid of classical concert and theater show, this Little Orchestra Society production is based on the book-album of the same name, written by Lemony Snicket with music by Nathaniel Stookey. John Tartaglia (of Johnny and the Sprites fame) narrates this musical murder mystery in which everyone has a motive and an alibi. So who killed the composer?

Junie B. Jones – Corona
Sunday, May 18 at 1 and 3pm
Queens Theatre, 14 United Nations Avenue South in Flushing Meadows Corona Park
$14
Ages 5 to 10
A few years back, my daughter and I caught a different TheatreworksUSA adaptation of the late Barbara Park's kid-lit series about a precocious youngster who enjoys mangling the English language. It was quirky and wonderful and I suspect this brand-new Junie B.-inspired musical will be, too. Follow the plucky grade schooler as she navigates first grade, causes mayhem in the cafeteria and plays in a band at half-time during a kickball tournament.

The Wizard of Oz – Flatbush
Sunday, May 18 at 2pm
Brooklyn Center for the Performing Arts, Walt Whitman Theatre at Brooklyn College, 2900 Campus Road near Kenilworth Place
$7
Ages 4 and up
I doubt I need to sell you on this timeless classic about Dorothy's adventures in a magical Technicolor world far from her drab Kansas home. The American Family Theater has been touring this production across the country for years, and while it's not high-end, it's not high-priced, either. Young fans of the book and movie should be satisfied, and your wallet will be, too.

Saltbush – Midtown West
Friday, May 30-Sunday, June 8. See our listing for the complete schedule.
The New Victory Theater, 209 West 42nd Street between Seventh and Eighth Avenues
$25
Ages 5 and up
If you've ever wanted to be in the spotlight at the New Vic, now's your chance. In this high-tech immersive production, everyone is onstage—even the audience. A fascinating collaboration between Italy's Compagnia T.P.O. and Insite Arts from Australia, Saltbush features Aboriginal dancers performing on a "Children's Cheering Carpet," a sensory landscape that allows them to interact with colorful projections on the floor in time to traditional music. It looks absolutely stunning and there are even opportunities for kids to become part of the action, too.
Find out about other great things to do this season in our Spring Fun Guide.