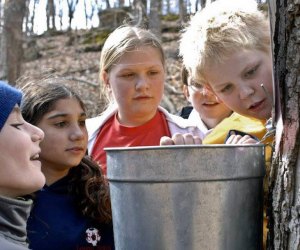 Maple Sugaring with Kids in Connecticut: Maple Syrup Festivals, Sugar House Tours, and More
Soon, sugar houses all across the state get to work on the process of collecting and evaporating clear watery sap into tasty, golden syrup. The traditional maple sugaring season extends from February until late March, though that depends greatly on the weather (freezing nights and warm, sunny days are necessary to provide good sap yields). If you and the kids are interested in learning more about this sweet New England tradition, head to a maple syrup or sugaring festival or tour in Litchfield, Hartford, Fairfield, and New Haven counties. Some sugar houses invite you to stop in anytime the evaporator is running (but call before heading out).
Make the most of the season by checking out our winter fun guide, bookmarking our events calendar, subscribing to our free newsletter, and following our Facebook and Instagram pages.
Maple Syrup Festivals and Open Houses in Connecticut
Maple Sugar Day - Greenwich
February 22, 2020
Learn how to tap trees and make maple syrup with the Greenwich Land Trust. Hands-on demonstrations are held at the Louise Mueller Preserve.
Ambler Farm Maple Syrup Open House - Wilton
February 29, 2020
Visit with Farmer Jonathan while he shares the fine New England tradition of maple sugaring. Kids and families will have an opportunity to tap a tree, take the maple syrup "taste test," and more.
Maple Day - Farmington
Sunday, March 1, 2020
It's the annual Maple Day event at the Stanley-Whitman House. Learn about tapping the tree, boiling the sap, and take a tour of the historic home. This is a free, all-ages event.
Maple Sugaring for Families - Ansonia
Saturday, March 7, 2020
Rangers Dawn and Allison will present on the how maple syrup is made. (It's requested you register ahead of time.)
Maple Sugar Festival Weekend - Stamford
Saturday, March 7 to Sunday, March 8, 2020
Experience the sweetness of the maple sugaring season at this annual festival at the Stamford Museum & Nature Center. See first-hand how sap is turned into maple syrup, make a maple-themed craft, go on a scavenger hunt, and enjoy other activities including face painting, live music, and a teen chef cooking challenge. There will be live music and face painting, too.
Maple Sugaring in Your Own Backyard - Canton
Sunday, March 8, 2020
Roaring Brook Nature Center will offer a demonstration on how to tap and boil sap to make fresh, locally made syrup. This is an all-ages event which begins at 2pm.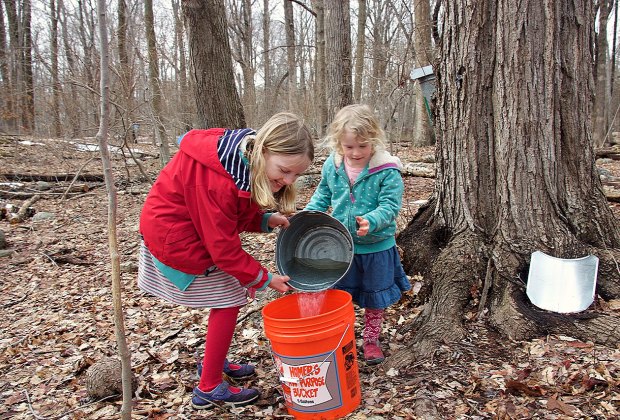 Syrup Saturday features maple-themed activities as well as a tasty brunch. Photo courtesy of New Canaan Nature Center
Syrup Saturday—New Canaan
Saturday, March 14, 2020
Celebrate the end of sugaring season at this fun brunch accompanied by other maple-themed activities. Children are encouraged to come in their pj's. Event opens at 8:30am.
Sweet Wind Farm — East Hartland
Saturday, March 14, 2020
Visit Sweet Wind Farm for its 14th annual maple festival. There will be live demonstrations, tree-tapping, music, pancakes, and sugar-on-snow. The farm also offers group tours and classes.
Maple Sugaring Festival—Washington
Saturday, March 14, 2020
Join the Institute of American Indian Studies for this annual festival that explores the ways local Native Americans traditionally made maple syrup. Pancakes, coffee, orange juice will be served from 11am to 2pm. Syrup making demonstrations are at noon.
Maple Sugar Madness — Glastonbury
Sunday, March 15, 2020
During the afternoon, watch how maple syrup is made at the Welles Shipman Ward house in Glastonbury. Sample pancakes cooked on an open hearth with the freshest maple syrup possible.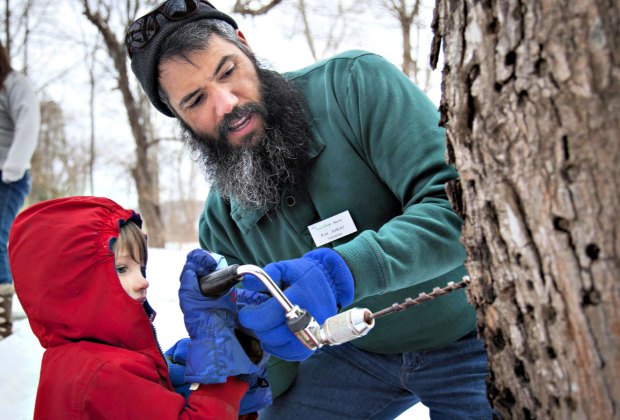 Kids learn to tap trees at MapleFest. Photo courtesy of Sharon Audubon Center
Maplefest—Sharon
Saturday, March 21, 2020
Join the Audubon Center for their annual Maplefest celebration that includes tours of a working sugarhouse and a re-creation of Native American and early colonial sugaring methods. Fresh Syrup is available for purchase.
Plymouth Maple Festival—Plymouth
Saturday, March 21, 2020
Kids will get a chance to hang the buckets, collect sap, and watch maple syrup boiling on an outdoor fire. Enjoy live music, kids crafts, and maple baked beans and ham.
Hebron Maple Festival — Hebron
Saturday, March 21 to Sunday, March 22, 2020
Enjoy food, live music, face painting, sugar house tours and demonstrations, a quilt show, and more. This is a free, all ages event.
Pancake Breakfast — Windsor
Saturday, April 28, 2020
Enjoy breakfast of pancakes and fresh maple syrup, then amble over to the new refurbished sugar shack where you can see the magic happening right before your eyes. Call ahead to register.
Maple Sugaring Tours and Visits in Connecticut
Lamothe's Sugar House — Burlington
Saturday, February 15 to Sunday, March 29, 2020
​Lamothe has sugar house tours going on each weekend from mid-February until the end of March. Besides syrup, it sells honey, kettle corn, pancake mix and many other yummy goodies. Lamothe's also offfers free coffee and hot apple cider to keep you warm.
Flanders Nature Center—Woodbury
Saturday, February 22 to March 8, 2020 (Saturdays and Sundays)
Flanders has a lovely sugar house and is open for tours on Saturdays and Sundays in the afternoons. Experts explain how maple syrup was first discovered by Native Americans and how the making of it has evolved over the years. Lots of maple goodies in their sugar house are for sale.
Sullivan Farm—New Milford
February and March
Late February through the end of March, the staff and students at Sullivan Farm will be tapping over 1600 trees and producing maple syrup. If you would like to drop by, watch for the rising steam from the sugar house. Local youth are encouraged to learn the process and participate in the harvest.
Warrup's Farm—Redding
Call for a tour
During the first three weekends in March, you can watch the wood-fired evaporator boil away, see the buckets on the trees, and visit the barnyard animals. Maple syrup and maple candy will also be available for sale.
Brookside Farm II—Litchfield
Call for tour
This is a family-run, small operation that doesn't do tours but will personally come out and explain a bit about the syrup and help you choose the right grade for you. Call for more information.
Hilljack Sugar Shack—Litchfield
Call for a tour
A father and son team provide free tours to the public during the sugaring season. Call ahead and have a full-farm tour.
Originally published February 24, 2012