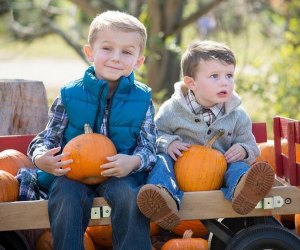 13 Fun Fall Activities to do with Kids in Litchfield County, Connecticut
There are so many opportunities for fall fun in Litchfield County. Apple picking, hiking, corn mazes, and pumpkin patches always hit the mark. Enjoy this list of fun things to do in Litchfield County and for even more fall fun, check out our CT Fall Fun and Halloween Guide.
1. Go apple picking at scenic Averill Farm in Washington Depot. This family farm, which has been operated continuously by the Averills since it was purchased in 1746 from the holdings of Chief Waramaug, is a favorite of the locals. Perfect way to start a beautiful Fall day. After picking a bushel, try their fresh cider doughnuts with hot apple cider and enjoy the views from their outdoor seating area. See our post on other great apple picking farms in the Litchfield area.
2. Experience a replicated Algonkian Village at the Institute for American Indian Studies. I love walking through their trails which have lots of interesting information about the plants and trees and how the Native Americans used them.
3. Watch a costume parade with a real marching band and enjoy carnival-type games, kids' crafts, a petting zoo, professional face painting, and hay wagon rides during Sharon Audubon Kids' Day. After the parade, find your way through a hay bale maze that's been constructed from 100 hay bales. Best for kids in pre-k to 2nd grade. (Waiting for 2018 date).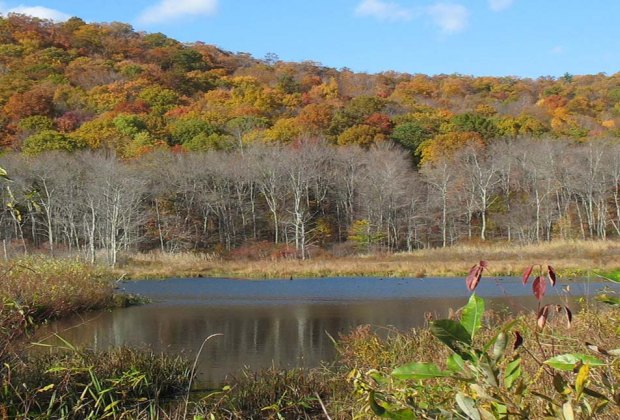 Macricostas Preserve. Photo courtesy of Steep Rock Association
4. Go for a family hike at Macricostas Preserve in Washington. My friends with 5 year olds have done it with lots of breaks and positive persuasion. It can be a challenging hike since you are climbing the side of a small mountain. However, the sweat and heavy breathing are well worth it. Once you arrive to the top (Waramaug's Rock, elev. 1250) you are rewarded with one of the most scenic views of Lake Waramaug and its surrounds. Great place to sit and have lunch while absorbing the beautiful Fall colors all around you. Perfect place for a family selfie.
5. Relax, and take a step back in time in a restored vintage 1920's train coach while taking a 20-mile round trip ride on the Naugatuck Railroad from Thomaston. In October take a ride on their pumpkin patch tour.
6. Go see a show in Torrington at the art deco Warner Theater, built in 1931. The kids will enjoy Charlotte's Web and a free performance of The Year Without Santa Claus this season.
7. Create a wooden sculpture in Village Center for the Arts in New Milford's Drop In Artist Studio. Clay building and paint-your-own pottery is also available. Sharon, the owner, makes a point to get to know you and your kids and is very hands on with creative advice.
8. Go for a mellow scenic 10 mile family bike ride starting at the Kent Boarding School, winding along an Indian Reservation and the Appalachian Trial before reaching Bulls Bridge, one of the few working covered bridges in CT. Check out the beautiful and powerful waterfall while there, but respect the dangerous rocks and white water by staying away from the edge.
9. Find your pumpkin at Angevine Pumpkin Patch in Warren. Along Route 341 you can see the pumpkin farm back behind the cornfields as you drive by. Ellsworth Farm in Sharon is another fun place for pumpkin picking.
10. Go for a scenic drive in Kent which was voted the "Most Scenic Fall Foliage Town" three years in a row by Yankee Magazine. While there stop in for an ice cream cone from Annie Bananie's. If you'd like to spend the weekend in Kent check out the The Inn at Kent Falls. It has won the "Best Bed & Breakfast" in the September 2012 issue of Connecticut Magazine (for more than three consecutive years). They are one of the few inns I know of that happily allows children. The Appalachian suite is perfect for a family of 4.
11. Get lost in a 5 acre corn maze at Ellsworth Farm in Sharon. Afterwards let the kids see a cider mill in action at the farm store. On the weekends they do hayrides as well.
12. Go trick or treating in historic Roxbury, Woodbury or Kent for a Norman Rockwell-like experience. Some of the home-owners really get into it too which makes it all the more fun.
13. Enjoy an outing at South Farms in Morris on Thursday nights. Enjoy the live music, food trucks, and sweets on this beautiful farm in the hills.
Originally published 9/23/11.