Day Trip to Groton Long Point, CT: Bikes, Kids and Beaches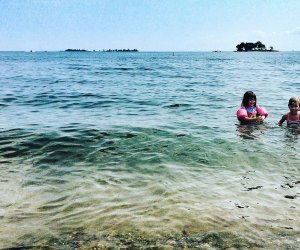 This summer we are planning to visit one of our favorite summer haunts – Groton Long Point. You can check out this day trip and others in our CT Day Trip Guide. Groton Long Point, a small residential community PERFECT for kids, is nestled in between Mystic and Groton. My 11 cousins and I spent our summers cruising the streets of GLP on our bikes – so I know every nook and cranny of the magical place!
So here's our game plan. We'll have breakfast at home, put on our swimsuits, and throw our bikes on the back of the car. We'll drive up 95, getting off at Exit 89 (Allyn Street, Mystic) and stopping at the Mystic Market for some sandwiches. And cookies – can't forget the cookies. Back in the car for another 5 minutes and you'll have arrived at Groton Long Point.
Now, here's the one tricky point. Parking for non-residents in Groton Long Point can be difficult as there are few spaces that don't require a resident sticker. While I would love to invite you all to park in my Grandpoppy's driveway, it seems somewhat impractical. Fortunately, there is an easy solution...and this is where those bikes come in handy. Right before the entrance to Groton Long Point, you will pass Esker Point Beach, a public beach. Park right there, hope on your bikes, and ride the quarter of a mile to the entrance of Groton Long Point. The ride is flat, easy, and speed limits are less than 20mph, so even the smallest of riders should have no problem.
Once you've entered Groton Long Point, ride up East Shore Avenue, past South Beach, and take a right on Sound Breeze Avenue, which will take you straight to the playground. Perfect! 45 minutes on the playground, followed by a dip at Main Beach (located on West Shore Avenue) will work up some appetites. We take our sandwiches and sit out by the small bridge where we can keep an eye on the crabbing activity.
After lunch, we'll hop on our bikes and ride the perimeter of Groton Long Point and a bit into Mumford's Cove via Mumford's Cover Drive. We'll cool down with another dip in the ocean – either at South Beach or Main Beach – and then hit the "Casino", Groton Long Point's penny candy and ice cream store, adjacent to the small post office on Beach Road. I think I'll let the kids loose in the Casino with a $2.00 spending limit. And I may just give myself a $2.00 limit as well…
Now that's an afternoon that will help you beat the heat!
Originally published 7/13/13.