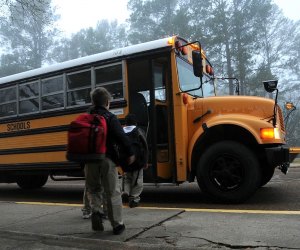 Connecticut School News: 16 Things to Expect in Fall 2020
Connecticut parents on the edge about what school is going to look like in the fall got some more information on Monday, June 29, when the state released 50 pages of guidance for the 2020-2021 school year. The guidance covered remote learning options, hygiene, mask wearing, social distancing, transportation, and more.
Read on for 16 takeaways about what to expect for our kids come September, and don't forget to stock up on kid-approved face masks—it's the new school shopping! And while vacation is still in full swing, keep kids busy with these safe summer activity ideas, courtesy of Mommy Poppins.
1. The goal is to have all Connecticut students back in school (and off the home computer, at least most of the time). Students who are not able or willing to return to regular in-person classes will be able to continue distance learning. Parents should expect communications from their children's school(s), asking whether they're ready to send the kids to an in-person environment.
2. If a full reopening isn't possible (i.e., if COVID-19 roars back in the state come August), the focus will be on getting "vulnerable learning groups" (special needs students) back to in-person learning first, as they'll be a smaller cohort and more in need of individual, "hands-on" instruction.
3. In-person classes will be set up as small cohorts, so students will be kept in smaller groups and have as little crowd contact as possible. If necessary, teachers may rotate to a group of cohorts, but the students in the cohort will remain together throughout the day.
4. Communication is key, and all schools will be designating their own COVID-19 Health and Safety Compliance Liaisons.
5. All students will be required to wear face masks, with exceptions granted for eating, drinking, P.E., outdoor activity, and for students with certain special needs that make mask wearing difficult.
6. Classrooms will be reconfigured to maximize distance between teacher and students during instruction. Student workstations should also be spaced 6 feet apart, and desks will all face in the direction of the teacher. Floor markings will be incorporated into the classrooms to illustrate physical distancing.
7. Temporary handwashing stations and/or hand sanitizer dispensers will be available for individual cohort use.
8. Every school building will identify an isolation room, in case a student or teacher becomes ill.
9. Ventilation systems are being reviewed to ensure they are operating properly. Outdoor air circulation may be increased. Ceiling fans may be adjusted to pull air up toward the ceiling, rather than down on room occupants.
10. Hallways and staircases may become one-way "streets" to help minimize contact. In addition, class times may be staggered, to reduce hallway pandemonium.
11. If there is low transmission of COVID-19 in the community, school buses can operate at full capacity. Passengers and drivers will nevertheless be required to wear face masks during transit.
12. Teachers realize that distance learning wasn't perfect, and the first unit of instruction in the fall will probably include a fair amount of review, to make sure all students have a firm grasp of the material going forward.
13. Special education students are recognized as being particularly at risk in this new normal. More guidelines for families with special ed students are in development.
14. Sports, arts and extracurricular activities, including recess, are all under review. It's likely that team sports will be on the bench for the start of the school year, and phys ed will focus on activities that require minimal student to student contact, like Tai Chi, aerobics, and track. Likewise, arts activities like orchestra and chorus may be set up for smaller groups, with appropriate physical distancing.
15. Afterschool programs are likely to be allowed to continue, and may be available to support families on days when students aren't scheduled to be in the classroom.
16. Kids may be invited to visit their schools in small groups before school officially begins, to get a jump start on understanding the new policies and protocols. As you can imagine...school will be a whole new world for kids.
For the complete report from Connecticut education officials, see Adapt, Advance, Achieve: Connecticut's Plan to Learn and Grow Together. And watch this space: We will report on more school news as further guidelines are issued. Until then, enjoy all the pleasures of summer family fun while school is out!