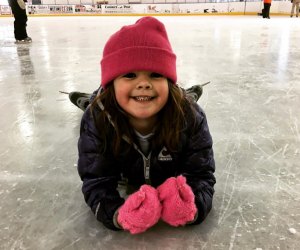 Going for the Gold: 20 Ice Skating Rinks for Future Connecticut Olympians
Okay, it may have been more than forty years ago, but the 1976 Olympics looms large in my childhood memories: in fact, I was so enthralled by Dorothy Hamill that I rocked her signature haircut well into my tween years (in hindsight, that was perhaps a few years too long). When the 2018 Winter Olympics open in Pyeongchang later this week, I don't know if my kids will be so enthralled that they'll be demanding Bradie Tennell or Adam Rippon haircuts, but a parent can dream!
Should you find your child enjoying some Olympic dreams of his/her own, there is an abundance of learn-to-skate programs offering everything from figure skating to ice dancing and even ice theater--with some offering February vacation week camps. For even more recommendations for winter fun when you're not watching the games, check out our CT Winter Fun Guide and subscribe to our weekly newsletters and follow us on Facebook, Twitter, Pinterest, and Instagram. Have a great week!
1. Wonderland of Ice—Bridgeport
Known for housing practice for the Bridgeport Sound Tigers, this rink takes hockey seriously, offering a micro hockey program for boys and girls age 4 and up. They also offer Learn to Skate programs for kids beginning at age 3 in their tot program as well as a Theater on Ice program for skaters at all levels of ability. Class sizes are kept small (an eight skater max) and are offered continuously throughout the year.
2. Champions Skating Center—Cromwell
This impressive complex has two separate rinks: one NHL sized and one Olympic sized. They offer a public skate schedule and rentals in addition to skating lessons.
3. Danbury Ice Arena—Danbury
Following the Ice Skating Institute's curriculum, the Danbury Ice Arena offers lessons for children ages 3 1/2 to 6 for learning everything from fundamentals at the tot level, to backward swizzles and two foot jumps. There are also beginning hockey classes for children beginning at 3 1/2 as well as an Introduction to Ice Dancing class.
4. Darien Ice House—Darien
This Darien rink follows U.S. Figure Skating's Basic Skills Program beginning with Snowplow Sam, for kids ages 3-5, Basic Skills for kids age 6-15 and Free Skate for advanced skaters. Lessons are offered in six-week sessions.
5. Enfield Twin Rinks—Enfield
For over 30 years, this rink has offered up public skating for the Enfield area. Public skating is held on Saturdays and Sundays, and lessons are offered year round.
6. Dorothy Hamill Rink—Greenwich
Learn to skate classes at Dorothy Hamill also follow the United Figure Skating Learn to Skate program for children ages 3-15. Two levels of Snowplow Sam are offered for children ages 4-5, one for kids who have never been on the ice and another for those who have good forward movement on the ice. Mommy, Daddy and Me classes are offered for beginners for three and four year olds.
7. Newington Ice Arena—Newington
They call themselves "the COOLEST place in Connecticut" and, with a packed schedule of public skating times including their Friday Night Ice Jam--a lights-out skate with lasers, they just might be right. The arena also hosts a homeschoolers skating program twice a month through April 5 as well as a full schedule of lessons and hockey. Check the website for prices and hours.
8. Sono Ice House—Norwalk
Sono Ice House are also members of the U.S. Figure Skating Association, and as such, use the Snowplow Sam program for preschool-age skaters and the Basic Skills program for older skaters. "Initiation to Hockey" classes begin at age 4.
9. Rinks at Veterans' Park—Norwalk
Operated by Sono Ice House, these seasonal outdoor rinks offered weekly open skate sessions (discounts are available to Norwalk residents with proof of residency).
10. Rose Garden Ice Arena—Norwich
The RoseGarden Ice Academy offers lessons for beginning through advanced levels starting at age 3 and older for skaters of all abilities.
11. Winter Garden Ice Arena—Ridgefield
At this rink, the skating program begins with Ice Mice classes designed for preschool-aged children. For children age 5 and up, Winter Garden follows the U.S. Figure Skating Association curriculum through its learn-to-skate classes. Advanced fiigure skating classes offer skaters the opportunity to work toward earning merit badges as they progress through each level of badges.
12. Sports Center of CT—Shelton
Whether you're a seasoned skater or it's your first time on the ice, the Sports Center of CT has a program for everyone. Children ages 3-6 can enroll in the Tots class. Older kids (or more advanced skaters), enroll in one of several progressive Learn to Skate classes. There are also Intro to Synchro classes, Speed Skating classes, and Intro to Theatre classes.
13. South Windsor Arena—South WIndsor
This family owned business sports a full service ice arena that has been open since 1971. They offer frequent public skating sessions, as well as 4-week learn to skate programs.
14. Chelsea Piers CT—Stamford
Kids as young as three learn fundamentals in the "Snowplow Sam" classes which stress balance, falling, standing, stopping, marching and FUN (there is also a "Mommy/Daddy" and me class option for kids ages 3-5).
15. Stamford Twin Rinks—Stamford
This rink also follows the U.S. figure skating curriculum, which includes Snowplow Sam classes for kids ages 3-5 (including a parent/child option) and Basic Skills classes for older kids. They also offer a synchronized skating program and a skating/ballet combination deal perfect for kids who want to try a bit of everything on and off the ice.
16. Terry Conners Rink—Stamford
This ice rink down in the Cove offers skating classes for kids beginning with the Snowplow Sam classes and age 3 and up into adulthood. They also offer hockey and an introduction to synchronized skating.
17. Westport PAL Rink—Westport
This lovely outdoor rink in Longshore Club Park offers daily open skate sessions in a picture perfect setting. The season for group classes at Westport PAL Rink is winding down; however, more than a dozen instructors offer private one-on-one lessons by appointment only.
18. Veterans Memorial Ice Skating Rink—West Hartford
This indoor recreational venue has a new lesson session for children and adults beginning in March. They will also offer vacation week camps, in addition to public skating times. They have a rink side café offering a range of food and beverages, a climate controlled lounge area with free wireless internet access, and cable television.
19. Edward L. Bennett RInk—West Haven
Kids ages 4 and up are welcome at weekly lessons on held on Sundays at this indoor rink that is home to the Blue Devils Hockey Team.
20. Simsbury Farms—West Simsbury
The large, covered outdoor skating rink offers public skating as well as a learn-to-skate instructional program and, of course, skate rentals. Season passes are available for residents and non-residents.
Originally published January 1, 2017