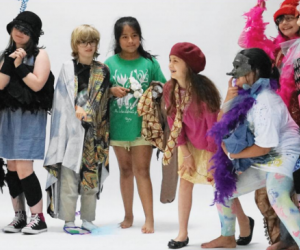 Art, Music and Theater Summer Day Camps in Litchfield County
When you have a budding thespian, writer, artist or musician, summer can be a magical time to encourage them to focus on his or her passion. Litchfield county offers a variety of summer camp experiences where artists can hone their skills and become inspired by their teachers. Litchfield Jazz Camp is the only sleep away camp in the lot. The rest are day camps that run in one or two week sessions. Also, be sure to check out our CT Summer Camp Guide and our Summer Camp Directory.
Litchfield Jazz Camp - Kent
Founded in 1997, Litchfield Jazz Camp now serves 130-180 residential and day students each week for 1 to 5 week sessions on the campus of Kent School in Kent, Connecticut. Run by Litchfield Performing Arts, a charitable organization dedicated to changing lives through music, the Camp's philosophy is simple. They start with a faculty of amazing and inspiring jazz musicians and add eager music students to a non-competitive program.
Kent School, 1 Macedonia Road, Kent, CT
TriArts Sharon Playhouse - Sharon
The Sound of Music, Disney Heroines, Glee Club, Broadway Rocks, Wicked Workshop - you name it. Explore the performing arts in a relaxed and fun environment in one of the many workshops that TriArts is doing this summer. Some camps are for a week and others are for 3 weeks. Check their site for details.

49 Amenia Road, Sharon, CT 06069 860-364-7469
Village Center for the Arts - New Milford
Study the art and game play of classic video games from Atari to Nintendo. Learn how to draw the characters that kids play in the games. Other summer camp offerings include fantasy sculpture and illustration. Different ages for different camps. See website for details.

12 Main Street
, New Milford
, CT 860-354-4318
ASAP Summer Camps - New Preston
ASAP's full-day summer camp for ages 4.5 to 14 years offers a comprehensive arts camp experience. Campers have the chance to take part in visual arts, creative writing, dance, drama, music, photography, textile arts, circus arts, magic arts, costume making, and special projects such as building a geodesic dome and fantasy structures. Participants attend performances by creative professionals, and then put on a performance of their own. ASAP's annual summer camp is held at the Washington Montessori School in New Preston, CT, for the first two weeks in August.

Washington Montessori School
, Route 202, New Preston, CT 860-868-0740
Warner Theatre Summer Arts Program - Torrington
The goal of the Program is to provide children and teens with an opportunity to explore a wide variety of performing and visual arts in an environment of encouragement and support. The members of the faculty boast local, national, and international teaching and performing credits and all have experience communicating their diverse knowledge to children. Students participate in various classes covering a wide array of artistic disciplines, such as Tap Dance, Visual Art, Musical Theatre Song & Dance, Creative Writing, Acting, Funk Jazz Dance and much more. Each session runs for two weeks, meeting Monday through Friday from 9am – 4pm, and features a visit from a Special Guest teaching artist/industry leader and field trip to Lake Compounce amusement park! The program will culminate in a fun and informal Share Day: an "open class" showcase for families and friends that will highlight all of the exciting skills the students have learned in their classes. They have 3 two week sessions. See website for details.
68 Main Street, Torrington, CT 860.489.7180
Litchfield Montessori Summer Art Camp - Northfield
Students will study works from famous artists like Henri Rousseau and Eric Carle. Children will then partake in individualized professionally guided projects such as: rainforest inspired animal masks, rock painting, pottery and more! This is a one week program. See website for details.
5 Knife Shop Road, Northfield, CT 860.283.5920
Photo courtesy of ASAP!
Originally published 2/13/13.