14 Favorite New Kid-Friendly Things in Connecticut in 2021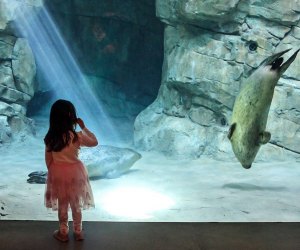 It's that time of the year again: "best of" season! This year, there's a special extra pleasure we take in looking back and highlighting fun things to do with kids that have opened this past year, instead of closed. We searched our archives, our memories, your Facebook recommendations, and more to compile this list of the best kid-friendly openings, renovations, and exhibitions in Connecticut in 2021. From an amazing renovation at the Discovery Museum to a great new shop in Mystic—there have actually been lots of cool new things to do with kids this year.
Without further ado, here is our list of the best kid-friendly destinations that opened in 2021 in Connecticut.
1. A new 4D theater at the Maritime Aquarium in Norwalk
The Maritime Aquarium's opened a new 4D Theater this year with a 2-story screen, 3D glasses, and sensory special effects, such as scents, bubbles, wind, mists, and more. A new cafe opened up at the aquarium, too. Now you can spend the whole day there.
2. It also renovated the seal tanks...
Two years in the making, a new 150,000 gallon seal tank, named Pinniped Cove, opened at the Maritime Aquarium in Norwalk. Schedule your visit for feeding time, which is one of the highlights of the whole aquarium.
3. Major renovation at Stepping Stones
Afte being closed for 20 months, Stepping Stones Museum for Children reopened in November with 4 new exhibits; enhancements to exhibit favorites; engaging, STEAM-infused educational programming; a new cafe and gift shop; and much more.

Get your magic wand in Mystic! Photo courtesy of The Cloak and Wand, Facebook
4. The Cloak and Wand opened in Mystic
Can't get to Orlando or Hollywood to visit Harry Potter World? No worries, just hop on your broom, or perhaps apparate over to the new shop The Cloak and Wand, which sells cloaks and wands, plus potions, brooms, enchanted plants, books, and magical items. Kids can spend hours poking around every nook of the shop, and don't skip a visit to the Potions Bar for a sweet custom brew.
5. Barnyard renovation at the Beardsley Zoo opened
This renovation took two years, and it shows. The darling spot at the Beardsley Zoo is designed to look like a New England farm, and is populated with goats, pigs, chickens, miniature horses, and other animals. Yes, there are plenty of opportunities for educational experiences here, but honestly, our favorite thing here is to just spend the day wandering and saying hi to the animals in a bucolic setting.
6. The Discovery Museum did a major renovation, too
After 18 months, the Discovery Musem re-opened in Bridgeport in September. In addition to 3 stories of reimagined and new exhbits that take let you land a rover on the moon or experience life as a dinosaur, the museum now boasts the most cutting-edge planetarium in the state. The full-dome theater creates real-time visualizations that take you to other planets, solar systems, and beyond.

For those who love dinosaurs, Jurassic Quest is a must-do. Photo courtesy of Mommy Poppins
7. Jurassic Quest drive-thru was a hit
The Jurassic Quest Drive-thru roared through town this summer, and if you have a dino-loving kid, this outdoor exhibit was definitely worth the price of admission. We're big fans of these drive-thru experiences, and hope more swing by our state in 2022.
8. Museums waived summer admission
More than 90 of the state's museums, aquariums, and zoos opened their doors for free to kids and an accompanying adult this summer. Sure, it was due to a loss of learning during the pandemic, but we hope this can become an annual occurrence!

Visit Cake, Batter and Roll and try the Butter Beer Bundts! Photo courtesy of the bakery
9. Cake, Batter and Roll opened in Middletown
This bakery started as a food truck and now serves breakfast, lunch, pastries, breads, cakes, and dog treats. There are also vegan and gluten-free items that are so good, you'll never guess what's missing. Parents will love the Mocha Almond Fudge Bars while kids go for the totally customizable cookies. Made from more than 20 ingredients, there's 8,000 possible combinations!
10. Sundae Funday opened in Oxford
This new ice cream concept launched in a bus in Shelton, and then opened a new shop in Oxford. It's ice cream that gets blended with mix-ins and toppings and comes out totally unique soft serve. Served up in cups, cones, and as a milkshake, it's kid heaven. Open more shops in 2022, please!

Visit Belugas in the country's largest captive habitat. Photo courtesy of the Mystic Aquarium
11. More Belugas whales at Mystic Aquarium
In June of 2021 the Mystic Aquarium imported a few juvenile belugas, joining Juno, Natasha, and Kela in what is now the largest outdoor beluga whale habitat in the United States. Make a plan in 2022 to meet these majestic creatures!
12. The Mark Twain House resumed tours
You know how Joni Mitchell sang, "You don't know what you've got til it's gone?" Well, we didn't realize how much we missed school field trips to this beautiful little museum until it closed. But the house is offering tours once again (check to see if tours are paused for the holiday surge in COVID-19 cases). If you've never taken your kids, now is a great time.
13. The North Pole Express returned
This famed Christmas train, perhaps the most popular in the country runs about 90 minutes, departs from the Essex Steam Train & Riverboat station in Essex, Connecticut. After being cancelled last year, it returned for 2021 complete with a live musical performance of 'Twas the Night Before Christmas, Santa visits, cookies, sing-alongs, and more. We never want to experience another holiday season without it!

Visit the Albino Eastern Diamondback at the Riverside Reptiles Education Center. Photo by Kate Davis
14. The state's first serpentarium opened in Enfield
Riverside Reptiles Education Center is home to a collection of snakes, turtles, lizards, frogs, and even an alligator! In December, the new and only serpentarium in Connecticut celebrated the holiday season with a unique Winter Wonderland of Lights, complete with holiday music.