A Visit to Riverside Reptiles: Reptile Encounters for Kids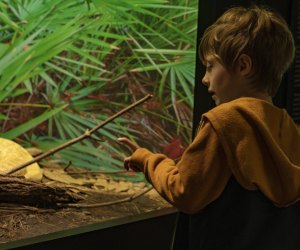 A one-of-a-kind destination has opened in Northern Connecticut that is unlike anything else your kids have ever seen, offering reptile encounters and more. For kids who love reptiles, you can now find tropical slithering snakes, ambling turtles, and sauntering alligators all in one place. This serpentarium—a living reptile museum—offers exhibits, educational programming, live shows, and a chance to hold reptiles.
For more places to see animals up close, explore our list of petting zoos and farms.
Riverside Reptiles Education Center is the brainchild of self-taught, environmental educator and conservationist Brian Kleinman. It has been a dream of his to open this education center for about two decades. He has been traveling the tri-state area accompanied by reptiles and amphibians for several years, teaching children about often misunderstood creatures.
"We are here to educate people on why reptiles and amphibians are important parts of our ecosystem," he said.
Unfortunately, this serpentarium had the bad luck of opening during the 2020 pandemic. But Riverside Reptiles has continued to expand their offerings and their animal exhibits.
If your child is the one always catching frogs and reading about snakes, this is the perfect place to visit. The collection of more than 200 amazing creatures includes turtles, lizards, frogs, and lots and lots of snakes. Children will be able to learn about the habitats the animals come from, as well as what makes them unique from one other. The new outdoor Turtle Haven exhibit opened during the warmer months and kids can look at turtles basking in the toasty sunshine.
Reptile Encounters for Connecticut Kids
The serpentarium's education center offers a small group experience program for kids where they can feed the tortoises, or "Be a Zookeeper," and accompany staff on their daily chore routine. These programs must be pre-booked and are becoming very popular. Call ahead to book a more personal experience for groups of about 5 kids.
The facility is arranged so that all you have to do is turn around and you will be able to see something new. Some of the not-to-miss exhibits include: Turtle Haven, Brenda the American Alligator, the poison dart frogs, and the Diamondback snakes.
Kids will be able to get up-close and personal with animals they have only read about. This is a very kid-friendly museum and there are educators wandering around ready to answer your questions about every animal. There are also opportunities to see some out of their cages or even touch them! New exhibits planned include a Bug Cave and more touch tables.

Owner and founder Brian Kleinman with a young visitor.
"We always bring out animals," said Kleinman. "We always try and give people a great memory."
The staff's main focus is interacting with the public everyone answers questions from the public regarding their exhibits. It is also a good location for children who get easily overwhelmed, as lights are always low, and it's quiet and calm.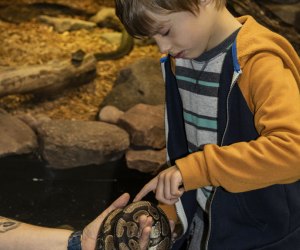 The serpentarium is open Tuesdays through Sundays. Weekends are a great time to visit Riverside Reptiles because live shows give kids a chance to see reptile feeding, and of course, hold or touch one of the residents. A grand re-opening is planned for October 9, 2021. Watch Facebook page for future events.
All photos courtesy Riverside Reptiles