Bridgeport Discovery Museum and Planetarium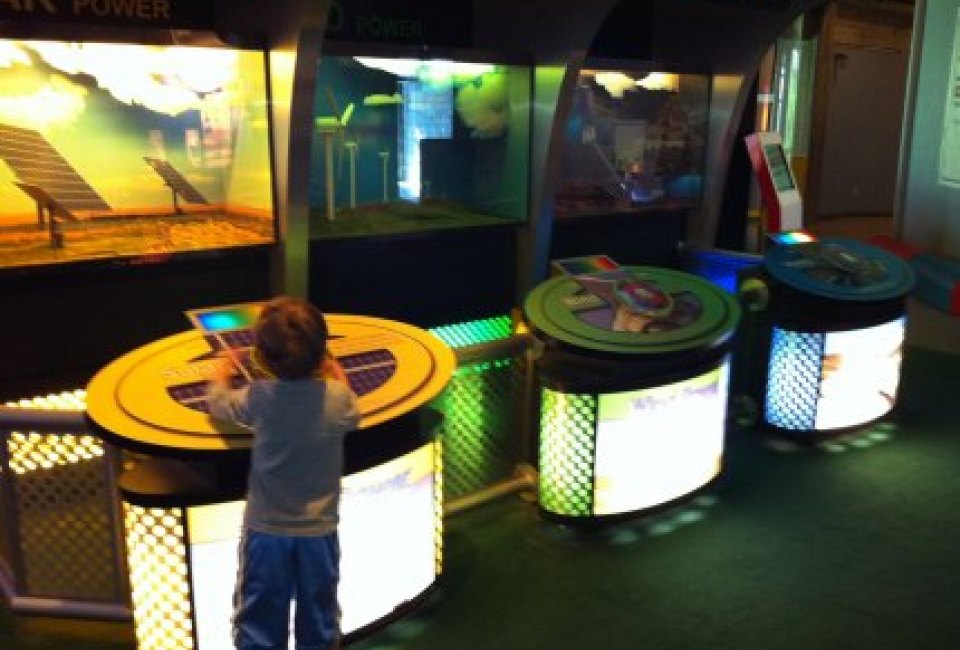 5/21/15
- By
Brandee Gilmore
I live so close to Bridgeport's Discovery Museum and Planetarium, it's fair to say it's been an act of will I haven't visited yet. I've sort of been saving it for that day when I just cannot take go-it-alone-in-the-four-walls-motherhood another minute -- a new place, waiting with bells and whistles and gadgets galore to save me from mommy meltdown. I got so close once I was actually in the parking lot, but both boys had conked out, so I did the logical thing and conked out myself for a blessed 20 minutes. Check out our museum guide for more reviews.
First off, the Discovery Museum is easy to get to -- a minute off the Merritt Parkway on Park Ave (exit 47). It's just past the Discovery Magnet Elementary School (their parking lots aren't connected, so don't turn too soon). The Museum's sleek architecture (designed by John Johansen of the Harvard Five) and bold colors let you know you're in the right spot. We timed our visit to coincide with one of the afternoon planetarium shows which are free with admission -- astounding these days! The lady at the desk was very helpful in giving us a quick overview of the place, and pointed us in the right direction for the show. She also let me know we had up to a week to put our day's admission toward a $65 annual membership. The analysis had begun, annnnd I could sleep on it!
We had ten minutes before we could take our seats, and my little guy found the life-size lunar rover fascinating (just as the front desk lady said he would). It's kinda like an oversized, simplistic arcade game you don't have to feed with quarters. Two pilots, (I even saw adult-sized ones), sit with a joystick and recklessly drive their rover over the face of moon, occasionally letting their astronaut out to blastoff with his/her jetpack or dance a jig (astronauts have fun too). The kids (and grown-ups) loved this thing. The rest of the space exhibit feels a little old, is mostly in fine working order and is perfectly fine for passing time.
My little guy had never been to a planetarium show, and I was trying to keep a lid on my giddiness at taking him. A curator greeted us in the smallish theater and pointed out the best seats, as this show (for young children) would be played from a more traditional sort of projector, not that wacky orb contraption sitting in the center of the room. Fair enough, but if you want a good view I'd suggest GETTING AS CLOSE TO UNDERNEATH THE PROJECTOR AS YOU CAN, or else you'll be sitting sideways in your seat to avoid going cross-eyed. Our show, called 'The Little Star that Could' was cute, appropriate in content, though perhaps a little slow, and I could definitely envision bringing him back to see it again. So far, so good. Not bowled over. But not bad.
For the next hour or so, our visit was like those ones you hear about when celebrities rent an entire store/museum/Disneyworld out for their kids to enjoy. We didn't see another soul. My shy guy loved it. I was trying to figure out why. For starters, it was a gorgeous Sunday afternoon -- not exactly museum weather. And about 20 minutes later, it occurred to me the final planetarium show was underway. A-haa. But still. No one!? Lucky us.
We spent a good amount of time building wood, stone, and brick houses in one half of the visiting architecture exhibit 'Your House, My House. The wood is like giant Lincoln logs--entirely hands-on. The stone house was small -- the size of actual Lincoln logs -- and had too many broken parts…skip it and do your best with the brick one. The other half of this exhibit, my little guy really lit up. Maybe it was because of his age, maybe it's because it's the newest part of the museum. Not sure. But he was engaged -- rubber stamping in the Fijian m'bure and 'fishing' from a Malaysian stilt house. There's also a short and sweet computer game where kids can design their own homes -- mine went with a log cabin in the woods….sitting on a straw mat foundation. It's gonna be a wet spring in those digs!
Finally, we headed to the second floor where the Energy, Sound and Light, and Sports Science exhibits were awaiting us in that fantastic, albeit strange, aforementioned silence. He enjoyed his spin through the energy section, and found shooting baskets in the sports science area amusing (the physics lessons will have to wait). Highlights in the Sound and Light section were the motion-sensor air drum, Blue Man Group instruments, and shadow puppets on the light wall. You'll also find the Preschool Power section on this floor as well. It's a great space to let your toddlers bounce off the walls between big-kid exhibits.
We spent 2.5 hours at the Discovery Museum and Planetarium.It's not all sparkly and new, but kids don't really care about that as much as grown-ups do. Quality time was spent. And in this age of cutbacks in the arts and sciences, celebrating 50 years is an accomplishment. I'm relieved to say I've come down on the side of supporting the Bridgeport Discovery Museum and Planetarium as much as possible -- no doubt it will return the favor on those crazy days when I need to kill an afternoon.
A couple final thoughts: watch for a new architecture exhibit scheduled to open this Saturday, May 26, and an outdoor adventure area to launch in late June. The Discovery Museum also has a myriad of relatively inexpensive summer camps, with reduced rates for members.
The Discovery Museum and Planetarium
4450 Park Avenue Bridgeport, CT 06604
203-372-3521
Hours: Tuesday-Sunday 10-5, except for major holidays. CLOSED Mondays, except July and August.
Originally published 5/21/12.