Online Robotics Camp
Young Gates - Kids Online Personalized Classes

Artificial Intelligence with Scratch Online Camp
Young Gates - Kids Online Personalized Classes

Spark Math: Free Trial Class
Virtual
Sign up for our free newsletters.
Cleveland Family Travel Guide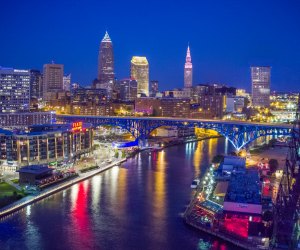 10/16/19
- By
It's the birthplace of the comic Superman, so get out your capes and get ready for lots of great things to do in Cleveland with kids! Take a cruise on Lake Erie and then enjoy The Rock and Roll Hall of Fame and get a close-up of Lady Gaga's shoes. Try a Jewish pastrami on rye and then treat yourself to the best milkshake in America. Kids will have fun meeting the animals at the Greater Cleveland Aquarium or the Cleveland Zoo. There are a number of children's museums, art museums, and science centers in Cleveland to explore, too.
Sports enthusiasts can watch the hometown Cleveland Browns, Cleveland Indians, or Cleveland Cavaliers, depending on the season. Read through our guide to the best things to do in Cleveland—and the rest of the Midwest—including some of our favorite Cleveland restaurants and markets to visit with the kids.