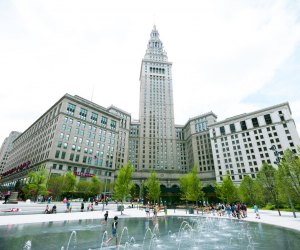 20 Things to Do in Cleveland with Kids
Cleveland, Ohio is a bustling, energy-infused city that makes for a fun family getaway. This city is full of kid-friendly activities, from interactive museums to great sports teams to bargain-priced restaurants. It is a city with a compact center, so you can leave the car in the hotel parking lot and explore on foot. You can also take Amtrak to Cleveland, a 9-hour ride from NYC, and kids 2-15 travel at half-fare.
Cleveland stays close to its working class roots by promoting family fun without a big price tag. Here are 20 reasons to check out Cleveland with the kids, including places to eat and where to stay.
Find more family fun destinations in our Family Travel Cities Guide.
1)
The Rock and Roll Hall of Fame and Museum
, 1100 Rock and Roll Blvd.
Visiting Cleveland without making a pilgrimage to The Rock and Roll Hall of Fame is akin to visiting New York without catching a glimpse of the Statue of Liberty. It has a giant collection of rock artifacts, so if the kids want to see Lady Gaga's shoes and you want to view one of Mick Jagger's stage outfits, you will all find satisfaction here. The whole place is very high tech and totally interactive. Even young kids should enjoy their own listening stations, where they can listen to music and watch music videos.
2) The Great Lakes Science Center, 601 Erieside Avenue
This giant museum is full of hands-on interactive exhibits. What makes it special is that it houses a year-round science high school so the students are a constant presence, acting as museum guides and docents. It has an Imax Theater and a cool Biomedical Technology Gallery that kids with an interest in medicine may have to be dragged away from. Try and come on Tuesday, when kids up to 18 are treated to free general admission.
3) Cleveland Metroparks Zoo, 3900 Wildlife Way
This venerable zoo has been around since 1882. What makes it distinct is its new African Elephant Crossing section. The elephants in this 5-acre, naturalistic grassland habitat have room to swim, roam and play. Zoo visitors have access to open-air viewing, a nose-to-trunk window, and a gated crossing where you can watch as the elephants pass by as they migrate from one yard to the next. It is a great opportunity to get up-close and personal with these grey giants.
4) Cleveland Museum of Natural History, One Wade Oval Drive, University Circle
You will find a well-equipped Planetarium and Observatory, the Smead Discovery Center for hands-on learning and a tranquil outdoor space that is the home to native Ohio plants and animals, a good place to play in warmer weather.
5) The Children's Museum of Cleveland, 10730 Euclid Ave.
Hands-on fun for kids is the name of the game here. Kid's age birth-4 will love exploring the Big Red Barn, complete with a silo and an apple orchard. Splish! Splash! is a fun way for kids to experiment with water.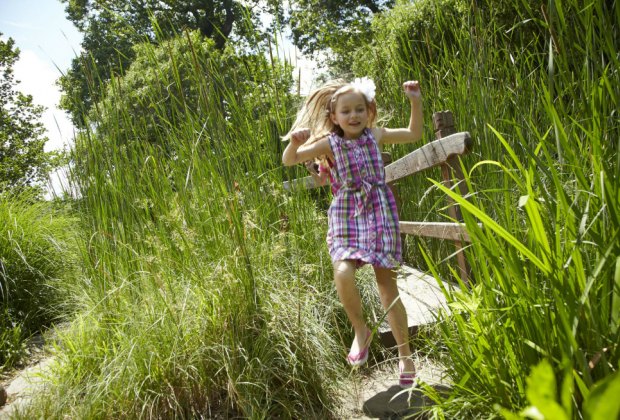 Enjoy the outdoors at the children's garden within the pretty Cleveland Botanical Garden. Photo courtesy the garden
6) The Cleveland Botanical Garden, 1130 East Boulevard
The Hershey Children's Garden is an outdoor wonderland, complete with a worm bin, encouraging kids to get down and dirty. Our favorite part of this garden was the indoor Glasshouse. Inside this 18,000-foot conservatory, you can immerse yourselves in the flora and fauna of two distinct environments, the Costa Rican Rainforest and the Spiny Desert of Madagascar. Exotic plants and more than 50 species of butterflies, insects, birds, and amphibians illustrate how plants, animals, geology and climate interact in delicate balance.
7) Greater Cleveland Aquarium, 2000 Sycamore St.
40 tanks of all sizes are the home to a variety of marine life. Colorful clownfish, piranhas and giant sand tiger sharks are just some of the fascinating creatures here.
8) Cleveland Museum of Art, 11150 East Blvd
This art museum has wonderful family programming, such as storytelling, workshops, family tours and holiday events. Its collection is vast and no admission is charged except for special exhibits.
9) Christmas Story House and Museum
Fans of the hit film A Christmas Story will want to tour Ralphie's house. The museum is loaded with memorabilia from the movie. If you and your kids are not fans, you may be surprised to learn that many people are, as this place is a huge tourist attraction.
10) Take a cruise on Lake Erie
The Goodtime III is Cleveland's biggest excursion ship, and they have a variety of different cruising options. The basic narrated Lake Erie tour will give you a good sense of its history and importance to this city. The ride lasts for about 90 minutes.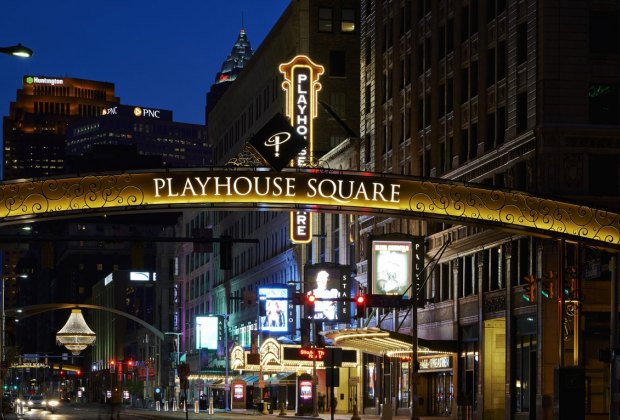 See a children's show, concert, or dance performance at PlayhouseSquare, Cleveland's performing arts center. Photo courtesy Destination Cleveland
11) PlayhouseSquare, 1511 Euclid Avenue
Cleveland is home to the country's largest performing arts center outside of New York City, PlayhouseSquare. It is located in the heart of downtown and the Children's Theater Series is a winner. Their mission to engage and educate the community through enriching arts experiences is serious. More than 1,000 shows are scheduled each year, with an emphasis on family-friendly, affordable programming. Musical theater, dramatic plays, films, concerts and dance performances are just some of what your family can experience here.
12) Cleveland Indians, 2401 Ontario Street
This is a sports-crazed town, home to pro basketball, football and baseball teams. Games draw throngs of loyal locals. The team's respective stadiums are all located in the heart of downtown, for easy access. Wear your Mets and Yankees caps if you dare, and join the crowds at an Indians game this summer at Progressive Field.
13) The Cleveland Cavaliers, One Center Court
This NBA basketball team plays in the Quicken Loans Arena, located in downtown. The fans are notoriously devoted, the crowds loud, providing a great night of entertainment.

Snack your way through Cleveland's West Side Market. Photo courtesy Destination Cleveland
Family-Friendly Restaurants in Cleveland
14) West Side Market, 1979 West 25th Street
This market will celebrate its 100th birthday in 2012. It has been providing generations of Clevelanders with a way to eat fresh, local food for nearly a century. Over 100 vendors sell their wares every Monday, Wednesday, Friday and Saturday. Baked goods, produce, cheese, meats and prepared foods make this a great stop for lunch. Adventurous kids may want to try regional favorites pierogi and bratwurst, a culinary nod to this town's large Eastern European immigrant population.
15) Tommy's, 1824 Coventry Road
Rolling Stone magazine lauded Tommy's restaurant as having the best milkshake in America, and they are so thick they won't squeeze through a straw. The giant menu has options for vegans, vegetarians and those seeking gluten-free foods, but traditional burgers, fries, sandwiches and other diner-style classics will please your crew and your wallet, with low prices and big portions.
16) Sweetie's Big Fun
This temple of counter-culture fun and memorabilia is the place to come if you want to take your kids with you on a nostalgic time machine back to visit your childhood mementos. You don't need any of the stuff for sale here, but who can resist the lure of a Jackson Five key-chain or a Stretch Cunningham action figure?
17) Corky and Lenny's, 27091 Chagrin Boulevard
This classic, Jewish deli has been a Cleveland tradition for 55 years. Pastrami, corned beef, matzo ball soup and tasty hot dogs are all winners, and the portions are big enough to share.
18) The Greenhouse Tavern, 2038 East 4th Street
This menu focuses on local produce and sustainably raised meat. The owners have 2 children, and the menu offers lots of healthy options in a comfortable atmosphere in the heart of downtown.
Where to Stay:
19) Doubletree Hilton Cleveland Downtown-Lakeside, 1111 Lakeside Avenue
Recently renovated, you can walk to nearly every attraction, and enjoy the indoor pool after a busy day of sightseeing.
20) Embassy Suites Cleveland-Downtown, 1701 East 12th St
This hotel is also walking distance from most everything. This chain gets a gold star for its all-suites accommodations and free cooked-to-order breakfast. Fridge and microwave are in-room, another way to save money.
If you need more information, check out the Positively Cleveland website, which is loaded with trip planning advice. Find more family fun destinations in our Family Travel Cities Guide