Free Virtual Tutoring and Sitting Service Connects College Students with Kids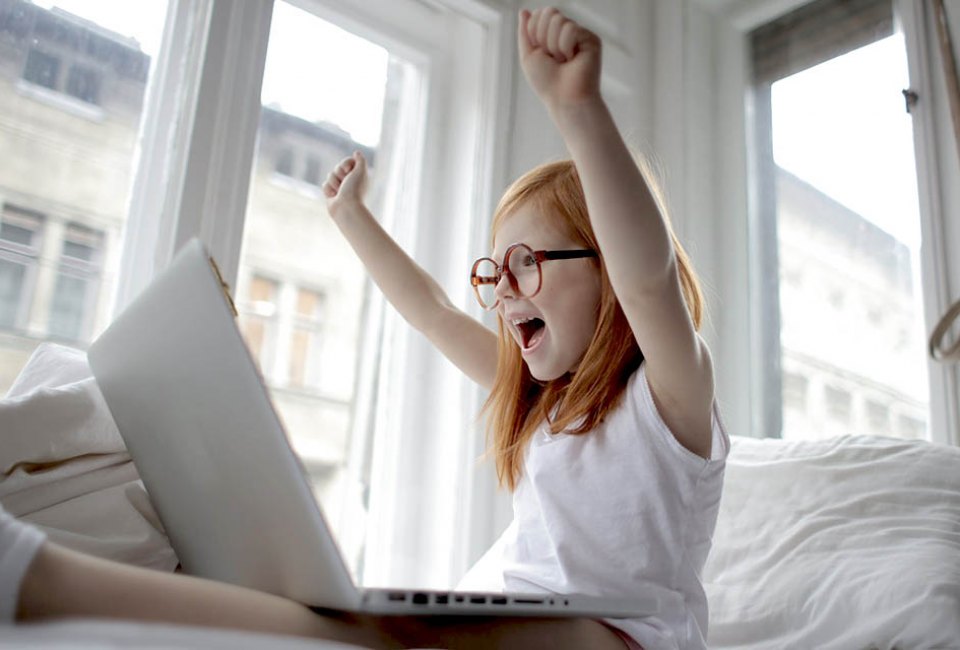 3/30/20
- By
Kelley Heyworth
Whether working from home or just dealing with housebound life during coronavirus, most parents could use break from their kids right about now. (Psst...they could use a break from you, too.) Yet, parents are justifiably uneasy about having sitters or even grandparents over right now. Enter Hearts over Hands, a new virtual sitting service that pairs families with student volunteers from New York City's Columbia University.
The college students will play games, conduct art projects, chat and provide homeschool help and tutoring with kids ages 7 and up—all online and for FREE.
Read on to find out more about Hearts over Hands, available now on our newly launched Poppins@Home website, which offers additional virtual classes for kids, enrichment, birthday entertainers, and more programming for kids.
What Is Hearts Over Hands?
So who dreamed up this service? A college kid! Columbia University third-year student Anna Beloborodova saw how parents were struggling during the coronavirus outbreak amid the demands of work and household responsibilities and wondered if she could help. "I know that taking care of kids when you're cooped up inside all day can be a big challenge even in the best of circumstances, so I really wanted to think of a way to relieve some of that pressure," said Beloborodova, a babysitter since the age of 13 and a former summer camp counselor and tutor.
Beloborodova knew many of her Columbia classmates also had childcare experience, as well as an internet connection and time on their hands. She got to work building a website and putting together a virtual babysitters' club of sorts. With the help of her classmate Diane, the pair started recruiting volunteers, who they call "Big Sibs."
"Right now, we only work with volunteers who are verified Columbia University students, so they're all known members of our community," Beloborodova says. "We've also implemented an interview process, where we speak with each volunteer individually to make sure they will be a good fit. We want our Big Sibs to be reliable, friendly, positive people."
Beloborodova aims to start sessions around the first of April. She already has 40 "Big Sibs" onboard. She initially thought the service would target healthcare workers, single parents, and parents with health issues, but is also enthusiastic to help any parent who needs their child occupied with something more enriching than YouTube.
Given the limitations of virtual babysitting, Hearts over Hands requires that participants be at least 7 years old and emphasized that the service is best for parents who can be home during the sessions. "It's intended for when parents are home and busy," Beloborodova says. "If the child is older, in high school, for example, that's less of a concern, and our volunteers can work with the parents to figure out what the parent and child are most comfortable with. It's important to note that our program is not a substitute for parental supervision." (It's a good idea to review Home Alone guidelines and laws in your state.)
How to Sign Up For Free Virtual Childcare and Tutoring
Sign up for the free virtual fun and tutoring online. Parents fill out a questionnaire about their needs, their kids' interests, whether a child is looking for a companion or tutor, and more. The assigned Big Sib and family connect to make sure it's a good match, and then sessions can begin through Google Hangouts.
A typical session will last between 30 minutes and one hour. For its youngest participants, Big Sibs will suggest activities like drawing together, playing spoken games (like "Simon Says"), and maybe trying out some yoga. For older kids, Big Sibs will offer tutoring or test prep, or propose ideas like forming a little book club, writing a collaborative story, experimenting with Minecraft modding, or even learning a new language together.
"A lot of it is also just breaking that sense of social isolation that the kids may be experiencing," says Beloborodova. "We want them to have someone to share stories with, talk to about their day with, be silly with—as they would with a friend."
Click Here to Sign Up!