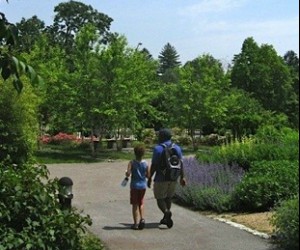 Father's Day Family Getaway: Spending the Day with Kids in Providence, RI
Providence is showing dads the love this weekend with freebies and discounts at family-friendly places around the city. Read on for some ideas for spending a fun day with your favorite father in Providence without breaking the bank – whether he's the outdoors type, the academic sort, a grown-up kid, or just uniquely himself.
If you're looking for even more to do in Rhode Island, check out our Rhode Island Fun Guide for the skinny on taking the kids to a PawSox game, and day tripping to Newport or East Bay towns. If you'd rather stay closer to Boston, take a look at our list of 10 Things Dads Actually Want to Do for Father's Day in Boston.
---
Chase Farm Park and Hannaway Blacksmith Shop
Just north of Providence is the historic town of Lincoln, home to Great Road, Hearthside House, Chase Farm Park, and other treasures from the past. From 8am to noon, you can watch demonstrations of old-fashioned blacksmithing at the Hannaway Blacksmith Shop, located at the entrance to Chase Farm Park. The working blacksmiths are super friendly and very willing to show the kids how it all works. After your visit, feel free to ramble through the pastures, hills and meadows of the park and check out the site of Lincoln's last operating dairy farm.
Location: Chase Farm Park, 669 Great Road, Lincoln, RI
Hours: Hannaway Blacksmith Shop, 8am-12n. Chase Farm Park, dawn to dusk.
Cost: Free
---
Providence Children's Museum
I would recommend visiting the Providence Children's Museum any day (the size is much more manageable than many other hands-on museums, and the staff is friendly and engaged). But Father's Day is an especially good day for a visit: Admission is free for dads and granddads all day; and from 11am – 2pm, you'll have the chance to work together, woodworking and using tools.
Location: 100 South Street, Providence, RI 02903
Hours: 9am-6pm
Cost: Free for dads and granddads, regular admission is $9 per person (free for children under the age of 12 months). The Museum accepts cash, check, Discover, Visa and Mastercard.
Contact: 401-273-5437
---
Roger Williams Park
You could easily spend the entire day in Roger Williams Park, exploring earth and space at the Museum of Natural History and Planetarium experiencing peace (and marveling at the meat-eating plants) in the Botanical Center (pictured), or romping around Carousel Village, where you can ride the indoor carousel, play arcade games, get a snack, play on the Hasbro playground, take a pony ride, and rent a boat to paddle on the water. At the Roger Williams Park Zoo, dads are kings of the jungle – they get free admission (when accompanied by a child), and the zoo has a special Ice Cream Sundae Event with crafts, activities and, of course, ice cream (additional $).
Location: Roger Williams Park, The RWP Zoo is located at 1000 Elmwood Avenue, Providence, RI 02907
Cost: Admission to the park is free. Admission fees vary for museum ($), botanical center ($) and zoo ($$).
---
Books on the Square, Wayland Square
Books on the Square is a great local, independent bookshop for Dad and the kids to while away the hours. Wayland Square is a good stop for gifts, window shopping, and a bite to eat.
Location: Wayland Square, 471 Angell Street, Providence, RI 02906
Hours: Sunday 10am – 6pm, Monday – Saturday 9am - 9pm
Contact: 401-331-9097
---
Union Station Brewery
For a dining experience both father and child will appreciate, go for lunch or dinner at Union Station Brewery in downtown Providence. This restaurant is run by the folks who brought us John Harvard's Brewery in Harvard Square. This time they got creative with the space in a former train depot – the result is good beer, good food, and a place that's good for families (even if it is a brewery).
Location: Union Station Brewery, 
36 Exchange Terrace
, Providence, RI 02903
Hours: Sun-Thurs 11:30am – 1am, Fri-Sat 11:30am – 2am
Contact: 401-274-2739
---
Originally published June 2012; updated June 2014