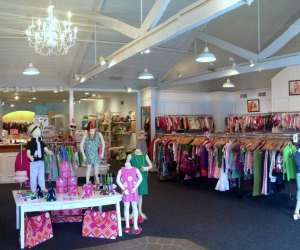 8 Consignment Shops for Kids: Back-to-School Clothes and Toys on a Budget Around Boston
With school and new classes starting soon, it's time to think about outfitting your kids for the year. If your children are anything like mine, they blow through sizes at an alarming rate. Instead of always buying new, I like to browse consignment or secondhand shops, where I often find name-brand, gently used (or even never worn) apparel at a deep discount, not to mention enriching toys, books, and games. What's more, most of these stores are always looking for items to sell, so you can offload some of your own outgrown or never-used clothes and gear for credit. Here are 8 consignment shops where you can score some beautiful clothes and toys at a fraction of what you'd spend at the mall or main street.
1) Apple of My Eye — Melrose
Owned and operated by a mom with a passion for reusing, recycling, and reselling clothing, Apple of My Eye has clothing for children from newborns through size 10/12. Expect to find lots of high-quality name brands for the current season as well as baby and kids gear and toys that are still in great condition. Apple of My Eye even has a terrific selection of maternity clothes.
2) Buttons and Bows — Acton
If you're looking for high-end resale, Buttons and Bows is the place to go in the Boston area. With nearly 4,000-square-feet of retail space, the store has a lot to offer. Buttons and Bows specializes in brands like Lilly Pulitzer, Mini Boden, and Hanna Andersson, so your little ones will be looking extra fashionable this school year. Buttons and Bows also stocks toys and gear and even has a new women's section, so mom can shop for herself, too.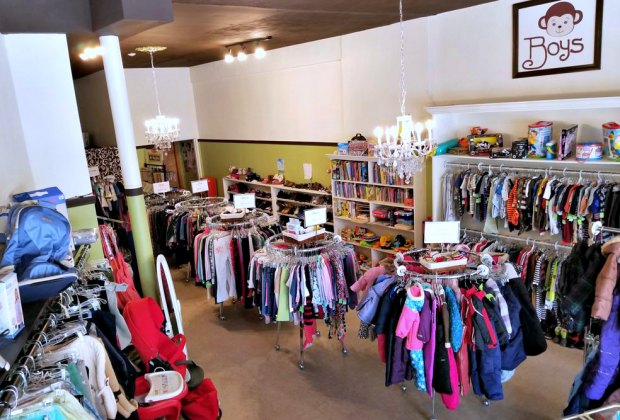 Shop ahead for winter gear and more at Two Little Monkeys. Photo courtesy of the store
3) Children's Orchard — Billerica, Milford, Newburyport, Norwood, Rowley
Children's Orchard has stores nationwide, but each location is owned by a person (usually a family) in the area. So the five shops near Boston are locally operated, making each one unique. Expect to find a lot of very gently used clothing, toys, and gear in a super-organized setting. Since each store is a little different, check their social media presence (most have a Facebook and/or Instagram account) for an idea of what you'll find at the various locations.
4) Fancy Pants — Newton
Stop into the new location of Fancy Pants to shop over 2,000-square-feet of stroller-friendly children's retail. You'll find clothes, shoes and accessories from newborn through size 12, plus tons of baby and kids gear, toys, and more. Fancy Pants offers deep discounts off of excellent condition name brand clothes and equipment.
5) Growing Up Children's Resale Boutique — Belmont
If you like brands like Hanna Andersson, Japanese Weekend, and Mini Boden, you are going to love Growing Up Children's Resale Boutique. While the store carries a variety of brands, it has a large stock of European and specialty labels (and it can help you with the sometimes tricky sizing). In addition to clothes, Growing Up has gear you can both purchase and rent, gently used toys and maternity clothes.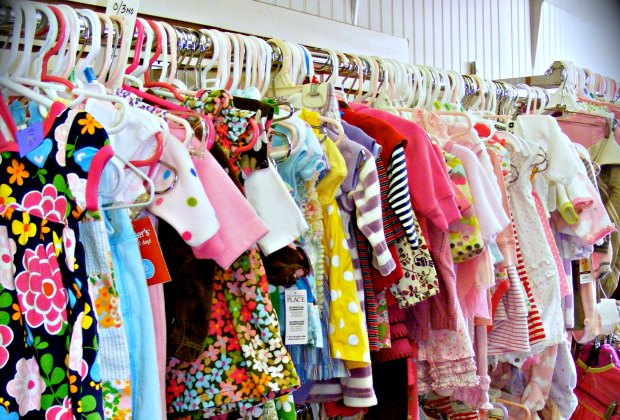 ​
Growing Up Children's Resale Boutique sells a lot of high-end European brands. Photo courtesy of the store
6) The Little Fox — Arlington
The Little Fox might be one of the most unique second-hand shops on this list. That's because it's a donation-based store inside the Fox Branch of the Arlington Library. Sales go to benefit the library, so you can feel great about the deals you're getting here. The Little Fox sells children's and maternity clothes (think brands like Tea and Boden) as well as toys, books, games and gear. Note that the shop is currently temporarily closed, so check with them before visiting.
7) Two Little Monkeys — Somerville
As a Somerville resident, Two Little Monkeys is my go-to spot for consignment shopping in the Boston area. I've purchased and sold items there and I can say that both were very pleasant experiences. The shop has a great selection of in-season clothes and accessories, gear, games, books and toys. And all of it is available for very reasonable prices.
8) Kid to Kid — Natick
Stop short of the Natick mall on Route 9 westbound and browse Kid to Kid, where there are several racks of kids' clothing through size 11/12 as well as shoes, games, and perhaps the widest selection of baby and maternity gear in the area. Call ahead if you want to sell, as the store owners are usually looking to restock in specific areas and accept a limited number of items.
---
Originally published August 2012; updated August 2013, 2014, and 2018.